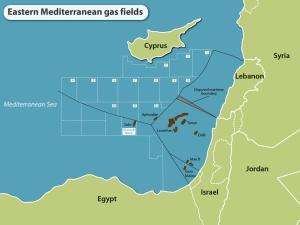 Israel's Prime Minister Yair Lapid–who faces reelection next Tuesday–successfully accomplished an U.S.-assisted signing of an Israel-Lebanon maritime border agreement yesterday that took 11 years to be completed. The two nations had been in dispute of their maritime border in the Eastern Mediterranean Sea for decades. The significance of this deal is that the U.S. Geological Survey has identified the Eastern Mediterranean seabed as holding some of the most vast fossil fuel deposits in the world.
Israel first discovered offshore natural gas over two decades ago and has been pumping it out, refining it, and even selling it to other countries ever since. Now, with the upheaval in the oil and gas industry due partly to Russia's war in Ukraine, and Europe's subsequent ending of Russia as its main energy supplier, Europe is considering the possibility of purchasing natural gas from this region, which would further increase profit from such sale for these Eastern Mediterranean countries such as Israel and Lebanon.
The cheapest way to do it would be to build a pipeline through Turkey and thus not depend on shipping LNG–liquified natural gas–since the natural gas has to be frozen and unfrozen when shipped, which is more costly and further problematic. But it takes years to plan, acquisition land, and construct the pipeline. Europe needs to replenish its loss of imported Russian oil and gas soon. Turkey long ago cut off diplomatic relations with Israel due to Turkey's denunciation of Israel regarding the Israel Palestinian conflict. But Turkey is now warming to possible relations with Israel, mostly due to moderate PM Lapid and his administration. Netanyahu is again campaigning for the presidency that will be determined next week, and Turkey is very much opposed to his hardline approach to that conflict.
Thus, little Israel–a nation that had to depend on its energy supplies by importing them from other nations for all of its modern history–became an exporter of mostly liquified natural gas. So far, petroleum deposits have not been discovered in this offshore region; yet experts expect they are there.
This agreement between Israel and Lebanon now allows Lebanon to begin to benefit from oil and gas wealth as Israel has been doing throughout this century. And this will prove very important to Lebanon's economy since the country has in recent years plummeted into poverty and is said to be presently on the verge of economic collapse.
As I keep saying on my blog, the Palestinians ought to become a part of this offshore wealth by agreeing to land swap with Israel–letting Israel annex the entire West Bank and forfeiting all of its coastal plain south of Tel Aviv wherein an independent and sovereign Palestinian state would be established. That's what I've been saying for 32 years, ever since my book was published in 1991 entitled Palestine Is Coming: The Revival of Ancient Philistia (1991).
To learn updates on this proposal for solving the intractable Israeli-Palestinian conflict and read half of this book for free, visit kermitzarley.com. In my proposal, which is no more than a return to historical precedent by letting the Palestinians have "the land of the Philisitines," from whom they derive their name, Israel and Palestine would have equal-length coastal borders of about 80 miles each. That would provide Palestine with natural gas wealth and Israel first began drilling and pumping out at the turn of this century.