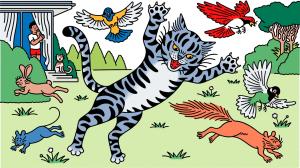 Donald Trump likes to call wind turbines "windmills" as he denigrates their value by saying they kill so many birds. But I've posted that downtown skyscrapers, like those Trump built, kill way more birds than wind turbines do. (They crash into the windows.) I later posted again about this, about Trump complaining on Sean Hannity's Fox News TV program about the "windmills," that they "kill our birds. They kill everything." Oh, now they kill everything!
It turns out there is something that kills way more birds than wind turbines or skyscrapers do. It's cats! No joke. Household cats.
Due to the controversy about wind turbines killing birds, the UK government recently reported that its wind turbines throughout the country, including those offshore, kill between 10,000 and 100,000 birds per year. But that's not many when you consider what the reputable BBC (British Broadcasting Company) says about this. It has a Science Focus department that claims cats kill 55 million birds per year in the UK.
The BBC adds that the Brits DO love their cats. Then, maybe the UK environmentalists who own cats and are against wind turbines need to cool their jets about that. Otherwise, it seems the cats have to go before the wind turbines do.