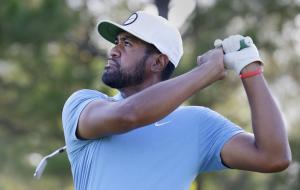 Tony Finau won the PGA Tour's Cadence Houston Open at Memorial Park Golf Course in Houston, Texas, today by four strokes over Ben Taylor who finished second, with Tyson Alexander one stroke back of him in third place. It was Finau's fifth win on the PGA Tour and the third win in his last seven starts. Tony Finau is really on a roll and coming into own that many thought he could do.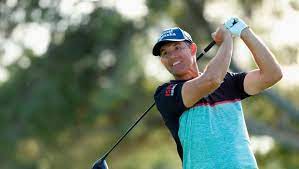 On the PGA Tour's Champions Tour today, records were set. Irishman and three-time major winner Padraig Harrington won the season-ending Charles Schwab Cup Championship at Phoenix Country Club in Phoenix, Arizona, with a record-setting 27-under par 257 total for 72 holes. It also was the lowest score to par ever registered on the Senior/Champions Tour. For the 50-year old Harrington, it was his first year on the Champions Tour where he notches four victories.
Harrington ran away with his win, finishing seven strokes ahead of runner-up Alex Cejka and eight strokes ahead of third place finisher Steven Alker.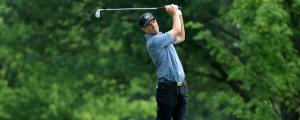 Steven Alker is from New Zealand and lives fifteen minutes away from me in Fountain Hills, Arizona, though I've never met him. This year he e was the talk of the Champions Tour. He won the Charles Schwab Playoffs today with his third place finish. He needed only to finish fifth or better to seal that victory.
In Alker's first year on the Champions Tour since last November, he had 5 wins and 27 top-tens in 33 starts. That might be a record in itself, especially for the first year on the Champions Tour.
Alker is one of those pros who most U.S. golf fans had never heard about. He has played pro golf around the world but never really established himself much. The goal of many if not most pro golfers around the world is to get on the PGA Tour. The main way to do that is to compete on the developmental tour of the PGA Tour which has had many name changes through the decades. I call it the PGA Tour's "junior tour" because most of the pros on it are young guys in their twenties, but not all. Steven Alker is an example.
During Alker's pro golf career, begun in 1995, he qualified twice to get on the PGA Tour by virtue of his play on that developmental tour, which was the Nationwide Tour and, later, the Web.com Tour. But Alker could not keep his "card," meaning his exempt status, more than the one year each time. Then he turned 50 years old last year, got on the Champions Tour, and scored big this year with his first full year there. His biggest win was the Senior PGA Championship.
Finally, the greatest record on the Championship Tour is now in jeopardy. It is Hale Irwin's 45 victories. Sixty-five year old Bernard Langer, who never seems to age, won his 44th tournament this year on the Champions Tour. So, one more such Langer win will gain him a tie with Irwin for the most Champions Tour victories.
So, the PGA Tour and its several sub-tours are as healthy as they have ever been despite the fact that the PGA Tour went through perhaps its most difficult year ever this year with competition from the startup LIV Invitational Series backed financially by the Saudi Arabian public wealth fund. But that is a conversation for another day.