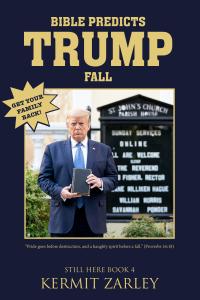 Former U.S. President Donald Trump continues his fall, as in my book Bible Predicts Trump Fall. He's is going from Make America Great Again to Make America Miserable Again. An example is his announcement an hour ago to campaign for the 2024 presidential election.
Why is Trump making this announcement so early, two years before the election? Many political pundits and legal experts say it's because he thinks it gives him a possible legal advantage in the numerous criminal and civil investigations of his possible wrongdoing. If true, it one more evidence that the former president makes such decisions looking out for himself, not America, thereby Making America Miserable Again. How so?
In the 2020 election, both senatorial races in Georgia were so close that, due to Georgia law that the winner must have over 50% of the votes, both races had to be determined by a post-election runoff. Trump and his gang had been claiming that he did not really lose the presidential race, but that it was "fraudulent" and therefore another four years in the White House was "stolen" from him, which he still claims. Consequently, Trump's voters were being told that a fraudulent election meant that some of their votes were stolen and thus didn't count. Election officials and many others therefore claimed that many Georgia Republicans were thereby discouraged from voting again in the runoff. The result was that both Democrat candidates won those Senate seats easily. It was crucial since it gave Democrats barely the majority vote in the Senate. So, Democrat President Joe Biden was able to get more legislation passed in Congress than he otherwise would have if Republicans had had the majority vote in the Senate. The result was MARMA–Make American Republicans Miserable Again.
Deja vu! In these midterm elections a week ago, swing state Georgia finished with another Senate race in which Rafael Walker and Herschel Warnock failed to get more than 50% of the votes, forcing another runoff to occur in a month. During the midterm campaign, Trump had acted like a kingmaker by endorsing about 300 various Republicans running for office.
Trump made one of his prerequisites for endorsement that the candidate had to claim, as he did, that the 2020 election was stolen from him. That not only proved to be a losing strategy with American voters, it also meant that Trump was not choosing very good candidates. Thus, many Republican leaders are now claiming that Republicans faired poorly in the midterms last week mostly because Trump chose lousy candidates.
As a result, many political pundits are now saying that Georgia Republicans will not be very motivated to vote in the senatorial runoff in days from now, causing the Democrat candidate Warnock to defeat Republican candidate Walker. If that happens, it will be Deja vu and more MARMA–Make American Republicans Miserable Again.