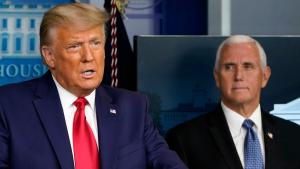 Former Vice President Mike Pence has been hailed as somewhat of a hero for refusing former President Donald Trump's past demand upon Pence that he refuse to certify the electoral college voted on January 6, 2021, before all of Congress in the Capitol. Pence had tried to find justification for doing so. But he didn't even possess the right to decertify the vote. Since he found no such justification, Pence did the right thing by performed his duty of certifying the election, thereby formally declaring correctly Joe Biden the president.
But in the days leading up to that Certification Day, Pence had witnessed much evidence of Trump trying to overturn the election, which is sedition. He should have done the right thing then by reporting those serious misdeeds of Trump to Congress. Pence has an autobiography book about all of this that is due to be released tomorrow entitled So Help Me God. Is that an appropriate title?
I don't know what Pence means by that title, but I don't think that has a supposedly devout evangelical Christian, it was God's will for Mr. Pence to be President Donald Trump's vice-president. Here is an excerpt about this in my book, Bible Predicts Trump Fall:
"Mike Pence no doubt thought it was God's will for him to be the U.S. vice president. Many Republican evangelicals involved in American politics thought Donald Trump might convert to Christianity. I think the opposite happened: Donald Trump converted many lawmakers to believing in his conspiracy theories, his delusions, and his bald-faced lies! Yet most of these people were just scared of Trump, afraid that opposing him would result in him telling his supporters to vote them out of office in the next election.
"I believe it was not God's will for Mike Pence to be Donald Trump's vice president! Why? It united him with an unsavory non-Christian. Evangelicals used to believe in the biblical commands about separation. For example, the apostle Paul exhorts, "Be ye not unequally yoked together with unbelievers: for what fellowship hath righteousness with unrighteousness? and what communion hath light with darkness?" (2 Corinthians 6.14 KJV). From both an evangelical and Pentecostal/Charismatic perspective, a person is not a genuine Christian unless he or she believes sincerely in Jesus Christ as Savior from sin and confesses him as risen Lord. Donald Trump has never confessed publicly to any of this. So, according to evangelical faith and the Paul's instructions, Mike Pence should not have been yoked together with Donald Trump to lead the United States of America as two oxen are yoked together to plow a field."