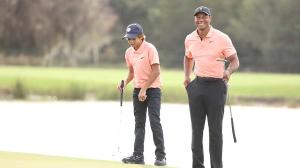 Three-time major championship winner Vijay Singh and his 31-year old son Qass finally won the two-day PNC Championship just now after 16 attempts. After finishing second three different years and third three different years, this two-man team–in this family competition of playing the best ball on each shot (scramble format)–carded a pair of 13-under par 59s for a two-round total of 26-under par to win by two strokes over the teams of Justin and Mike Thomas and defending champions John and John II Daly that tied for second.
Tiger Woods and his 13-year old son Charlie both hobbled around the Orlando golf course with foot and ankle pains to finish in a tie for 8th place, six strokes behind the Singhs. Charlie has such a good golf swing and is so much like his dad in both the appearance of his physique, his golf game, and his mannerisms.
It is a joy to watch this family golf event involving the legends of professional golf and their family members.