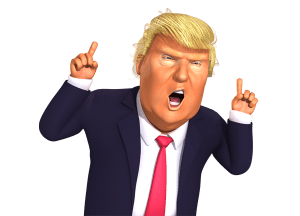 For the past few months, I've been following the FB group, "Christians Against Trump," which now has 31,200 followers. A similar petition has just come out in the past few days, created by the progressive Christian organization Faithful America, that has over 20,000 signatures of people who oppose Donald Trump's campaign for the 2024 presidential election. It says, "Another Trump presidency would be a disaster for our country." It alleges that Trump's MAGA movement "clearly rejected" core teachings in the Christian gospel, two of which are surely humility and kindness.
The petition continues, "The insurrectionist ex-president–who infamously tear-gassed peaceful protesters to take a photo-op with a Bible outside an Episcopal church that didn't support him–repeatedly weaponized religion in his last two campaigns, and 2024 will be no different."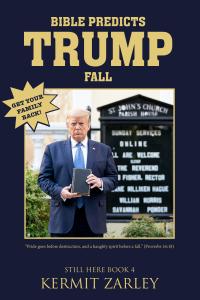 That is what the front cover of my book, Bible Predicts Trump Fall, is about. This book says on its back cover, "Zarley thinks Trump's Bible photo op on June 1, 2020, was the turning point in his presidency. He gave a speech claiming to be a law-and-order president. Minutes later, he posed with a Bible in front of a church. Kermit compares it to Babylonian King Belshazzar in the Bible. He held a great festival, drank wine from cups taken from Jerusalem's temple, and saw a hand writing on a wall pronouncing the end of his kingship. Likewise, after Trump mistreated the Bible like that, he went AWOL on COVID and became a hypocrite on law-and-order by trying to overturn a fair election. He then incited the Capitol riot that resulted in death and destruction.
"This book is prescient since the author [on his blog] often applied Bible proverbs and Jesus' sayings to Trump while he was president that came true. They include, 'When pride comes, then comes disgrace," and 'pride goes before destruction, and a haughty spirit before a fall' (Proverbs 11.2; 16.18). Zarley concludes that Trump's incitement to insurrection and two impeachments represent a disgraceful downfall verifying that 'every word of God proves true' (Proverb 30.5)."