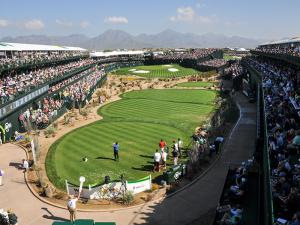 Leader Scottie Scheffler just now won the Waste Management Phoenix Open for the second year in succession at the Stadium Course at TPC Scottsdale in sunny Scottsdale, Arizona. Both he and Nick Taylor, with whom he was playing in the last pairing, shot six-under par 65s. Scheffler won by two strokes over Taylor, who finished alone in second place. Jon Rahm was third.
Scheffler and Taylor were tied at 16-under par total in the middle of the back nine today. Scheffler then made an eagle putt on the par-five 13th hole to take a one stroke lead. But he hooked his drive on the long, par-four 14th hole into the desert, yet survived with a par. Taylor then missed two good birdie chances by miss-reading a putt and having another do a 360, which is rare. That means the ball catches one side of the cup and spins all the way around to finish in front of the hole.
By the time they reached the par-four last hole, Scheffler had a three stroke lead on Taylor. The eventual winner just needed to play safe off the tee by avoiding the water on the left. He did but hit his drive wide right, even to the right of the two fairway sand bunkers. Yet he still easily hit onto the green with his second shot while Taylor birdied to close the gap to two strokes.
Scheffler admitted after the round, today, that he didn't have his A-game off the tee but that his putting was pretty good. I would say it was magnificent. Well-liked Scottie Scheffler seems to have a strong intestinal fortitude, especially with his putting, to be able rise to the top at the most opportune moments on the big stage, as he did today. For instance, after committing a grievous error on the rowdy par-three 16th hole by missing the green to the left, leaving himself a difficult pitch, he made his 15-foot par putt right in the heart of the cup to retain his lead.
Scheffler won his first PGA Tour tournament here at this event last year. Now, today's win has given him his fifth PGA Tour title, which is the most on Tour in the past year. And that includes his Masters title last year, his first major win. Plus, today's play propelled Scottie Scheffler back into first place in world standings, with John Rahm now being moved into second place.
[Kermit co-founded and led the PGA Tour Bible Study, which still thrives today with several spawned ministries, including in U.S. college golf.]