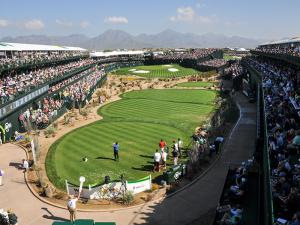 Defending champion Scottie Scheffler hung on to his two-stroke lead in the Waste Management Phoenix Open today after three rounds at the Stadium Course at TPC Scottsdale in Scottsdale, Arizona, with a total score of 13-under par 200. Nick Taylor and Jon Rahm–who lives in Scottsdale (so do I) and is an Arizona State University graduate and thus a tournament favorite–are tied for second. Scheffler and Rahm have been the two best players on the PGA Tour in the past year or more.
I attended the tournament today and followed the last pairing on the back nine which included Scheffler and Rahm. Texan Scheffler was not making several birdie putts in the middle of his round today. Then on this desert course, he hit his drive into a cactus on the par four 13th hole to make a bogey. On the par four 14th hole, which plays the most difficult in this tournament, the normally good driver of the ball drove into the left rough and played a magnificent middle iron to two feet from the hole for an easy birdie three.
On the par five 15th hole, both Scheffler and the swashbuckling Spaniard Rahm drove safely into the fairway, avoiding the lake on the left. Both then went for the green on their second shots, clearing the water which fronts the green. Scheffler's iron shot stopped a few yards short of the green, leaving him an easy pitch of about 50 feet. Rahm's ball ended up in the greenside sand bunker, only about 25 feet from the hole. Both players hit poor third shots, Scottie's finishing 15 feet past the hole with a downhill putt, and Jon's past as well, only a bit farther. Both players then two-putted for their pars, failing to capitalize on perhaps the easiest birdie hole on the course.
Scheffler's third shot surprised me because he excels on those pitches. But I thought Rahm would do what he did because of his swing.
Jon Rahm is rated as about the best driver of the golf ball on the PGA Tour. He is a husky fellow with a very short backswing and yet delivers a lot of power in his swing. But he is a one-dimensional player in that he hits his preferred fade most of the time with his driver. He does it by making his backswing with a very closed club face, so that on his forward swing he must "block" the shot with an open club face on his follow through to keep the ball from hooking. He is so pronounced at this that he de-lofts the club face at impact to accomplish his normally left-to-right shot, thus often hitting his shots lower than most pros do. That works great when the wind is blowing.
But that type of swing does not allow Rahm to aim right of his target and hook shots into play. So, he does not have that dimension in his swing, which requires a "release" of the club head, with the club face rotating more. Yet, Jon can be very accurate with his driver that way. It reminds me of two of the best PGA Tour pros who have ever played the game, namely, Lee Trevino and Arnold Palmer.
One time, when I was playing with Arnold Palmer on the PGA Tour, at Pinehurst #2, as we walked off the 18th tee I said, "Arnie, I've wanted to ask you why you swing closed-to-open," as we pros often described that type of golf swing. Arnold was not perturbed in the least at me asking this question, as some might be. He answered, "Well, I learned as a young man that I could drive the ball straighter by swinging that way." That fits with what I'm saying about Jon Rahm's swing. In Arnie's case, he just hit straight drives like they were bullets coming out of a rifle. And like Rahm, Arnold's drives were lower than those of most pros.
But a player who swings this way, with the club face being closed on the backswing, is at a disadvantage in hitting high iron shots and greenside sand bunker shots. The latter are best hit with a backswing that has a open club face and the player releases the wristcock unusually on the downswing, allowing the ball to go airborne higher than with a closed-to-open swing. That's why I said I thought Rahm would hit that sand shot well past the flagstick on the 15th hole. With his swing, he couldn't elevate the ball enough to get it to stop near the hole.
It was another nice, winter-day in Scottsdale. We are so known for great weather here in the Phoenix Valley during the winter. It was about 70 degrees or more with the sun shining all day. Tomorrow is expected to be the same as they get this tournament finished earlier than normal because of the NFL Super Bowl on the other side of town.
This valley has gobs of people in it right now. While I was at the course today, a spectator told me that tournament officials claimed about 400,000 spectators were in attendance. I don't know if that was true, but if it was it would break all previous attendance records by a bunch. This tournament is famous for its attendance being way more than any other golf tournament on the PGA Tour or in the world.
When I walked over to the rowdy 16th par three, a huge sign on the back of the grandstand said, "THE LOUDEST HOLE ON EARTH." Indeed it is. A few years ago, Thunderbird officials, who sponsor this tournament, stopped the practice of fans throwing beer cans from the grandstands that surround the 16th hole onto the fairway. Yet they can still guzzle their beer, which is the reason for its rowdy reputation.
This golf tournament is like none other. For a guy like me, who played the PGA Tour and its Champions Tour full time for thirty years, you just about have to attend this and see it to believe it. The masses of people are astonishing, and I estimate the average age of spectators may be thirty years or less. This golf tournament is one of the main sports and entertainment events of the year here and for a very nominal price for a ticket when compared to all others.
But so many of these young people who attend don't have a clue about golf. It's downright funny! Today, I was standing next to a couple about age 25. Her guy said something about "the pairings." She said, as if to me, "I don't know what that is," and they walked off. I wanted to tell him the next time to teach his pretty girlfriend what "the pairings" are before he brings her to this "GREATEST GAME GAME ON GRASS"!
[Kermit co-founded and led the PGA Tour Bible Study which thrives today.]