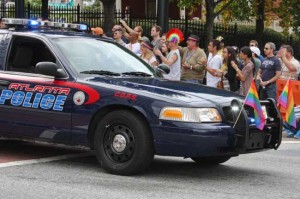 In this season of waiting for the Light of Love to enter the world it feels entirely appropriate to share an incredible It Gets Better video from the Atlanta Police Department.  Some of us have waited a long time to realize the better in our personal lives. Some are still waiting in that dark night of the soul. All of us are waiting for the once-again and forever-more in-breaking that makes it better for all time.
I am so incredibly proud of my friends at the Atlanta Police Department for this courageous video. Not every gay or lesbian officer was able to take this step but they now know they are a little safer on the job.  Not every cop is an ally, but now they know they have LGBT sisters and brothers in blue that have support from boots on the ground all the way to the white shirts.  As an APD lieutenant's wife, this truly doubles down on "We are family" (and helps me sleep a little more soundly at night too). Hope abounds.
For those who are still waiting, who need to hear that if they just wait a little longer, it does indeed get better, I invite you to share your favorite It Gets Better video in the comments below.