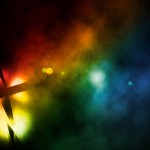 I simply can not pretend to understand as Christian any conversation that includes questions as to whether or not I am an acceptable "way" of being human. I am not a "way" of being human, I am a child of God.
For folks who holler about Christians not playing politics, you fundamentally miss the mark. I AM A CHRISTIAN. I am a lesbian. I am not talking about politics, I am talking about my very humanity in Christ.
If you are still talking about lifestyle choices, I am afraid you are still using language that is laced with ignorant propaganda that is reserved for the privileged oppressor who has the choice to freely love the one they are created to love without question. There simply is NO such thing as a monolithic lifestyle.
I am created, by God, to love a woman and to do anything less would be to reject my humanity in Christ. My response to God's creation is to honor the way I have been created and love the woman, without reservation and forsaking all others, that God has sent to my life.
I am a lesbian as created by God. If there is any lifestyle of which to speak it is my choice to live a Christian life. I am married to a woman as blessed by a Christian pastor and affirmed by a Christian community with whom I worship and am raising my family. I am not an issue, I am not a lifestyle. I am a child of God who has been freed by Christ to live fully into the life I have been given.