I am honored to introduce you to a Daneen Akers.  Daneen is an independent documentary filmmaker from San Francisco, CA where she lives with her husband and producing partner, Stephen Eyer, and their 4-year-old daughter, Lily.  I had the amazing opportunity to spend an afternoon with Daneen just a couple of weeks ago.   We had a great lunch and conversation with Kat Cooper and then I had the incredible honor to attended a screening of Daneen's film in the Collegedale, TN courthouse where the first municipality in the state of Tennessee voted to extend benefits to same-sex couples employed by the city.   I was so deeply moved and learned so much that I invited Daneen to share her story here with y'all.  Try as I might to edit this post down I just could not find a way to honor the amazing work she is doing if I cut a single line.  I hope you will hang in for the whole post, or read it in a couple sittings.  I really think it is worth the time.
---
Paradigm Shifts & Miracles
This week I got one of those emails that reminded me why those of us working for full inclusion of LGBT people in faith communities do this work. It was an email from a retired Seventh-day Adventist pastor who came (at the urging of his daughter) to see a recent Collegedale, TN screening of Seventh-Gay Adventists, a feature documentary film I co-produced/directed that simply shares the stories, challenges, and spiritual journeys of three gay and lesbian Seventh-day Adventists. Here's what it said:
"As a retired Seventh-day Adventist pastor, watching this film (Seventh-Gay Adventists) has changed my personal paradigm. It revealed blind spots that neither my professional training at Loma Linda School of Health or the Seminary at Andrew's University had exposed. Even during my 34 years as pastor and conference family life director, my only acquaintance with 'these kind of people' was in theoretical discussions loaded with judgmental criticism (based on ignorance) After seeing the pain and soul torture up close in the faces of these three SDA people, my eyes were opened. Now I see what they need from me is not just sympathy but someone to stand with them in their pain–not so much to provide answers as personal presence. I have determined to follow Jesus who stood both with and for the socially and financially marginalized, to love them and serve them in order to draw them to God, to respect them as human beings first and regard gender orientation secondarily. For after all, aren't the separating walls of gender, class, nationality, and culture torn down in Christ?" – Pastor Bill Clark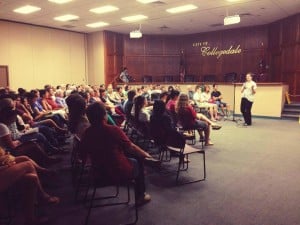 The context for this particular screening was especially symbolic. Most readers here will remember that the small, very conservative town of Collegedale, TN made history last month by becoming the first city in the entire state to extend same-sex benefits to the spouses of LGBT city employees. Much of the news coverage focused on the strong Adventist presence in Collegedale (it's home to one of the largest Seventh-day Adventist universities and a large Adventist retiree community), and several of the city commissioners voting on the measure are Adventist (all voted in favor). Probably not surprisingly, there was a vocal backlash, particularly outside the immediate community. The parents of Kat Cooper, the Collegedale police detective whose request for benefits for her wife prompted the historic measure, were told by the leadership of a Church of Christ denomination in Chattanooga (a congregation Kat's grandparents founded) to either publicly denounce their daughter and repent of their "sin" of supporting her or leave the church. They left the church, and Christians made headlines for rejecting parents who unconditionally loved their daughter.
It was in this space that I decided to plan a screening in Collegedale, even though we'd already had two screenings in the area during the last 18 months of screenings at film festivals, churches, and other community spaces. Several locals encouraged me and planned the logistics, and we actually ended up (not really intentionally) using the same courtroom (which, in small town fashion, is also part of City Hall and the local police department) where the historic vote took place. Due to some threats, we hired–for the first time ever out of 75 plus screenings–security. And my nerves were even more on edge than usual. My grandparents, loving and conservative retired Adventist educators themselves, planned to come but warned me, "This might be your most conservative crowd ever, honey."
But what happened to the capacity crowd of over 160 people is exactly what has happened at every screening, especially at screenings in very conservative spaces. The audience let themselves enter into the profoundly moving, gentle, and poignant stories of the beautiful people who shared their lives in our film. As I sat there, I felt laughter and heard tears at the right moments, smiled at some hearty Amens in spots, and generally just felt the miraculous space of true human connectedness when people actually listen and experience the stories of those who they have many assumptions about but don't actually know.
It was lived proof of Thoreau's description of a miracle: "Could a greater miracle take place than for us to look through each other's eyes for an instant?"
Towards the end of the discussion, a college-age bisexual Adventist student who has seen the film multiple times spoke up. Through tears, he shared that he had been especially nervous watching the film with this audience because it was in the South where he had "faggot" keyed onto his car once. Another time a stranger at a gas station took one look at him and told him he as an "abomination." And hearing the distinctly Southern accents of many of the audience members while he helped sign people in had added to his anxiety. He cried openly as he thanked the audience for the profound sense of listening, of hearing the story of someone like himself who has to wrestle with the huge dilemma of belonging to (and loving) a faith that isn't typically tolerant or accepting of his LGBT identity. I saw a group of people around him afterwards, but it wasn't until later when he wrote a powerful reflection piece for Believe Out Loud that I realized what had happened. The people around him were apologizing. They said, "I'm Adventist/Baptist/Church of Christ. I'm from the South. And I'm sorry."
These spaces where listening, reconciliation, forgiveness, and paradigm shifts happen has been my joy to witness in the past 18 months as we've screened Seventh-Gay Adventists all over the country. The feedback even from audiences as diverse as LGBT film festivals and Adventist churches has been overwhelmingly positive. It's what has convinced me that people change from an emotional experience of the heart. For too long in many religious spaces this topic has simply been an abstract theological debate, but when that shifts to an actual conversation that is "with" and not just "at" or "about" the most marginalized demographic in most conservative churches today, profound paradigm shifts are possible. From people like Pastor Clark above to parents who finally feel permission to fully love their children (and who their children love) to LGBT individuals themselves seeing a model of another LGBT person of faith from a conservative denomination make peace with their faith and sexuality, these paradigms shifts are palpable and healing.
I would have never imagined even just five years ago that my main purpose, other than parenting my daughter, would be shares the stories of LGBT Adventists and advocating for a genuine dialogue through the lens of real people and stories in place like Collegedale, TN. I grew up like a lot of straight Christians in America do–completely oblivious to the concept that there were gay people in my church, or really at all. I lived a very sheltered life as a kid at an Adventist boarding school where my dad taught for 18 years, and I was probably out of college before I had a non-Adventist friend–I just didn't live anywhere that wasn't almost entirely Adventist. And since this topic of homosexuality (which is the only word that would have been used then) was essentially totally taboo, I never knew that I even knew LGBT people until I was in college, and that was only a couple of students at a distance (and, of course, not out to administration).
But then almost 10 years ago my husband and I moved to San Francisco to try out city living. After a while, we began attending a very small, nontraditional, fully inclusive congregation pastored by two former Adventist pastors. (The official Adventist churches in San Francisco are extremely conservative, which is a surprise to those outside the Bay Area who associate everything with the city as uber liberal.) It was there that we got to really know and be known by LGBT Adventists. And I found myself realizing what a difficult challenge they faced.
Then when Prop 8 came through California in 2008, we heard just vicious and unfounded propaganda getting promoted in churches, and we heard these messages for the first time through the lens of actually knowing a loving gay people. A key moment came when Jacquie and Linda, an older lesbian couple who had been deeply involved in a main Adventist church in the area spoke up after hearing a particularly damaging sermon on same-sex marriage where committed gay couples were called "a perverted minority" and compared to pedophiles and those who practice bestiality. When they told the pastor that it had been difficult to sit through that sermon, the board responded by stripping them of all of their leadership roles (and they did a lot–they were church ladies in the very best sense)! Except–except for directing the handbell choir. Nobody else could do that, so Linda was told that she could direct the choir but could no longer turn to face the congregation from the platform. Sadly, I know now about many similar situations, particularly when churches still want to benefit from the spiritual gift an LGBT person brings but make a statement clearly condemning their "lifestyle" (always the word used by those doing the condemning). We started to feel a righteous anger.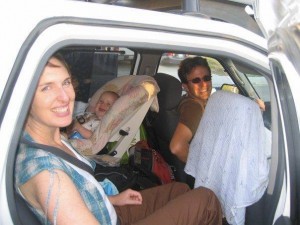 At this time, I was pregnant with our daughter, and we were wondering how we were going to raise her. We go back five generations on both sides in the Adventist church, both of our grandfathers were ordained ministers and many of our family members have worked for the church. We have history, roots, and heritage in this faith tradition. And yet, we weren't sure we felt comfortable bringing up a daughter in a religion where our good friends would be treated unequally and spoken about in harmful ways. We helped start a grassroots movement in CA called "Adventists Against Prop 8" to help convince Adventists to vote "no" on Prop 8.
When Prop 8 passed, I was eight months pregnant with Lily and deeply crushed. It felt like we were bringing this new life into a newly less-equal world. My husband, Stephen Eyer, had been a filmmaker for 10 years, and we had collaborated on a previous (relatively small) film. He was the one who kept saying, "We need a film. Hearts and minds only change with stories." One morning when Lily was still an infant, I mentioned that possibly we could make the film he kept mentioning. We were in-between ventures, and we were passionate about wanting to help make our world and faith more of the sort of place we wanted our daughter to grow up.
It took a while for us to feel comfortable taking on this project as a straight couple. We asked several close friends and pioneers in the LGBT Adventist community, who all gave us encouragement. We took Lily on a 3-month, 11,000-mile road trip around the United States stopping at major Adventist population centers where we filmed a spectrum of thought leaders as well as set up story booths just to listen to LGBT Adventists. What we thought would be a one year project at the most has now gone on over four and a half years. Thankfully, the film is a lot different than what we first imagined. That righteous and holy anger had us making a classic issue/debate film at first. But as we listened to more people and visited more churches, we realized that people didn't need a debate. There was already too much debate. What was needed was stories.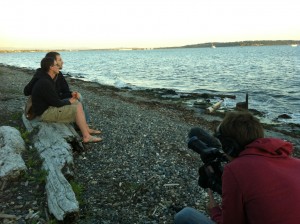 Gradually we found the stories that are featured in the film (among many other equally compelling ones that we couldn't have room for). And these stories are compelling, raw, and inspirational. David is a young man who spent five years in ex-gay therapy and is just beginning to explore whether he can accept himself as a gay man and a Christian. Marcos was the pastor of the largest Adventist church in South American before being outed and fired and is wondering how he's going to find a spiritual home again. And Sherri is a lesbian mom from Ohio who wants her daughters to grow up Adventist but is facing a leadership transition at their church and wondering if the new pastor will accept their family.
The further we went along, the more we simply let the people in our film speak for themselves. We eventually decided to use a very stripped down editorial style without a soundtrack, fancy titles, or a narrator. We realized that many of the people who needed to see this film–people like Pastor Clark above–would be very suspicious of feeling emotionally manipulated. So we wanted their tears to be their own. We wanted their profound journey with the film subjects to be their own. When we got out of the way, the stories and people in our film led us all to a better place. It's a place that doesn't skimp on the pain or heartache, but their resilient spirits and deep longing and love for God breaks down barriers, cracks open stereotypes, and creates that listening space that is so powerful. It's become more than just a film–it's about an authentic listening space where we step into our shared humanity and shared child-of-God identity together.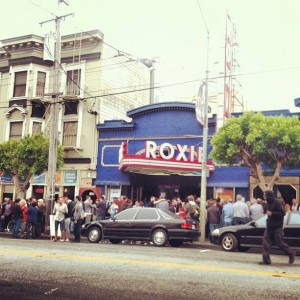 After personally hosting the vast majority of the screenings and discussions where almost 14,000 people have seen the film, we are moving into the DVD and outreach phase. As I write, my husband is tinkering with our Kickstarter campaign (a crowdsourcing tool) where we'll be pre-selling the DVD/blu-ray and online versions of the film as a way to raise the funds to actually make all of those deliverables! We'll be launching next week, and I am trying to stay calm. We've never known how this film would get funded, and we've been almost entirely out of money many times (for some reason Atlanta is the place where twice we haven't had enough funds for our baggage fees home!). But we feel a deep call to this movement and these stories, so we keep moving forward. Somehow, it keeps working out. As Marcos, who is the pastor who was fired for being gay, says near the end (quoting Pablo Neruda): "You can pick all the flowers, but you cannot stop the spring."
Profound paradigm shifts are happening everywhere around this topic, and I'm grateful to have been able to witness so many "before" and "after" moments with people who have been courageous enough and open enough to come to a screening and just listen. That is where we begin to see each other and not our labels. To quote Pastor Clark, "[A]fter all, aren't the separating walls of gender, class, nationality, and culture torn down in Christ?
You can learn more about Seventh-Gay Adventists and engage with Daneen at the film's Facebook page. Upcoming screenings can be found at http://www.sgamovie.com/screenings.
Seventh-Gay Adventists – Trailer from Stephen Eyer on Vimeo.