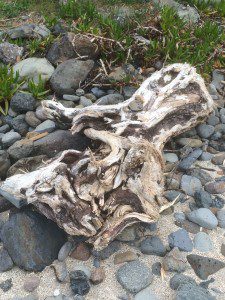 I had my first temple recommend in 1987. For the next 25 years these interviews were straightforward affairs wherein I answered the questions truthfully and I was issued my recommend without complication.
For most of that time the Temple was on another island, a 956 km journey usually begun by car in the early hours of the morning in time to catch a ferry North. A winding journey ensued cresting hills and skirting lakes as heartland villages came and went in the blink of an eye. A long stretch in a stark alpine desert; Turangi; Taupo, Tokoroa; Temple View and it would all end driving up Collins Road – always in the twilight. After a 13-hour journey we would crane our necks to be the first to sight the white glow of the temple on the hill as it beckoned to us with its luminous beauty.
I've taken that journey more times than I can count – in a Morris Minor; in a Honda Civic; a Toyota Corolla; in vans packed with noisy youth; in buses; in a camper; and in my smart 3L V6 Renault Laguna (that got us there in thrilling record time). And until the last seven years it has always, always been an easy joy. It was where my husband proposed to me on bended knee under a cloudless, twinkling August night sky. It was where we married for time and eternity; it was where our son Finn was added to our family as his smooth baby's hand was placed on hands and he was pronounced ours forever.
I've always loved the temple. From day one I was aware of its associations with Masonic ritual and it didn't bother me. I've never minded the robes and have found in them a kind of sacred beauty that causes me to feel holy wearing them. Until recently the Temple has been a symbol of our family bonds, our hopes and dreams for eternity, and a place of goodness and solace.
I've spoken about my horrific 2009 Temple Recommend interview experience in a previous post but the consequence was that after 23 years my attachment to the temple as my place of solace and spiritual renewal was undone. I resolved then that as a matter of self-protection it was not worth being attached to something that I could be deprived of in the event of the capricious exercise of unchecked local authority. So I emotionally unraveled myself from the temple, and for the past five years it hasn't caused my pulse to race, and that delicious surge of anticipation is often beaten back with a harsh memory that despite the kindness of my subsequent Bishop and Stake President has not been entirely healed, nor forgiven. When my Temple Recommend expired in 2011 I could not bring myself to renew it – the thought of going through this process again was like volunteering to put myself in the way of spiritual harm. It wasn't until my local ecclesiastical stewards issued a loving invitation to consider Temple attendance again that I agreed to an interview. An interview, I am happy to report, that stood in stark contrast to my earlier experience.
Yet, things are not the same as before and I hold my Temple Recommend tenuously, wondering about its value, wondering if it is not just a noose around my neck, wondering as I have never wondered before what the Temple Recommend and its precursory interview really means in terms the exercise of power and ecclesiastical authority.
In truth, my emotional break up with the Temple has given me pause for thought. I have come to the conclusion that what lies at the heart of the trouble associated with the Temple Recommend interview as the way in which it can be used as evaluative, normalizing mechanism for institutional authority. It has the power to trigger anxiety that people like me don't really belong and that despite our spiritual convictions, our religious responses and our more nuanced confessions of faith are not acceptable. It is about feeling as though one's story of faith and yes, even doubt, might not be institutionally sanctioned and that there are only tight spots wherein one feels as though their soul journey is honored. In short the Temple Recommend interview has become for some a tool for institutional governance, control and the exercise of patriarchal rule – and it shouldn't be.
There is so much erraticism in the quality of leadership in the church and in the way that each individual interviewer interprets the questions and conducts the interview that there is little certainty for those who are in a faith crisis or a transition to feel comfortable in this context. Most don't wish to lie. Most wish to be forthright and honest in their confessions of confusion and most don't relish the idea of holding back their more nuanced answers. But like me, few people in this category consider themselves undeserving of temple attendance.
In upcoming posts I intend to explore each of the temple recommend questions and the conundrums, possible responses, and the broader work the questions of individual worth might be doing, directly or discursively to constitute a particular kind of Mormon ideal. My argument will ultimately be that the Temple Recommend questions are actually broad enough that many folk who are experiencing a faith transition needn't concern themselves that they aren't 'worthy' simply because their answers aren't simple and their faith is fragile.