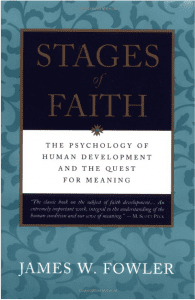 To what degree, (do) our congregations constitute "environments of developmental expectation."   Do we signal that ongoing growth and change in faith and vocation are expected and will be supported?  Do we provide images and understandings that will sponsor persons in moving into the questions and issues that seem to lie on the frontiers of their commitments in faith and vocation?  Do we draw on the rich process imagery our tradition offers in the themes of journey, pilgrimage, wilderness, shipwreck, struggle, rescue, growth from being milk eaters to being meat-eaters, healing, the new being in Christ, and the promised land? [1]

This week Nathan was on stake business.  He took our boys to the neighbouring ward, and  I went to 8 am Eucharist at All Souls Anglican Church.  Then at 10 am, I  went to the local Zendo to sit with Zen teacher, Hogen Green.
When I pulled up in to the church parking lot for Sunday afternoon services my boys were tumbling out of the meetinghouse.  With ties askew and eyes lit up with expectation, they looked to see if Megan, our Anglican priest,  was with me.  Sadly for them, we had delayed her visit until next week.
The meetings were nice enough.  I only caused one awkward silence in Gospel Doctrine when I suggested that  General Conference was mostly a dead bore for me.  I shared that in my opinion, General Conference had too many male speakers and that an eternity of the status quo didn't grab my spiritual attention.
I'm well aware that my Sunday was atypical and busy.  Sometimes I'm mocked for my religious promiscuity and my spiritual enthusiasm, but for now its helpful, if not time-consuming.   The reality is, I have to out-source and patch together my various communities of spiritual practice in order to create my own 'environment of developmental expectation' because right now no one community meets all of my needs.
I'm Mormon to my bones and I need that association because it is part of my identity,  and where my spiritual formation began.  My family are still in fellowship with the LDS Church and I have many strong, lifelong friendships that our shared church connection nurtures.
I need the Anglican church because it's a wide tent, it ordains women and I need to experience women in religious leadership.  I need to be a part of a tradition that has deep roots in my country and my city (for better or for worse) and one that understands and respects my cultural identity.   I love the Eucharist and the liturgy and I'm moved by the belonging and acceptance I have found there.
I'm a Baptist church regular because I need the outbreath that singing, good sermons and a large happy Christian community with social justice at its core provide.
And I find myself in the company of contemplatives from all religious persuasions whose practice draws them into the moreness of life.
All of this contributes beautifully to my spiritual formation, even though, in only one of those communities, I am treated like I'm a deviant.
James Fowler calls upon churches to nurture 'ecologies of care' that don't position the disenchanted, doubting questioner as aberrant, but experiences them and their journey as trustworthy. I find the LDS Church to be suspicious of any version of faith that isn't assensus.[2] So, when we talked about faith in my ward on Sunday I heard that faith is best expressed as an athletic attempt to obey, trust and believe.  The idea of 'growth' was repeated often but this faith saw the end result as a conventional faith.  One that is:
"Characterized by conformity to authority and the religious development of a personal identity."[3]
Thomas McConkie's  'Developmental Map' is also useful in thinking about Mormon stages of faith.   The Diplomat/ Expert seem to be those stages to which Sunday regulars are required to calibrate.  These stages are somewhere in a spectrum between dogmatism, ('There is one truth and one only – our truth')[4] and the recognition that there are possibly 'Other' but clearly erroneous expressions of faith.[5]
My Baptist pastor Alan, a former colleague of James Fowler, stages churches like the LDS Church at a 2.75   And that's fine if you want a stage 2.75 church.  They are great for redemption and lift, organizing, creating belonging and identity.  But they are dismal at creating 'multi-modal communities of faith' or communities friendly to wherever we are in our faith needs.
It's great for my sons who get some joy out of the bustle of Mormon life.  Some of my sons bask in the order, structure, and hospitality that is intrinsic to the church's normal functioning.  They greeted me on Sunday with talk of inter-ward sports nights, seminary and upcoming activities.   In this respect, there is so much that is trustworthy in the Mormon community  – at least in my corner of the Mormon world.
But what of those of us whose developmental needs are not entirely met in Mormonism?  What of those of us who, for the sin of our differentiation, are treated with suspicion?
As one of my readers pointed out last week, people like me can have welcome (at best) but not belonging.   Belonging is premised upon our agreement to the order of things, not our resistance – no matter how justified that resistance may be.
If the LDS Church is indeed committed to doubling down as a stage 2.75 church, then it needs to make that clear.  The church needs to graciously and decently send people kindly on their way with a blessing if it isn't willing to see the value and absolute inevitability for some people to grow and change in their faith.  I'm hoping that I will see that willingness in the coming year as I choose wholehearted differentiated fellowship with the LDS Church.  I'm convinced that the locus for the pastoral effort it will require to grow  'environments of developmental expectation' start at the local level with Relief Society leaders, Sunday School Teachers, Bishops and Stake Presidents.  They each hold the key to discerning and supporting those in their own pilgrimage with the Divine.
"Subtly and gradually but pervasively, we can help to form an ethos and language of developmental expectation and support in the congregation that will be energizing." [6]
[1] James W. Fowler, Faith Development and Pastoral Care, First Edition. (Philadelphia: Fortress Press, 1987). Kindle Version.  Loc.1354
[2] Marcus J. Borg, The God We Never Knew: Beyond Dogmatic Religion To A More Authenthic Contemporary Faith (Harper Collins, 2009).
[3] "James W. Fowler," Wikipedia, December 22, 2017, accessed January 15, 2018, https://en.wikipedia.org/w/index.php?title=James_W._Fowler&oldid=816586827.
[4] Thomas Wirthlin McConkie, Navigating Mormon Faith Crisis: A Simple Developmental Map (Mormon Stages, 2015). P.81
[5] Ibid.
[6] Fowler, Faith Development and Pastoral Care. Kindle Version. Loc.1363