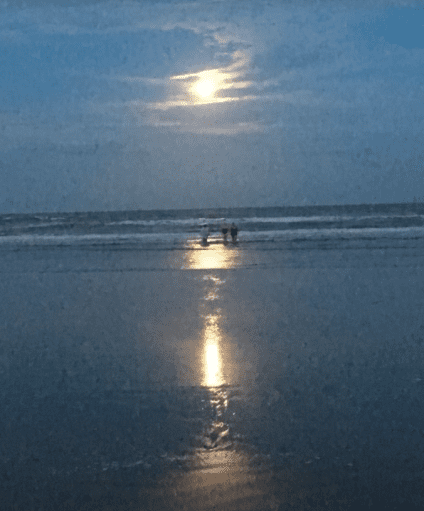 I think I've always been a God girl.
I knew I loved Jesus when at seven years old I heard the story of the Good Samaritan.   I remember staring intently at the sepia picture of religious leaders passing by a broken man on the side of the road.  I listened enthralled as Sister Faifai told this most amazing story of radical love.   It was then that the miracle of Jesus stretched out in front of me as a wonderous and delicious mystery.
I can measure my steps into maturity at each new unfolding of God in my life, and those movements have been many.   For a good portion of my life, that path has been held with great care in community with the LDS Church.
And then life happened and I arrived at an impasse.
 

"By impasse, I mean that there is no way out of, no way around, no rational escape from, what imprisons one, no possibilities in the situation… an apt symbol of which is physical imprisonment, with its experience of being squeezed into a confined space…Any movement out, any next step, is cancelled, and the most dangerous temptation is to give up, to quit, to surrender to cynicism and despair, in the face of the disappointment, disenchantment, hopelessness, and loss of meaning.."[1]
I won't list my grievances.  I've been doing that for years.  But, not one of those issues I welcomed or chased down as an excuse to get out of being a Mormon.   I have a temple marriage to a good Mormon man, and he was never far from my thoughts as I saw his worry as I  began to take religious and spiritual steps out of sync with his.
Unlike other less fortunate folks who stumble into an impasse and are surprised by the tsunami of anger that hits them from family, friends and church leaders,  I've had wonderful, patient ecclesiastical leaders who have stood alongside me with great compassion and friendship.  But, I know that this isn't always the case.
So,  let me be clear.
No one asks nor welcomes a faith crisis,  and the pain of it all is perplexing enough without it being compounded by the disappointment and discipline of others.
To treat faith crisis as a sin is cruel.
I  tried for years to see my way through this impasse, furiously sharing my disappointment, arguing for better, trying to describe the outrage, studying church history, listening to too many podcasts, writing, speaking and agitating for change.  Not because I hated the church, but because I loved it.   But, while all of this aggressive activity is cathartic in some ways,  the soul eventually gets taxed.  Over time I began to feel an aching need for stillness and a desire to be somewhere, where my feet aren't struggling to find stable ground.
Having been estranged (largely my doing)  from my Mormon community, my loss of a spiritual home began to wear on me.   I have some wonderful communion in my Big Tent Mormon tribe, but I wanted liturgy and corporate worship. I wanted to be trusted to serve and I wanted the freedom to be fully present and honest with my doubts without sacrificing the authentic intimate relationships that go along with the spiritual practice of Christian hospitality.
Last year I was chatting with Bishop Victoria of the Christchurch Diocese.  She told me, "Gina, you need a community.  That's one of the most challenging but one of the most important practices of our Christian faith."
So, I tried to go back to the LDS pew in wholehearted differentiation, but it no longer fit me.   I was too different.  Too wound up.  Too unstable in this territory I had come to think of as hostile to my spiritual development.  So, I chose another community.  An inclusive local Anglican parish with a woman vicar.   When I stepped inside All Souls, it was like coming home.
Not, that  I'm going to share my testimony that the Anglican church is the true church and the LDS Church is false.   To say any church is true or false is a nonsense.  But right now this church is where I feel supported and loved.  It's where I'm given kindness and space enough to deepen my spiritual practice,  and trusted enough to share my spiritual gifts.
So,  it felt right to be baptized.
I'd gone back and forth on the question of baptism.  I was worried about my LDS Church membership where formally affiliating with another church can get you excommunicated.   I didn't want that.  I still don't.  But I wanted to be a part of the Body of Christ more.  I wanted to participate in a sacrament that reaffirmed my adult decision to follow Jesus in the community of my choosing;   In a community that would embrace my second half of life spirituality.
So, under a full moon on March 1st,  in the ocean, I was baptized by a woman priest.
Standing on the beach afterward, shivering under a towel, I was delighted when she presented me to the small gathering as 'The world's newest Christian."
Then, a  couple of weeks ago I received confirmation.  With her hands on my head Bishop Victoria blessed me;
Creator Spirit,

strengthen Gina

with your gifts of grace,

to love and serve

as a disciple of Christ.

Guide, protect, uphold her

that she may continue

yours forever.

And that's all I have ever wanted.
Postscript:
For you created my inmost being;
    you knit me together in my mother's womb.
I praise you because I am fearfully and wonderfully made;
    your works are wonderful,
    I know that full well.  (NIV Psalm 139:  13-14)
______________________________________
[1] In Joann Wolski Conn Ed.  Women's Spirituality:  Resources for Christian Development.  New York:  Paulist Press, 1986, 287-311. P. 288
[2] L.J. Vanier, Ether:  Into the Nemesis.