Dr. KP Yohannan, Metropolitan – Discussing how to live by faith and see the visible and invisible
In 2 Corinthians 4:17–18 Paul says, "For our light affliction, which is but for a moment, is working for us a far more exceeding and eternal weight of glory, while we do not look at the things which are seen, but at the things which are not seen. For the things which are seen are temporary, but the things which are not seen are eternal."
The momentary and light afflictions that Paul spoke of weren't easy, little problems. No! What he called "momentary and light" were big things—being shipwrecked, beaten, stoned and whipped! He was cold, imprisoned and hungry (see 2 Corinthians 11). Yet he called these afflictions "light" and "but for a moment." Paul could say this because compared to the eternal weight of glory, they were just that—pale in comparison to what they were producing in him. Paul knew that the hardships were working in him something good and of great weight that would last forever.
There is a paradox, too, in what Paul is saying. How can we look at things that we don't see? In 2 Corinthians 4:18 he writes, "[We look at] the things which are not seen." How does that work? It's like a man who is blind saying that he is "going to see a movie." How can you see things that you don't have the natural ability to see?
We find the answer in the example of Moses, for this is exactly what he did and what kept him trusting. "By faith he left Egypt, not fearing the king's anger; he persevered because he saw him who is invisible" (Hebrews 11:27, NIV, emphasis added). It's that gaze—that looking to Christ—which gives us the grace to persevere in our journey to live by faith.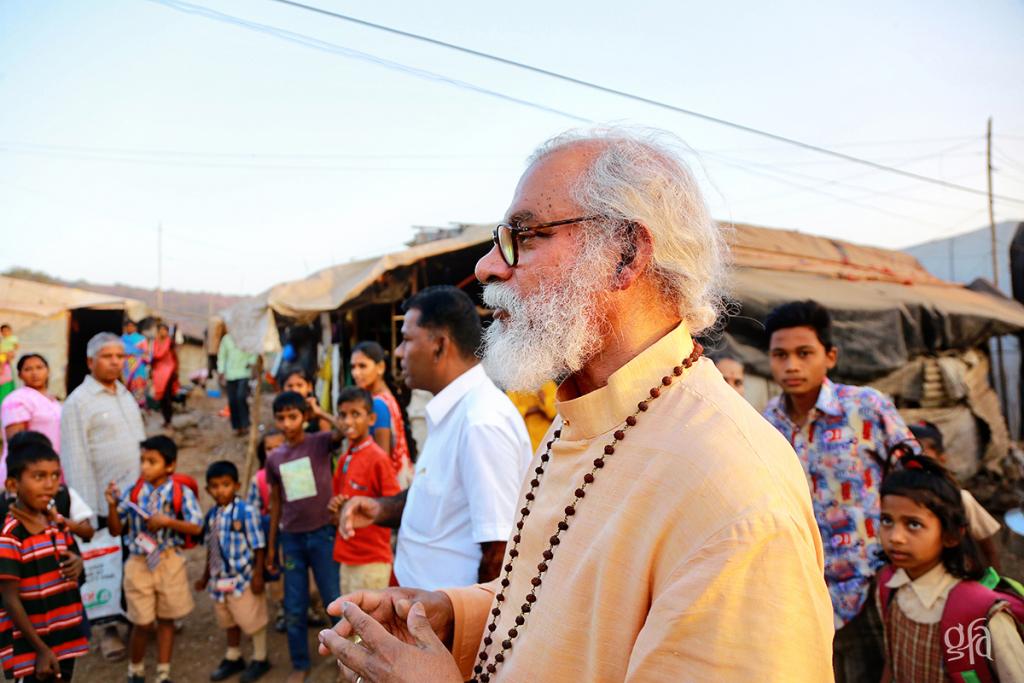 When I am faced with problems, disappointments, lack of resources or sickness, if I fix my eyes on the things that are visible, then all those difficulties discourage me and I get weighed down by the impossibilities. But when I turn my eyes to the invisible, fixing them on God, all those difficulties become instruments He uses to help me live by faith. By faith, those afflictions are used to change me on the inside so that I reflect His glory. These pains and hardships will lead to the benefits and rewards that He promised, if I would only trust Him in the situations of life. But if I do not keep my eyes focused beyond the problems, beyond the struggles and beyond the here and now and on God, then those promises will not come about, simply because I am not putting my faith to work.
I remember back to when I was 16 years old . . . . It was there that I first began to understand that every disagreement, every problem, every tension, every irritation happens in our lives because God has orchestrated it. He has designed it. God put us in that situation or with that person so that we would be changed into His image. You may say, "I don't want this kind of problem." But He has designed it just for you, to be an instrument to make you like Him.
The team I was on during this time consisted of eight or nine people, all from different parts of India. We all had different ways of doing things, and it was very difficult for us to get along. It was so bad that some days we couldn't even be involved in ministry because of the disagreements we had with one another. But one day, as we were all fighting and arguing, our leader explained to the team the lessons found in the life of Jacob and his experience with his uncle, Laban.
Jacob was a smart, shrewd, very cunning individual, his name originally meaning "deceiver." Jacob tricked his father out of his own brother's birthright and blessing. After doing this, he ran away from his father's house to stay with his uncle, Laban. I'm sure Jacob thought that he had made a clean getaway, safely hiding out with his uncle. But you know what happened? For the 20 years Jacob lived with Laban, he got the same medicine of deceit and trickery that he dished out to his father and brother. God put Jacob with someone just like himself to create a broken and contrite heart in him. God wanted repentance and humility to replace the scheming and greed. And God used that difficult individual, Laban, to change Jacob's heart so he would become the man God wanted.
We need to recognize the purposes of God in placing difficult individuals or situations in our lives. We must see that it is through these adverse circumstances, like lack of food or funding, that we are able to experience the miracles of God. We have to see beyond the visible and look at the things that are invisible. This is what it means to live by faith. See your life through the eyes of faith and let God use the difficult things for your eternal betterment, for your blessing and for His glory. This is what He has promised, and this is what He will do.
Excerpted from Living by Faith, Not by Sight by KP Yohannan. Copyright © 2003 by KP Yohannan. (Wills Point, TX: GFA Books).
---
Click here, to read more articles on Patheos by Dr. KP Yohannan Metropolitan.
Go here to know more about Dr. KP Yohannan: Twitter | Book | OnePlace | SermonIndex
Practice giving thanks to the Lord for the way He is using or will use hard situations, by commenting below.