By Dr. KP Yohannan, Founder and Director, Gospel for Asia
In 2 Timothy 1:8, Paul tells young Timothy to "join with me in suffering for the gospel," Paul's life paved the way and sets the example for Timothy. And what an example it was!
-What was the keeping power behind Paul's courage?
-How was he able to stand up again and again in the face of all the opposition that came his way?
-How could he confidently plead with Timothy to stand in that same kind of courage?
The answer is found in 2 Timothy 1:12, where Paul says, "I know whom I have believed, and am convinced that he is able to guard what I have entrusted to him for that day."
Paul found his courage in knowing the Lord who said, "All authority has been given to Me. The gates of hell will not prevail against My Church. No one can stand against you when I am with you"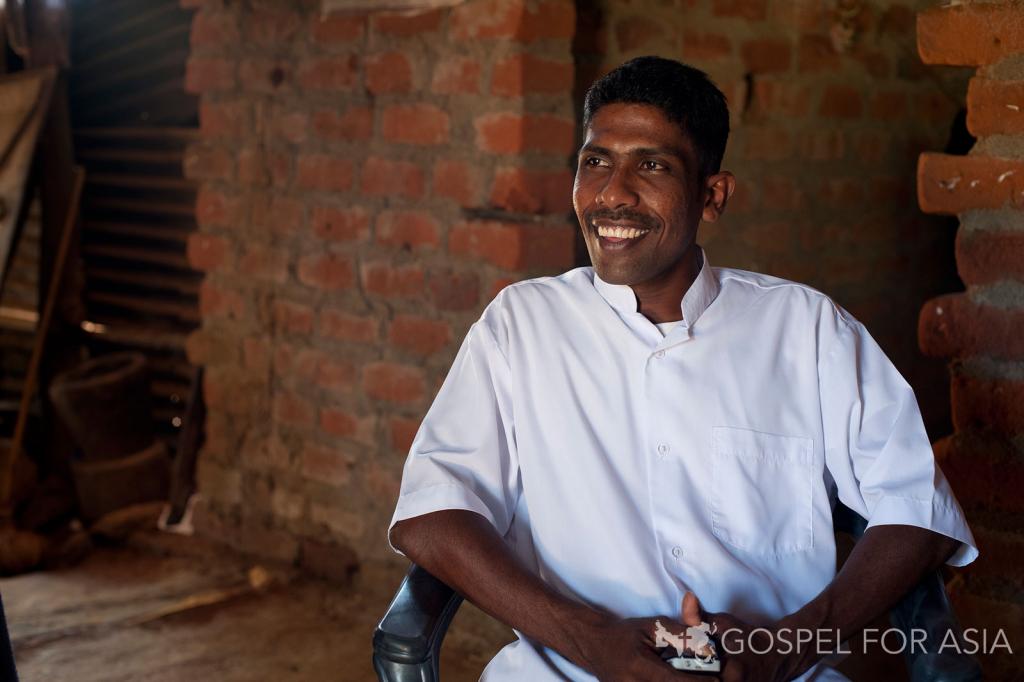 The secret to doing great exploits courageously for the Lord is our understanding of our God.
Paul knew God…
He knew that He alone was sovereign and in control of every circumstance.
He knew that God works all things together for the good of those who love Him and who are called according to His purpose.
His hope was in Him.
His courage was in Him.
Listen to Paul as he stands upon the broken deck of a shipwrecked boat, proclaiming to a crew of fearful men expecting their soon death. As they're tossing barrels and cargo aside in hopes for a few more moments to live, Paul stands up and says, "I urge you to keep up your courage, because not one of you will be lost; only the ship will be destroyed. Last night an angel of the God whose I am and whom I serve stood beside me and said, 'Do not be afraid' (Acts 27:22–24).
Paul knew to whom he belonged, whom he believed and that He was faithful and strong and sovereign.
Even while sitting in prison, Paul maintained this attitude. Emperor Nero may have thought, This Paul is my prisoner. He's finished. But Paul was declaring, "I am not Nero's prisoner. I am the Lord's prisoner. The Lord is my Master, and because I am His, I am free even in prison."
Paul knew his God, and it affected the way he saw every situation in his life and it determined his courage.
We must have this same confidence. We must hear the One who called us saying,
"Fear not, for I have redeemed you; I have called you by your name; you are Mine. When you pass through the waters, I will be with you; and through the rivers, they shall not overflow you. When you walk through the fire, you shall not be burned, nor shall the flame scorch you. For I am the LORD your God" (Isaiah 43:1–3, NKJV).
Stay Confident
Today, take courage and stand strong. Approach each day with confidence in the God you serve.
---
Dr. KP Yohannan, founder and director of Gospel for Asia, has written more than 200 books, including Revolution in World Missions, an international bestseller with more than million copies in print. He and his wife, Gisela, have two grown children, Daniel and Sarah, who both serve the Lord with their families.
Gospel for Asia has been serving the "least of these" in Asia since its beginning in 1979, often in places where no one else is serving. GFA supports national workers who are serving as the hands and feet of Christ by ministering to people's needs so they can understand the love of God for them for the first time. GFA is engaged in dozens of projects, such as caring for poor children, slum dwellers and widows and orphans; providing clean water by funding wells; supporting medical missions; and meeting the needs of those in leprosy colonies. Through GFA's Bridge of Hope Program, tens of thousands of children are being rescued from the generational curses of poverty and hopelessness.
Click here, to read more articles on Patheos by Dr. KP Yohannan Metropolitan.
Go here to know more about Dr. KP Yohannan: Wiki | Flickr | KPYohannan.org | GoodReads