WILLS POINT, TX – K.P. Yohannan, founder of Gospel for Asia (GFA World and affiliates like Gospel for Asia Canada) shares on seeing the real Jesus who reigns and rules.
In this time we live in, information is so easily accessible. We are surrounded by messages from everything from social media to advertisements to television shows to how-to books. All it takes is a quick online search on our phone to find a myriad of different viewpoints on seemingly every topic imaginable, including spirituality. With all of this information fighting to take up residence in our minds and hearts, how do we make sure we stay the course of what is true and good and real in our walk with God? Spiritual reality begins when, like Moses at the burning bush, we come face-to-face with the Living God. Up until that moment, Moses had tried in his own power to deliver Israel without success. His self-appointed rescue attempts floundered, but then for the first time, he saw the invisible Creator on the mount of God. What a transformation came to this disgraced prince. Moses was empowered from on high. From then on, he counted it a privilege to forsake the splendor of Egypt and suffer with the people of God. Could it be that many of us have not yet turned aside at the burning bush to gaze at the real Jesus? We must begin our spiritual journey there—not with the plastic substitutes so often offered in our society today. How long will we go on being duped by the phony "christs" that are circulated by today's pop religion?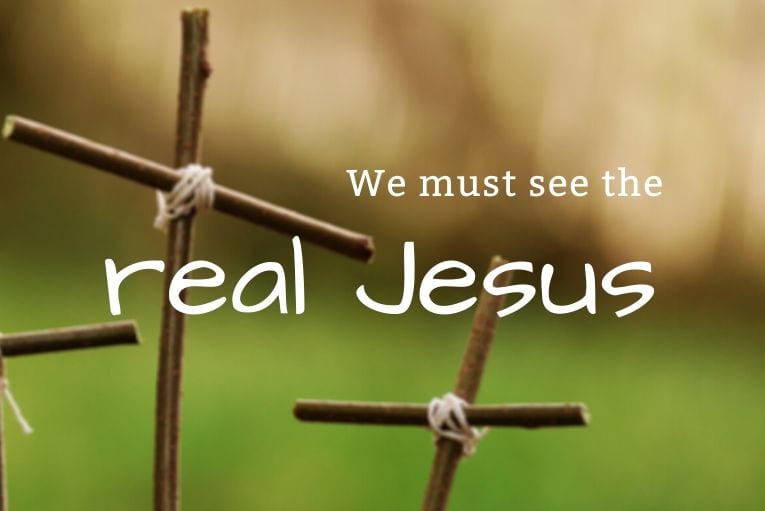 Jesus: The Lord of All Things
The secret of the abundant life is Christ and Christ alone. We must see the real Jesus. We must have a correct vision of who He is and, therefore, who we are to incarnate and serve during our time on earth. Only then will we begin to rediscover the authority, glory and power of His majesty.
One of the most revealing images of the real Jesus is found in Colossians 1:13–20. Here we find Him to be "the image of the invisible God . . . . For by Him all things were created that are in heaven and that are on earth, visible and invisible, whether thrones or dominions or principalities or powers. All things were created through Him and for Him. And He is before all things, and in Him all things consist. And He is the head of the body, the church, who is the beginning, the firstborn from the dead, that in all things He may have the preeminence. For it pleased the Father that in Him all the fullness should dwell."
What a mighty God we serve! The whole universe, everything that we can see and cannot see, was created for Him. He is head of the Church and our Lord. We were made for Him and His pleasure.
Where is Our Place?
This is not the same God we are being taught to manipulate and order about by many in popular "Christian" culture today. The true Jesus rules—and that means He rules us. The true Jesus reigns—and that means He reigns over us. We must learn that our proper place is at the feet of the Lord Jesus.
What awe, reverence and worship the very names of our Lord should evoke in the spirit of every true believer:
"And thou shalt call His name JESUS" (Matthew 1:21, kjv). He is the Prince of Peace, Mighty God, Wonderful, Counselor, Holy One, Lamb of God, Prince of Life, Lord God Almighty, Lion of the Tribe of Judah, Root of David, Word of Life, Author and Finisher of Our Faith, Advocate, The Way, Dayspring, Lord of All, I Am, Son of God, Shepherd and Bishop of Souls, Messiah, The Truth, Savior, Chief Cornerstone, King of Kings, Righteous Judge, Light of the World, Head of the Church, Morning Star, Sun of Righteousness, Lord Jesus Christ, Chief Shepherd, Resurrection and Life, Horn of Salvation, Governor, The Alpha and Omega.
Although He humbled Himself to come as a human baby, revealed Himself as a servant and was arrested and died as a criminal—this Jesus is the same yesterday, today and forever. Although He is Jehovah Jireh, our provider, He is not the Santa Claus so many have made Him out to be. As we have a fuller realization of our true place in creation, the wonder of Christ dwelling in us becomes the beginning of understanding. Yet this awareness remains a secret to so many in our age, because our real worship has shifted from the King of the universe. We listen to all the competing voices around us and start adoring our own abilities, bodies, minds and talents rather than the God who gave them to us.
Confessing Our Need
Often we do not see the real Jesus because we're too busy looking at ourselves—it's easy for our own flesh to get in the way. Ask God daily for His help and His mercy to see Christ as He truly is. Regularly realizing and confessing our need for God's mercy and grace in our everyday lives is a crucial practice in our ongoing journey with the Lord.
---
KP Yohannan, founder and director of Gospel for Asia, has written more than 200 books, including Revolution in World Missions, an international bestseller with more than 4 million copies in print. His Road to Reality radio program airs on more than 200 outlets worldwide. He and his wife, Gisela, have two grown children, Daniel and Sarah, who both serve the Lord with their families.
Gospel for Asia has been serving the "least of these" in Asia since its beginning in 1979, often in places where no one else is serving. GFA national workers serve as the hands and feet of Christ by ministering to people's needs so they can understand the love of God for them for the first time. GFA is engaged in dozens of projects, such as caring for poor children, slum dwellers and widows and orphans; providing clean water by funding wells; supporting medical missions; and meeting the needs of those in leprosy colonies. Through GFA's Bridge of Hope Program, tens of thousands of children are being rescued from the generational curses of poverty and hopelessness.
In what ways has God has given you grace to see Him more clearly? How has it changed your journey with Him? Let us know in the comment section below!
---