WILLS POINT, TX – K.P. Yohannan, founder of Gospel for Asia (GFA World and affiliates like Gospel for Asia Canada) shares on the one concern and spiritual motivation we need to be able to stand firm when trials come — to be approved by Him, to please Him, to belong to Him.
As human beings, we cannot survive any commitment for long without motivation, whether that motivation is godly or self-centered.
Self-centered (horizontal) motivation can be money, power, appreciation—anything that gratifies us—and it can have a spiritual side, too. We may do wonderful things for the kingdom because we want to look good, or because we feel guilty if we do not do this or that or because we got charged emotionally from some challenge we heard from the pulpit. It is easy to fall into the trap of horizontal motivation—our motives may be impure, but we think to ourselves, Who knows? And does it really matter?
It does matter when we convey the outward appearance of holiness without the inward foundation. This type of motivation will not sustain us long. It takes only a few people, a few challenging circumstances or an unfavorable environment to cause us to fizzle out in our activity for the kingdom. We can muster up only so much strength from the inside.
We need continuous input. The physical life, in which we must have food and water to survive, illustrates what is needed in the inner man as well. We need motivation that is objective—from the Lord.
What Keeps Us Going
The life of the Apostle Paul is the story of any "normal" Christian. He crafted tents with his hands, making his living like anyone else. But every tent he made, every trip he made to the market, every voyage he took in a ship, was simply a bridge to his real goal in life: to rescue the perishing.
What kept him going when he was misunderstood and forsaken by those around him? When he was left to die after being stoned? When he was shipwrecked? When he was treated as a criminal and thrown in jail?
Paul tells us in 2 Corinthians 5:14 that "Christ's love compels us." The Amplified Version uses the words controls and urges and impels. Paul was not moved to live as he lived by any factor other than his relationship with the Lord. He was motivated to do everything he did for one reason: Jesus.
God said to Ananias regarding Paul, "I will show him how much he must suffer for my name" (Acts 9:16). Later Paul himself, in his letter to the Philippians, wrote, "For to me, to live is Christ and to die is gain" (Philippians 1:21). Paul could live like this and endure hardships because of one thing: He lived constantly for the approval of his Master.
Hebrews 12:3 admonishes us to "consider him [Jesus] who endured such opposition from sinful men, so that you will not grow weary and lose heart."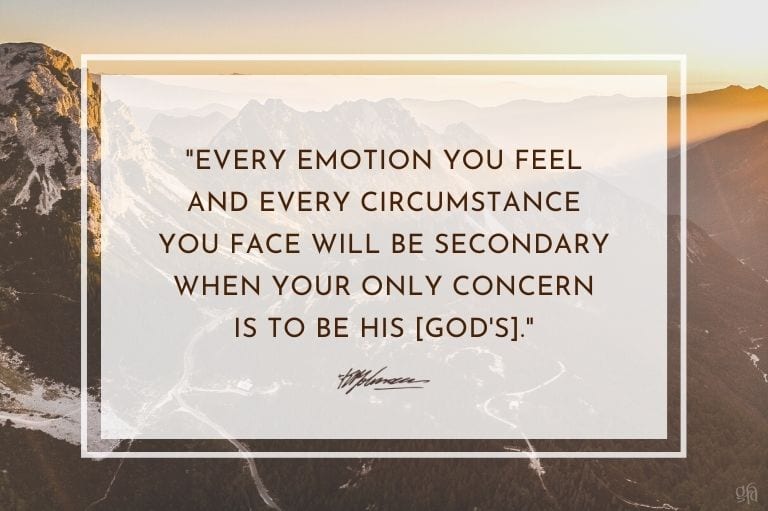 Unmovable
We as people experience all kinds of hurt, whether through personal problems or situations imposed on us. Our own sins may hurt us, our expectations may not be met, other people may fail us or harsh circumstances may bear down on us. There are many reasons we experience sorrow, pain, agony, self-pity, discouragement, disillusionment, mental breakdown, even suicide.
If you want to stand firm when trials come, not be moved by circumstances, not waver in your faith—then know that you cannot even begin to do it in your own strength. If the people of God are to stand firm and even survive in the days to come, we must relinquish to Jesus our lives and all that they mean.
As you walk through life, every emotion you feel and every circumstance you face will be secondary when your only concern is to be His—to be approved by Him, to please Him, to belong to Him. All that you are and do must be centered around Him and His purposes.
Take the First Step
Today, take some time to examine your motivations before the Lord. Pray that your only concern will be to be His—to be approved by Him, to please Him, to belong to Him.
Check out these videos about what the Lord did through GFA World in 2019.
---
KP Yohannan, founder and director of GFA World (Gospel for Asia), has written more than 200 books, including Revolution in World Missions, an international bestseller with more than 4 million copies in print. He and his wife, Gisela, have two grown children, Daniel and Sarah, who both serve the Lord with their families.
GFA World (Gospel for Asia) has been serving the "least of these" in Asia since its beginning in 1979, often in places where no one else is serving. GFA World national workers serve as the hands and feet of Christ by ministering to people's needs so they can understand the love of God for them for the first time. GFA World is engaged in dozens of projects, such as caring for poor children, slum dwellers and widows and orphans; providing clean water by funding wells; supporting medical missions; and meeting the needs of those in leprosy colonies. Through GFA World's Bridge of Hope Program, tens of thousands of children are being rescued from the generational curses of poverty and hopelessness.
---