WILLS POINT, TX – K.P. Yohannan, founder of Gospel for Asia (GFA World and affiliates like Gospel for Asia Canada) shares on Jesus' call to true discipleship, His example, and the continued call follow Him with our whole lives.
Throughout the New Testament, we see the Holy Spirit touch the hearts of people who committed their lives to Him wholly; who followed Jesus simply because He said, "Follow Me"; and who did whatever He asked them to do. Consider the following passage from Mark 1:16-20:
"And as He walked by the Sea of Galilee, He saw Simon and Andrew his brother casting a net into the sea; for they were fishermen. Then Jesus said to them, 'Follow Me, and I will make you become fishers of men.' They immediately left their nets and followed Him. When He had gone a little farther from there, He saw James the son of Zebedee, and John his brother, who also were in the boat mending their nets. And immediately He called them, and they left their father Zebedee in the boat with the hired servants, and went after Him."
These men dropped everything they were doing and followed Jesus. I imagine that Zebedee, James and John's father, watched in consternation as his sons got up from their nets and followed Jesus. Perhaps he called after them. Perhaps he thought they had lost their senses.
But Jesus was saying, "You could spend the rest of your lives catching fish. But if you come and follow Me, I will make you fishers of men."
Jesus still issues that call to those who claim to be His followers today.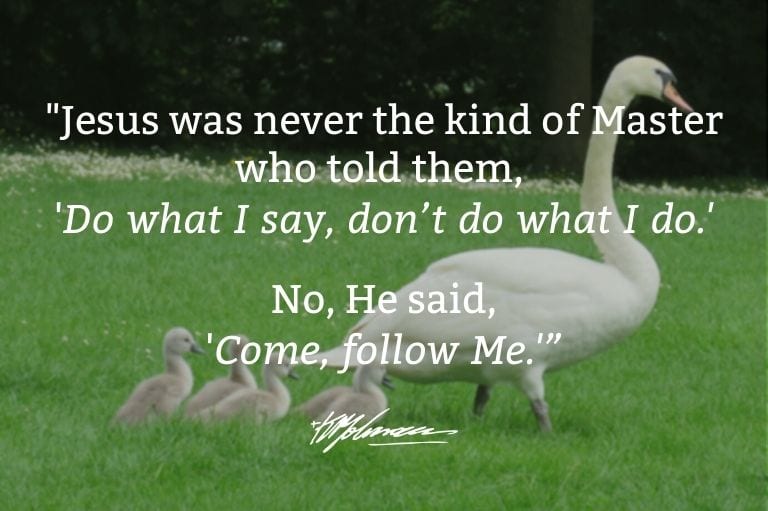 Taught by Example
Peter states, "To this you were called, because Christ suffered for you, leaving you an example, that you should follow in his steps" (1 Peter 2:21). Jesus told His disciples, "A new command I give you: Love one another. . . . All men will know that you are my disciples if you love one another" (John 13:34–35).
When we read straight through the four Gospels, we can see clearly how Jesus lived His life. It is summed up in this statement: "The Son of Man did not come to be served, but to serve, and to give his life as a ransom for many" (Matthew 20:28).
"My purpose is not for Myself," Jesus was saying, "so that everyone can gather around and take good care of Me. No, I have come as the poorest of the poor. I have come to suffer and die for others."
Jesus did not train His disciples in a classroom; He taught them through example. He lived His life before his disciples and then willingly laid it down. After the disciples were filled with the Holy Spirit, they remembered Jesus's words to go into all the world and speak the Good News. And every one of them laid down his life for the Lord, because Jesus was their example. Jesus was never the kind of Master who told them, "Do what I say, don't do what I do." No, He said, "Come, follow Me."
Jesus also said, "I tell you the truth, anyone who has faith in me will do what I have been doing. He will do even greater things than these, because I am going to the Father" (John 14:12).
The Book of Acts—Continued Through Us
The book of Acts is much more than a fascinating piece of history—it is a living, open-ended book whose story continues even today in the lives of committed believers. It is a book filled with the stories of "normal," everyday people like you and me who had only one thing on their minds: Jesus died, He rose again, He is our Lord, He is coming back and people need to know!
The Apostle Paul was just as human as we are. "I know that nothing good lives in me, that is, in my sinful nature," he wrote in Romans 7:18.
Paul recognized that in his own strength he started from zero. He confessed his weaknesses and inadequacies continually. But for Paul, following Jesus was not a nine-to-five job, nor did it have a finishing point. This was everyday life for him.
There was no dichotomy in Paul's life or in the lives of the early believers. Their lives were not compartmentalized into "spiritual" and "secular" activities. Their whole existence was a solid commitment, a life given for the Lord and His purpose for them.
In the book of Acts, we read about long hours of prayer, fasting and waiting on God to move. These believers were common people like us, but wherever they went, things happened. As these men and women conducted their lives in the marketplace, their neighborhoods and workplaces, God used them to bring life and transformation to their communities.
This is how the Lord wants us to live as well. The call of Christ rings in our ears: "Follow Me, and I will make you fishers of men." Walking in the footsteps of those who have gone before us in the grace that God has given, let us determine afresh each day to follow Christ in His example—living as He lived, loving and serving others with every part of our lives.
Taking the First Step
Today, take some time to meditate on the following question: How do we live our lives as Christ and His disciples did? Think carefully, and deliberately live your life in such a way that it will make a difference. Ask the Holy Spirit to empower you as you seek to live for Him.
Consider writing a prayer to the Lord in the comment section below, asking Him to lead and empower you through the Holy Spirit to love and serve the people around you who have yet to walk with Him.
---
KP Yohannan, founder and director of GFA World (Gospel for Asia), has written more than 200 books, including Revolution in World Missions, an international bestseller with more than 4 million copies in print. He and his wife, Gisela, have two grown children, Daniel and Sarah, who both serve the Lord with their families.
GFA World has been serving the "least of these" in Asia since its beginning in 1979, often in places where no one else is serving. GFA World national workers serve as the hands and feet of Christ by ministering to people's needs so they can understand the love of God for them for the first time. GFA World is engaged in dozens of projects, such as caring for poor children, slum dwellers and widows and orphans; providing clean water by funding wells; supporting medical missions; and meeting the needs of those in leprosy colonies. Through GFA World's Bridge of Hope Program, tens of thousands of children are being rescued from the generational curses of poverty and hopelessness.
---