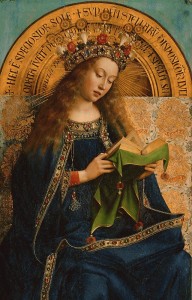 In my book, Living by Faith, Dwelling in Doubt, I wrote about how Mary, by consenting to be the Mother of God even though the very idea made no sense, displayed a faith we're all called to share–the faith that makes love possible even when it seems impossible:
If alterity is an aspect of God and of every person, then living by faith means hospitality to those we encounter—especially to their unseen depths. It means keeping the doors to our mind and heart open to the presence of others, a presence that may challenge our notions and call us to respond in ways we aren't expecting and for which we are unprepared.

Perhaps no story better illustrates this affirmation of alterity than Mary's yes to the angel Gabriel. When the angel appeared to her, bringing tidings of God's favor and news of an impossible conception, Mary was greatly troubled and asked how this could be. Gabriel's answer was no less obscure and unfathomable—no less words of alterity—but Mary responded in hospitality to this impossible, otherworldly visitation, saying, "Let it be to me." She could not know or explain or understand what this "it" was, but she welcomed it freely, faithfully, and lovingly.

Theologians would later try to make sense of this visitation, defining its terms within a system of thought—downplaying its alterity in favor of intelligibility, but I think Mary gave the better and more appropriate response. After her inquiring "How can this be?" was answered with an equally inexplicable explanation, she chose to act in the only way that could pierce the cloud of unknowing. She answered her own "How can it be?" with "Let it be." She responded in loving service and reverence to her God.
Mary couldn't make intellectual sense of the angelic announcement (we kid ourselves if we think we can), so she made sense of it creatively. How? By simply being a mother. Her faith should be our own, for we are all called to bring Christ into the world–not with proofs or careful definitions, as if these give birth to God, but with love. Simply with live. If we really want to know God, then we must love others, for to love others is to know God.