Today I continue sharing my reflections on the recent Mid-Atlantic Congress in the Archdiocese of Baltimore. Find all of my #MACongress posts online here.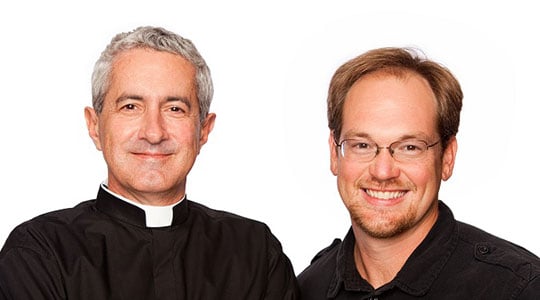 Friday, March 8th and Session Three of the Mid-Atlantic Congress found me sitting on the floor in the back of a standing-room-only crowd for the session "Making Church Matter" by Rev. Michael White and Thomas Corcoran. Here is the description for this session, which was sponsored by Ave Marie Press:
In this workshop Father Michael White and his Pastoral Associate, Tom Corcoran, will tell their story. It's the story of the struggles they faced in transitioning their parish from a culture of consumer exchange into a healthy Catholic parish focused on the New Evangelization. With humor and honesty they share the successful strategies they've developed when it comes to nearly every area of parish life, from worship to service to giving. But most of all theirs is a story all about genuine parish renewal by challenging church people to work together to create an accessible and irresistible environment for people disconnected from Christ and his Church. They will discuss how their strategies are transferable to other parishes.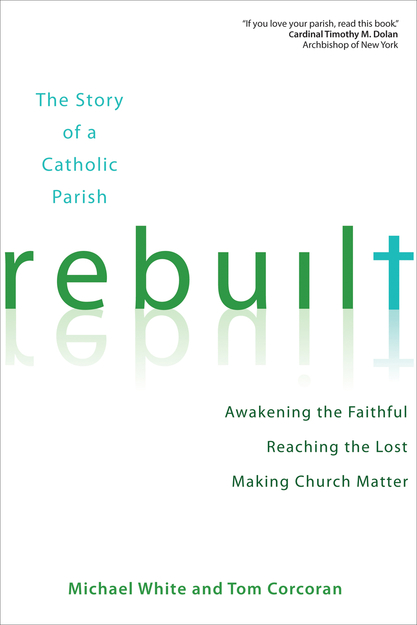 This particular session had been marked in red "must attend" letters in my conference booklet since I learned that I would be attending the Congress. The session was largely based on the groundbreaking book Rebuilt: Awakening the Faithful, Reaching the Lost, and Making Church Matter by Fr. White and Tom Corcoran. I'd witnessed personally this book flying off the shelf and selling out completely midway through the LA Congress and wanted to hear firsthand what was behind the success this duo and their team had found in "bringing their parish back to life".
Honestly, the presenters did not disappoint. The presentation was not flashy or overly technical — the duo simply took turns presenting the concepts behind the lasting change they'd made at Church of the Nativity, a now-thriving spiritual home to 4,000+ families in the Archdiocese of Baltimore. While I could share my outline from the presentation, I want to instead encourage you to get a copy of Rebuilt for yourself and another for your pastor – many of the concepts outlined in this presentation are covered in great detail in the book.
I will however share a few things that truly struck me. One was Fr. White and Mr. Corcoran's description of their visits to numerous, healthy "mega churches" to examine what was working in those faith communities. They shared three lessons they learned:
It's necessary to change our focus from "church people" to "unchurched" people
It's critical to prioritize the weekend experience in a parish
We must move our "church people" to action
The team went on to present key tips in three areas of critical importance for the parish to thrive: music, ministers and message.
In particular, I enjoyed hearing their thoughts on how to motivate parish members to volunteer in ministry — to "preach it" and to make it accessible for families. At the Nativity website, you get a firsthand look at this "everyone can help" mentality. Simple solutions such as greeting one another or giving up your preferred seat or parking spot may sound simple, but they create an environment that is conducive not only to hospitality, but more importantly to helping parish visitors find a true spiritual "home" where they are not only welcomed kindly, but more importantly treated as a valued part of the community.
I can't recommend the book Rebuilt: Awakening the Faithful, Reaching the Lost, and Making Church Matter highly enough. It was a true pleasure to hear Fr. White and Tom Corcoran in person. The lessons I'm learning from their book will keep on giving!