I'm sure I'll be sharing lots of great news about my newly launched children's fiction series "Chime Travelers" in the upcoming weeks. I thought I would begin today by sharing the official press release for the books. This series has been an ongoing labor of love for the last several months, so it's a true joy to hold the books in my hands and to share them with my favorite young (and young at heart) readers! I'll include information below on how to order the books – thank you, in advance, for your prayerful support for this work!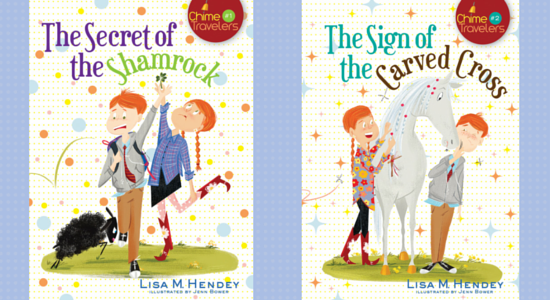 Servant Books Promotes Children's Faith in an Innovative New Series by Best Selling Author Lisa Hendey
Hendey's Chime Travelers series provides fun and inspiration for young readers in her 2015 children's book debut.
Cincinnati, OH (July 20, 2015) – Servant Books, an imprint of Franciscan Media, today announces the release of two new works from best selling author, and founder of CatholicMom.com, Lisa Hendey. The Secret of the Shamrock and The Sign of the Carved Cross will be the first two books released as part of the Chime Travelers series, Hendey's first foray into children's literature. Written with the purpose to educate and inspire its young readers, each book of the series artfully combines time travel with the lives of saints in a fun and engaging way. The series is aimed at young readers, age 7-10. Both books will release on July 21.
"Hendey's creative approach to our Catholic faith allows children to understand lives of saints in a way that is easily accessible and holds their interest," says Louise Paré, Servant Books director of product development. "Each story encourages children to become more active participants in their faith, and we are honored to partner with her to publish this series."
Book one of the series, The Secret of the Shamrock, finds Patrick unexpectedly transported to fifth-century Ireland. There he meets St. Patrick as a young shepherd and joins him on a wild escape across the country. Along the way Patrick finds out more about faith in a loving God as he shares in the shepherd's adventures. Hendey uses the exciting story line to impart faith lessons in a fun way that will engage the reader and parents alike. A special parents section at the end gives more information on the life of St. Patrick and offers questions for conversation with their children.
In book two, The Sign of the Carved Cross, Patrick's twin sister Katie struggles with the new girl in school. She suddenly finds herself in a Native American village in 1675 and meets a new friend—a young Kateri Tekakwitha. Katie's love for her faith, especially for the sacraments, grows through her contact with her new friend. Through Kateri's struggles with her family over her newfound faith, Katie learns to appreciate her own family and her parish life—and even the new girl in school.
"Lisa Hendey has always had the ability to inspire and lead other Catholic moms," says Jared Dees, author of 31 Days to Becoming a Better Religious Educator. "Now, with the warmth and care of an experienced mother, she demonstrates her ability to offer inspiration to their children, too."
"From baptism to confession, catechesis to church history, the smells of incense to the chime of the church bells, Lisa Hendey uses the beautiful, everyday elements of the Catholic faith to bring the Chime Travelers stories to life," says Real Life Radio's Allison Gingras. "With engaging dialog and scenes set to transport you back in time with Patrick and Katie, the fullness of Catholicism is taught in a way children can comprehend and are sure never to forget."
"Lisa Hendey's Chime Travelers series delivers Catholic values in an entertaining fashion that will delight the young and young at heart," says Pete Socks, The Catholic Book Blogger. "This father of five can't wait for the next volume."
Hendey's internationally known website, CatholicMom.com, was recognized as the Catholic Press Association's 2015 Best Online Blog by a Group or Association. The Catholic Press Awards showcase works from dedicated Catholic authors and media professionals from the previous year.
An avid blogger and speaker, Hendey is most well known as the founder and editor of CatholicMom.com, and as bestselling author of The Grace of Yes, The Handbook for Catholic Moms and A Book of Saints for Catholic Moms. Hendey is also a board member with KKNXT Catholic Television, and has appeared on EWTN, CatholicTV and in the Momnipotent DVD series. 
Order Chime Travelers Books:
Your local Catholic Retailer