I've had quite a wild ride the last few weeks. Among my many and varied activities, I spend a few hours at the fabulous Rubin Museum in Manhattan, admiring both art and native dance performances from Nepal. The chance to view cultural and religious treasures from this far-off corner of the world reminded me of Nepal's pressing need for love and support. So often, we rush to help in these situations in the hashtag frenzied hours immediately after the crisis, but forget that recovery and true healing will take years.
Yesterday, Pope Francis tweeted a reminder that's been echoing in my heart since I saw it: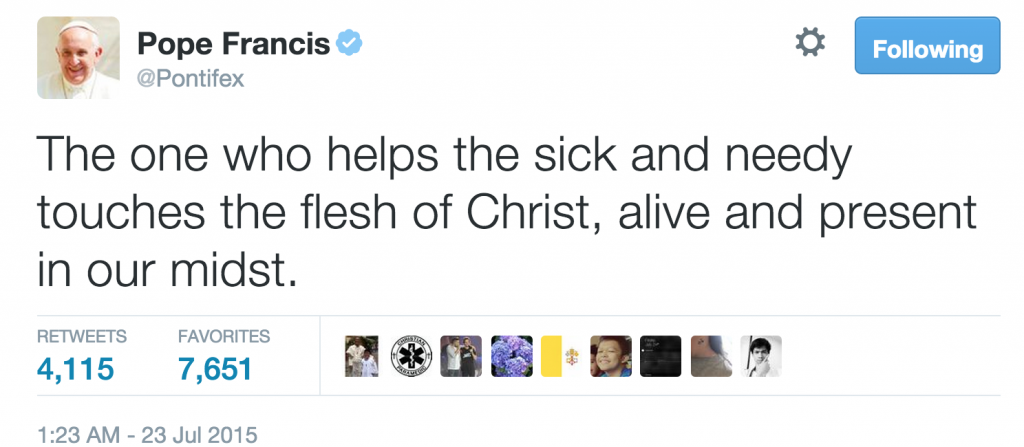 Wow. This one made me literally weep. If I had the opportunity to reach out and touch the flesh of Christ, wouldn't I literally JUMP at the chance?
I read in Matthew 25 of the final judgment. I hear Christ say to his followers (and through them to us), "He will answer them, 'Amen, I say to you, what you did not do for one of these least ones, you did not do for me.'" And yet I still choose the fancy coffee over the simple donation or the new blouse over the opportunity to bless one of these least ones. Why?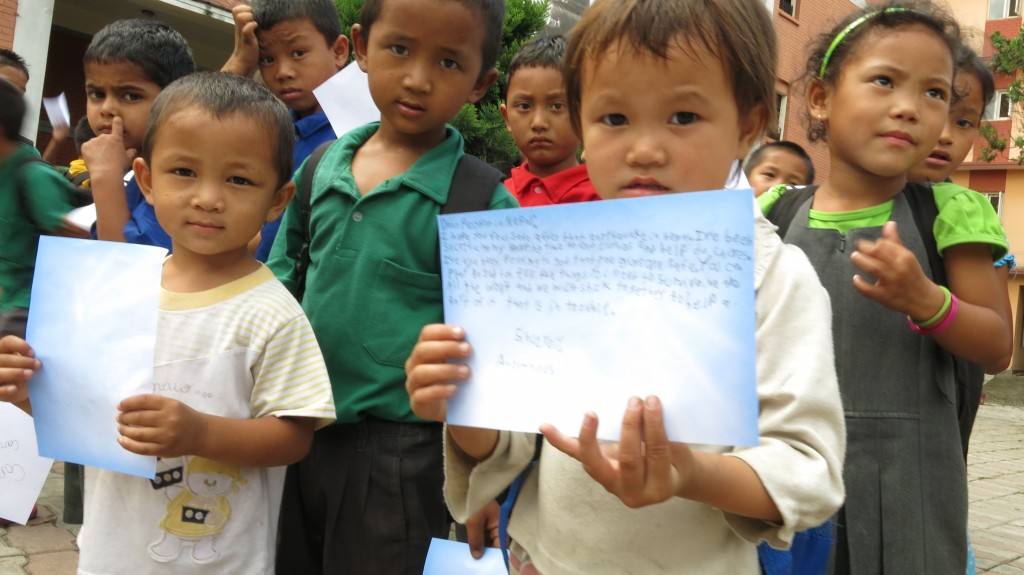 Three months after the earthquake in Nepal, we have an easy opportunity to touch the flesh of Christ. I'm including an update below from Catholic Relief Services. I hope you'll prayerfully consider clicking on the links at the end of it, or prayerfully find some simple way to help in your own community. The need is real, and the blessings are as well.
Come "touch Christ" with me.
Three Months After Nepal Earthquake, Catholic Relief Services Transitions to Early-Recovery Phase Assistance Has Reached More Than 101,000 People; Continues Long-Term

BALTIMORE, MD, July 22, 2015 – Thee months after a massive earthquake in Nepal leveled more than 500,000 houses and killed more than 8,000 people, Catholic Relief Services (CRS) and its partner Caritas Nepal are continuing to provide life-saving support in some of the most hard-to-reach parts of the country.

To date, CRS and Caritas have provided emergency relief to 20,234 households – over 101,000  people, including essential living supplies, tarps and blankets, transitional shelter materials (tin sheeting and tool kits), and water treatment and sanitation kits. CRS is targeting its support in the heavily affected areas of Gorkha, Lamjung andDadhing.

The monsoon season poses the greatest challenge to ongoing relief efforts. Many of the villages that are in most need of support are located in isolation and at extremely high elevations. Many are accessible only on foot or by helicopter as the steep dirt roads that lead to them quickly turn to mud and become impassable with rains. CRS and Caritas teams are using tractors and helicopters, which have been provided by the World Food Program, to distribute relief in certain areas.

"When we think of the operational challenges this weather creates from a programming standpoint, we can only imagine the hardship these conditions present in people's day-to-day lives," says Jennifer Poidatz, director of CRS' Humanitarian Response Department. "We're doing our best to reach and support them as quickly as possible."

To date, CRS has mobilized more than $15 million in funding for Nepal relief efforts, including more than $11 million in private donations.

The 7.8 magnitude earthquake struck on April 25, devastating historic landmarks in Kathmandu and destroying hundreds of thousands of homes and buildings in outlying villages. The earthquake also triggered avalanches in the Himalayas.

"With 25 percent of the population of Nepal already in extreme poverty before the earthquake, and 83 percent of Nepal's people living in rural areas, the impact of the earthquake on people's lives, and all that they had built over a lifetime, was immense," Poidatz says.

Donate Online: donate.crs.org/Nepal

Donate by Mail: Mail checks to P.O. Box 17090, Baltimore, MD 21297-0303. Please write "Nepal Earthquake" on the memo line 

Donate by Phone: Call 877-HelpCRS to make a credit card donation to CRS over the phone.