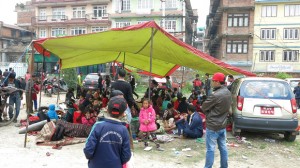 For the last week, we've been watching heartbreaking images coming out of Nepal. Immediately after the quake hit, I thought of my friends at CRS, certain that they were already mobilizing immediate relief into the area. I was right, and on their Newswire website they have been giving frequent updates like this one, posted yesterday:
Emergency relief supplies brought into Kathmandu by Catholic Relief Services (CRS) are being assembled for distribution to those suffering in the wake of the powerful earthquake that struck Nepal Saturday.

CRS will truck the supplies – designed to help those living outside due to earthquake damage and fears – over damaged roads to a distribution location 30 miles from Nepal's capital city to begin to reach people in outlying areas.

"We have all seen images of the damage in Kathmandu," said Jennifer Hardy, CRS Regional Information Officer who is in Nepal. "But we know that there is more unseen devastation in areas further away, many of them inaccessible to this point. Getting these items into the hands of the people of Nepal is the beginning of what will be a long and difficult task of recovery and rebuilding."

Thousands of homes were destroyed by the earthquake leaving their residents with no shelter. Many others are choosing to live outside as severe aftershocks have continued. Cold weather, rain and wind have made conditions miserable.
The CRS supplies – including tarpaulins and tools needed to construct temporary shelters as well as sanitation and hygiene items – were pre-positioned in Bihar, a state in India that borders Nepal, as the area was known to be earthquake-prone. Trucking them to Kathmandu was a challenge due to damage to roads. More supplies coming from Dubai are expected to arrive in Kathmandu as soon as possible, based on the capacity of the city's only airport, and will be distributed immediately. Continue reading full article here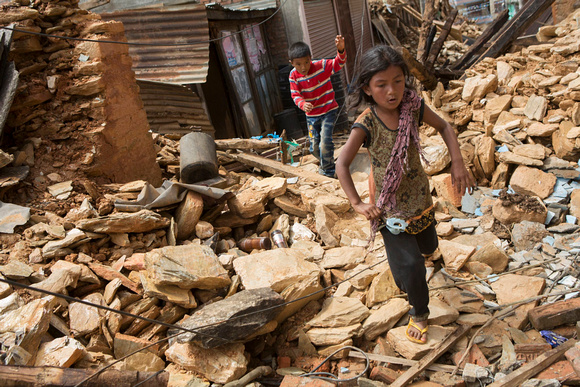 When I was traveling in Tanzania with CRS this Winter, I learned a lot about how the organization responds in these emergencies. Mobilization is swift and efficient. But this is not a "get in and get out" scenario. Looking at their work following Haiyan, we see that CRS is committed not only to immediate life-saving aid, but also to bettering the lives of the people for long term change. I know such will be the case for those they serve in Nepal.
Additionally, the USCCB has called upon parishes to get involved in aiding Nepal:
Most Reverend Joseph E. Kurtz, Archbishop of Louisville and President of United States Conference of Catholic Bishops, has asked his brother bishops to take up a second collection for our affected brothers and sisters in Nepal. These funds will be used to support the efforts of CRS as they respond to immediate emergency needs for such necessities as water, food, shelter and medical care as well as the long-term needs to rebuild the communities in the regions affected after widespread destruction. Read full article
As for us, it's clear to see that if we make small sacrifices to send aid, the dollars we commit will be put to good use. Here are a few examples of specific dollar amounts and what they can purchase:
What your donation can provide:
$8 provides a water kit for a family. This includes 1 jerry can, 1 pail and aqua tabs for water purification.
$15 provides an emergency shelter kit. This includes tarps and nails that are combined with local materials to create emergency shelter.
$22 provides household living supplies. This includes sleeping mats, three blankets, utensils, plastics, glasses, and a cooking pot.
$28 provides hygiene kits. This includes a two-month family supply of soap, laundry detergent, toothbrush, toothpaste, feminine sanitary napkins, and towels.
Note: Dollar amounts cover items only. They do not include costs associated with distribution, training and monitoring.
Beyond simply giving financially, CRS offers some great resources to help your family, classroom or parish pray, learn, act and give to those in need.
Donate Online: donate.crs.org/Nepal
Donate by Mail: Mail checks to P.O. Box 17090, Baltimore, MD 21297-0303, Please write "Nepal Earthquake" on the memo line
Donate by Phone: Call 877-HelpCRS to make a credit card donation to CRS over the phone.