I'm in the regular habit of watching the daily gospel reflection videos from the USCCB as a part of my morning prayer time. So many days, these simple two minute ponderings truly bring the gospel to life for me. Such is always the case on Tuesdays, when I hear from one of my favorite preachers, Fr. Greg Friedman, O.F.M.
Fr. Greg likely has no idea how often I listen to his words and say, "Yes!" I've had the sincere pleasure of meeting him a few times in person, and have always been too shy to share how much his preaching lights me up. I also have the sense that he'd be far too humble to accept my praise.
Today's video is a must watch. I can't embed it here, so you need to follow this link and view it there. I definitely recommend that you read today's gospel from Matthew 9 before your viewing. I've read this passage countless times, with an eye towards the gospel's ending:
Then he said to his disciples,
"The harvest is abundant but the laborers are few;
so ask the master of the harvest
to send out laborers for his harvest."
Fr. Friedman caught my attention by starting his reflection with a scenario I often face: when dealing with "feedback", I far too often dwell on the negative remarks. Somehow hearing Father Greg say he does the same makes me feel a bit better. He goes on to elucidate how Jesus overcame the most negative of "evaluation" forms and how he "just goes on working – he has no time for his opponents."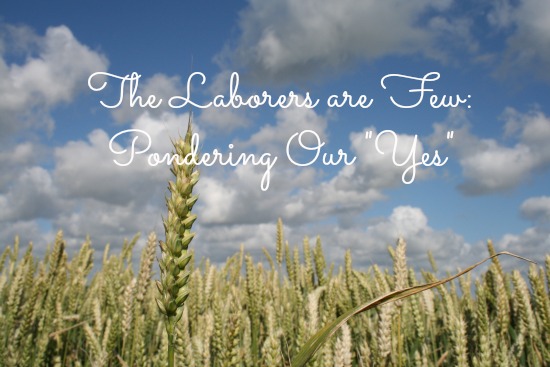 Praying over this reflection, the gospel's call to duty ("the laborers are few") and my own mission, I had to admit to myself how often my pride keeps me away from answer Christ's call. Sometimes, I let my self doubt stand in the way of my "yes". Other times, my pride — the sense that I don't have what it takes to do things "right" so I won't do them at all — makes me a non-starter.
But here, the commission is clear: we're all called, just as we are.
We can each look around us and name five "laborers" who are more talented, more able, holier than ourselves. We can pass the buck or wait until being a "laborer" is convenient.
Or we can stop, pray for God's grace in our humility, and say yes to the task at hand. If you're in doubt, wavering about your answer, watch the video all the way through to Fr. Friedman's conclusion:
"People sometimes misunderstand what we do, or even criticize unfairly, but the work of the kingdom must continue and we must follow humbly in the Lord's footsteps."
There are your marching orders for today.
A question for you: Do you shy away from being a "laborer" for the harvest? What keeps you from fully engaging, from giving your "yes" to God's call for your life?