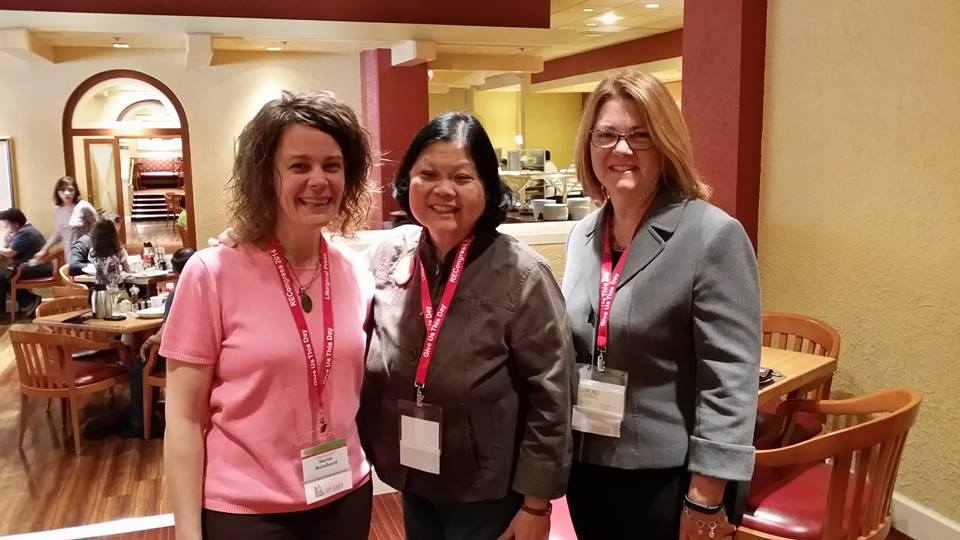 In continuing to share the experience of attending this year's Archdiocese of Los Angeles' Religious Education Congress, today's post will underscore that MY Congress this year was less a chance to learn from the wonderful workshops, and more a series of treasured moments with some of the greatest role models I could hope to meet in person.
Dr. Carolyn Woo is the President and Chief Executive Office of Catholic Relief Services. Named "500 Most Powerful people on the planet" by Foreign Policy Magazine in 2013, Dr. Woo also served as the Dean of the University of Notre Dame's Mendoza College of Business from 1997 t0 2011. Frequent readers will know that as an alumna of Notre Dame, that particular credential won my heart. I had a very brief opportunity to meet Dr. Woo in person prior to my Rwanda trip with CRS in the Fall, but Sarah and I requested a special meeting with her at Congress simply to thank her personally for the amazing work being done by CRS around the world.
I wasn't sure what to expect prior to our meeting, but I'll admit that I was both greatly appreciative for Carolyn's time and anxious to share with her about our growing partnership between CRS and CatholicMom.com. Since I went to Rwanda, it's been increasingly on my heart to help busy moms here in the US to have a broader world perspective, to give them a simple way to stay abreast of world news in the midst of their chaotic service to their families. With our February launch of World View Wednesdays, that dream is coming true. The CRS team and particularly Melissa Stevens have helped us to bring this feature to life.
Carolyn was so generous with her time. She shared with us openly about her work with CRS, but additionally about her two wonderful sons, her writing for Catholic News Service, and the challenges faced by families around the world. Sarah had to put up with a good amount of Notre Dame talk, but she and CRS Communications Officer Alcy Acevedo (who made our time with Carolyn possible), made this meeting even more of a blessing. After an hour with Dr. Woo, I can say that I am more committed than ever to a deepening partnership with CRS. For those who will undoubtedly write me to question this, please see this information on CRS' upholding of Catholic teachings and values.
Due to a scheduling conflict, we were not able to attend Dr. Woo's excellent Congress presentation. A look at the description makes me anxious to find a recording:
"Leadership for Transformation: Ministry Afire for the Common Good with Uncommon Excellence!"  – Join Dr. Carolyn Woo, President and Chief Executive Officer of Catholic Relief Services (CRS), as she inspires leadership for transformation of our world. Enjoy music by OCP artists touched by their journey to Ghana, Africa. Enter into the story of Dr. Woo's journey from her birth place in Hong Kong, her immigration to the United States to attend Purdue University, as Dean of the Mendoza College of Business at the University of Notre Dame, to her current position at CRS, our U.S. Catholic community's mission to serve millions of our brothers and sisters around the world with compassion and excellence. Leave inspired with the tools to be the body of Christ in the world and lead lives and ministry "afire" for the common good.
Dr. Carolyn Woo is definitely "afire" with energy, passion, and zeal for serving those most in need of our love. The privilege of spending time with her reassures me that each of us, even a stay-at-home-mom in Fresno, share this mission in our own capacity.
View the RE Congress livestream videos here
Check out the #RECongress hashtag on Twitter here