Turning on the news is challenging lately.
It seems that at every moment, we are confronted with so much pain and suffering that it becomes impossible to take it all in.
How can we begin to fathom the pain of a mother whose son is beheaded (or the nameless dying in urban settings every day)?
How can we possibly help those suffering in the squander of an Ebola contamination zone or the wreckage of a bombed out village (or the homeless sleeping on the corners and under the overpasses of our own towns)?
Some days, I fall prey to the temptation to simply shut it all out and live in my own simple little world. But even there, I am confronted with loved ones all around me who suffer their own crosses: illness, infidelity, infertility, depression…
So many hurts, so little ability to help.
Today, as we commemorate the Memorial of the Passion of Saint John the Baptist, the words of Pope Francis' tweet from yesterday truly touch my heart:
From the cross, Christ teaches us to love even those who do not love us.
When I read in today's gospel of the beheading and martyrdom of St. John the Baptist, it's too simple and tempting to become lost in the pain, the devastation, and the bitterness of such a horrific death. Yet in this story, we have the perfect example of one who spent a lifetime — literally from womb to tomb — devoting his entire being to the love of Christ. I can only hope to have one tiny portion of the burning passion that fueled the Baptist to live and die the way he did. He never shirked from pain. He embraced it and gave his life for it and for Christ's message of love which compelled his every action.
If there is any hope for those who suffer in our world, it is born of love.
Today, if we each took five minutes and a few dollars to feed the hungry, to remember the war-torn in prayer, and to simply and unconditionally love those around us (even those who don't love us!), imagine what we might be able to accomplish.
St. John the Baptist, pray for us!
As always, I'm grateful to John Clem, O.F.S. for compiling our Sweet Tweets:
Papal Tweet: "

From the cross, Christ teaches us to love even those who do not love us." (Pope Francis Aug. 28th)

Prayers for Peace (Catholic Online) ow.ly/AQrLv

Obama administration announces new HHS mandate rules :: Catholic News Agency (CNA)

ow.ly/ACLwe

Archbishop Kurtz Provides Initial Response to Revised HHS Mandate Regulations (USCCB)

ow.ly/ACXoe

What Is Your Parish Doing to Aid Caregivers? (Lisa Hendey – Patheos)

ow.ly/ABIZ7

Okla. archbishop relieved at return of consecrated Host :: Catholic News Agency (CNA)

ow.ly/ACa8G

Which Catholic News App Won Me Over? | (Allison Gringas –

CatholicMom.com

)

ow.ly/ACFHq

Tech Tip: 5 apps that make you say 'wow' (Kim Komando – USA Today)

ow.ly/ACLNE

Papal envoy: Francis donated $1 million to Iraqi refugees :: Catholic News Agency (CNA)

ow.ly/ACWnj

Bringing Joy to Others: Marionette in Manhattan (

Gloria.tv

)

ow.ly/ADogE

The Faithful Traveler in the US: Blue Army Shrine in Washington, NJ on Vimeo

ow.ly/ADphc

Want to find more information on Popes? There's an 'app' for that – Popes Encyclopedia (Rome Reports)

ow.ly/ADOpG

Dawkins misses joy of those with Down syndrome, critics say :: Catholic News Agency (CNA)

ow.ly/ADON4

Vocation of Service: Secular Franciscan Order | John Baldino

ow.ly/ADQyD

Fr. Landry's Review of Decision Point Confirmation Program by Matthew Kelly and Dynamic Catholic

ow.ly/ADX8w
WHO: Number of People Infected By Ebola Virus Could be Much Greater (Rome Reports) ow.ly/AE2Fi
10 Reasons Every Christian Should Have a Garden | ChurchPOP ow.ly/AE3zn
Our Trip to Hannibal, Missouri: A Mark Twain Study (Chris Capolino – Catholic Tourist) ow.ly/AEdDZ
Pope's Remarks On Iraq Seem To Support Use Of Military Force : John Allen on All Things Considered – NPR ow.ly/AEBLs
Who was Msgr. Oscar Romero? (Rome Reports) ow.ly/AFecM
Encounters with Angels : (Fr. Dwight Longenecker -The Integrated Catholic Life™) ow.ly/AFAnj
Catholic News | 'Mass mob' exceeds 'wildest expectations' in Detroit | American Catholicow.ly/AFAMj
Video: Drone Cam at Christ The Redeemer w/ Peter Capaldi & Jenna Coleman – Doctor Who World Tour youtu.be/cexjLym_Ckg
The Book of Tobit, Retold Delightfully (Sarah Reinhard – The Integrated Catholic Life™) ow.ly/AFCZG
Music: New Featured Artist: Pete Buncher Band | Catholic Playlist Show ow.ly/AFDno

USCCB Blog: The Glories of the Past and the Hopes of

Tomorrow

(Archbishop Wilton Gregory) ow.ly/AGCbS
Top 12 Catholic Instagrammers –ProjectYM.com – Catholic Youth Ministry Resources ow.ly/AGM3Q
The Beard That Lost This Cardinal The Papacy | ChurchPOP ow.ly/AGS7Q
Summer Reflections with Timothy Cardinal Dolan – St. Augustine & St. Monica vimeo.com/99733913
NEW Podcast: Catholic as a Second Language – Ep 1401 | Hipcast ow.ly/AHajz

5 Ways to Honor the Sacredness of Work on Labor Day – Busted Halo ow.ly/AHMU5
Video Promo for NCYC 2015 (Spirit Juice Studios) youtu.be/bl2bp4vdYUc
"So Great a Cloud": Virtual Choir & Real Gift (The Jesuit Post – Patheos) ow.ly/APcFy
'Catholics Come Home' series to debut

Sept. 4

on EWTN (CNS/North Texas Catholic) ow.ly/AJfGb
Hit By A Love Truck | (Brother Joseph Martin Hagan, O.P. – Dominicana Blog) ow.ly/AJxCr

Modesty Helps Women Be Friends | (Jennifer Fulwiler -ChurchPOP) ow.ly/AJz5r
Music: "ROMERO" is the first single from TheMartyrsProject's special event album, "Martyrs Prayers." youtu.be/21CN815v2G0
Future of printed paper in dioceses? Cleveland newspaper to end print publication in 2015 (CNS) ow.ly/AKNuB
Learning From Four Pivotal Players | Keynote address at 2014 EWTN Family Celebration (Fr. Barron – Word On Fire) ow.ly/AL8pC
Pope Francis: Christian unity not division (News.va) ow.ly/AM3h7

Prioress of Dominican Sisters in Iraq chronicles ISIS takeover, expresses fears & frustrations | Catholic World Rep. ow.ly/AONrv
The aftermath of the Israel-Palestine Conflict (Rome Reports) ow.ly/AOOIT
Bishops, presidents reviewing Ex Corde Ecclesiae – by JPII for Catholic universities (Tim Muldoon – Patheos) ow.ly/AOUJi
Living in the House of Love – A Meditation on a Teaching of St. Thomas Aquinas « Archdiocese of Washington ow.ly/AQlmj

Tech Tip: How Pope Francis Can Text You | Brandon Vogt

ow.ly/AMlEc

5-year-old Isaiah: Aspiring to the priesthood youtu.be/qt3rKOrmgIw & heroicpriesthood.com
10 Things Pope Francis Wants You to Know about Evangelization – (Kevin Cotter – FOCUS Blog) ow.ly/AQ4bg

WATCH: A Catholic Saint ROBOT From the 16th Century | ChurchPOP

ow.ly/AOZsU

NEW Low in Wedding Photography – Taser Photoshoot (will this Marriage last?) Bored Panda

ow.ly/AL5Q4
Music: late-to-love: an augustinian soul album by Sam Rocha (based in St. Augustine's Confessions) ow.ly/AOOUG
Catholic Meme: St. John the Baptist — the first hipster (DIYLOL) ow.ly/i/6HTbr

Catholic Meme: Catholics…pouring water on people before it was cool.

ow.ly/i/6Eizt

NEW: Have daily Bible readings e-mailed to you every day from USCCB (sign-up at bottom of page)

ow.ly/ARiUm

Knights co-launch film on hope among Haiti's young amputees :: Catholic News Agency (CNA)

ow.ly/ARjqw

US bishops to honor 50th anniversary of civil rights milestones :: Catholic News Agency (CNA)

ow.ly/ARjPP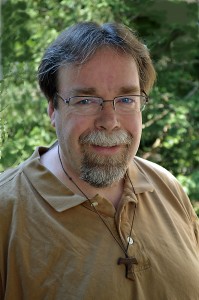 John Clem, O.F.S is the Director and Media Minister at Catholic Web Services (http://catholicws.com/). John is a professed member of the Secular Franciscan Order, and loves to share his talents in faith, technology, and journalism in service to the church. John also writes a blog entitled Call To Holiness (http://www.calltoholiness.us/). Follow John on Twitter at @Catholicwebs, on Facebook and at Google+.