Doesn't it seem like this week flew by?
When John sent me these week's STs, he remarked that it was a fast week. I feel the same way. My past few days have been a blur of commitments, both personal and professional, as we prepare to venture up to Oregon on Sunday to take our son back to college. Yesterday, I paused the craziness long enough to get myself to daily Mass and had a wonderful coffee date with a friend. Both were balm for my stressed out soul.
Pope Francis taught me another lesson today about how to respond in the face of stress. Following on the heals of his 9/16 tweet ("The Lord is always there waiting to give us his love: it is an amazing thing, one which never ceases to surprise us!"), our Holy Father made a private prayer visit to the Basilica of St. Mary Major. I'm not sure what it takes to be able to sneak in for a visit with Mary if you're the Pope – but how wonderful that he too had that private reprieve and prayer time with the Blessed Mother in advance of his upcoming trip to Albania. I'm sure he's not like me — head buzzing with things that must get done before he leaves — but Pope Francis reminds me daily that it is the little moments in my journey to Christ that matter most.
The Lord is always there waiting to give us his love.
Am I willing and ready to pause in my busyness to receive it?
As always, I'm grateful to John Clem, O.F.S. for compiling our Sweet Tweets:
Papal Tweet: "

The Lord is always there waiting to give us his love: it is an amazing thing, one which never ceases to surprise us!" (Pope Francis 09/16/14)

Deaf Apostolate in Boston (Andrew Prince)

ow.ly/BtWrr
New Shrine of St. Gabriele dell'Addolorata to be inaugurated on

September 21st

– Rome Reports ow.ly/BuqG1

Feast of St. Francis 2014 at Franciscan Monastery in Washington DC – (Holy Land Franciscans)

ow.ly/BuqNP

Just Released: Priest, Prophet, King – Study Program from Fr. Robert Barron (Word On Fire)

ow.ly/BvKOY

Memorial of Our Lady of Sorrows (OSV) ow.ly/BvSaa
NEW Movie – THE SONG – In Theaters

September 26th

(inspired by the Song of Solomon) ow.ly/BvTIh

New Jersey nun a step closer to sainthood – Catholic Philly

ow.ly/BvVAE

Interior of the Cathedral Basilica of St. Louis in St. Louis, Missouri. | aeternus | photography of lisa johnston

ow.ly/BwfMU

Meeting of Families document offers global perspective :: Catholic News Agency (CNA)

ow.ly/ByfO1

When Mary Told McLuhan "the Medium is the Message" | ChurchPOP

ow.ly/BytJX

Report: Is your insurance plan paying for abortions? | Crux

ow.ly/BA5jJ

Masterpieces of God's Creation – (USCCB)

ow.ly/BA5As

Pope to focus on grandparents after newlyweds | Crux

ow.ly/BA5Sd

The Feast of the Stigmata of St. Francis | (Fr. Dan Horan, OFM – Dating God)

ow.ly/BBlXs

Regensburg Vindicated | George Weigel | First Things

ow.ly/BBuEr

5 Essential Types of Social Media for Ministry – illuvint

ow.ly/BBvEw

Slight Decline in Poverty Rate, Still Millions Live Below Poverty Line – Bread Blog

ow.ly/BBJfR

Love Is Our Mission: The Family Fully Alive – Catechesis for World Meeting of Families – OSV publisher

ow.ly/BBNUe

Vote for Your Favorite Catholic Speaker –

ProjectYM.com

– Catholic Youth Ministry Resources

ow.ly/BBXsr

First Week Consecrated – Youth Apostles

ow.ly/BC4bU

CNS STORY: Pope's advisers start first draft toward document overhauling Vatican

ow.ly/BCUwp
National Vocation Awareness Week,

Nov 2

-8, Calls Catholics to Greater Prayer, Awareness in How They Support Vocations ow.ly/BDYUG
WordOnFire.org

Update and New Features | Word On Fire

ow.ly/BE3rZ

Vatican Tech to Help Restore Egyptian Artworks | The Patrons of the Arts

ow.ly/BE7q4

Scottish priest gives a snapshot of polling day for the historic independence referendum Vatican Radio

ow.ly/BEc23

11 Maps to Help You Make Sense of World Religion | ChurchPOP

ow.ly/BEuB3

News: "The Faithful Traveler" Comes to Patheos! (Elizabeth Scalia)

ow.ly/BFA5M
International Week of Prayer and Fasting

September 20-28

ow.ly/BGGY0

Bishop Wester: "Protect the Internet…" (Lisa Hendey – Patheos)

ow.ly/BGzCT

Synod on the family: A primer (Matthew Bunson – OSV)

ow.ly/BGFch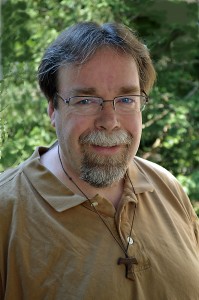 John Clem, O.F.S is the Director and Media Minister at Catholic Web Services (http://catholicws.com/). John is a professed member of the Secular Franciscan Order, and loves to share his talents in faith, technology, and journalism in service to the church. John also writes a blog entitled Call To Holiness (http://www.calltoholiness.us/). Follow John on Twitter at @Catholicwebs, on Facebook and at Google+.