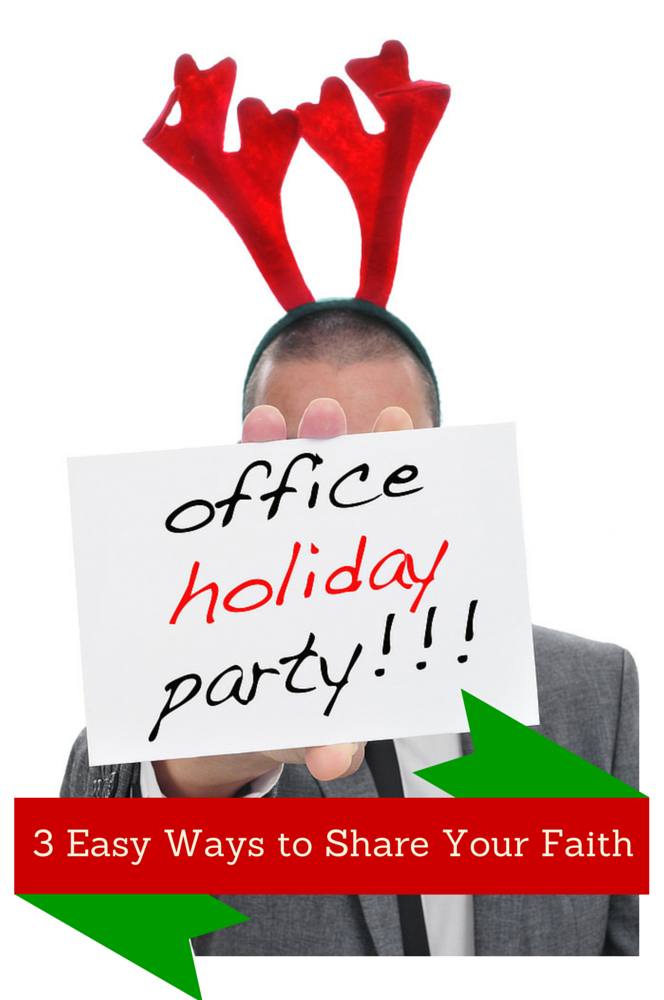 My ears are still ringing this morning from the awesome party we threw at our house last night. I'll be scraping red frosting off the floor and finding half filled plastic wine cups around the house for the next few weeks. But hosting close to a hundred of my husband's work colleagues in our home is always a blessing. Especially since the annual "holiday" party for his department at the hospital is catered!
As I was surveying the aftermath of the bash this morning, I thought back to some of the fantastic conversations I had last night. Greg's colleagues are a diverse lot. We even had one of them show up rocking an "Ugly Hanukkah Sweater". As I was sharing news of my work with a few of them, it occurred to me that even though a corporate Christmas party should not be a place to prosthelytize, I could still be open about why "Christmas" is important for our family. So here a just a few simple ways that those of us who host corporate holiday parties can do a bit of faith-sharing:
1. Light the Advent Wreath
If I had my way, my house would not look Christmassy until 12/24. But for a variety of reasons, including holding this party, it looks like a tribe of elves marched in here and went bonkers with the red and green. But violet and rose are prevalent too, and will be until we burn the fourth week of Advent's candle down to a nub. I left our Advent wreath up and burning last night, and answered a few "What's that?" questions that helped me to share the beauty of Advent.
2. Have Christmas Mass Times Handy
Inevitably, part of your holiday party conversation will relate to sharing stories of how your family celebrates the holidays. I love to share that Mass as a family is always the highlight of our Christmas. You'd be amazed by the number of non-Catholic, "spiritual" friends who ask about Midnight Mass. I decided that next year, I'm going to print up a small card with our parish's address and mass times to share with guests who ask. I'll probably leaving them sitting by the bar too, since that seems to be a high visibility spot!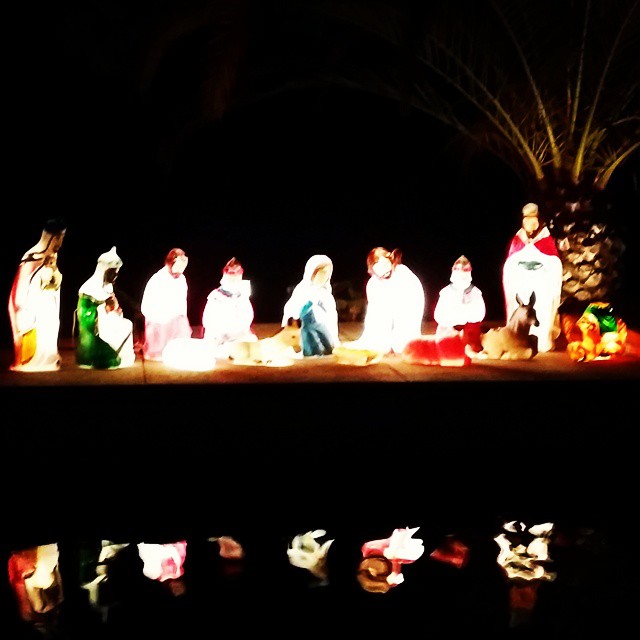 3. Keep the C
rèche Front and Center
"Jesus is the reason for the season", right?! My favorite Christmas decoration is our very large and ever growing plastic nativity set which lives out back by our pool. Yes, I'm a weird Californian Catholic. Last night, we had a bonfire out by the pool, so my wise men and animals, and especially Jesus, Mary and Joseph, were guests of honor at our party. So many people admired and asked about our nativity, which gave me a simple way to share my love for the Holy Family.
When it comes to sharing our faith at holiday parties, I need to avoid going all "Church Lady" on our guests. But as 1 Peter 3:15 says:
Always be ready to give an explanation to anyone who asks you for a reason for your hope…
Note to Self: Always be ready!
I'd love to hear your thoughts on ways in which your family shares what's meaningful to you at Christmas, especially in "challenging" settings or just in the everyday busyness of the season. Feel free to chime in below and share your thoughts!