In his tweet for this week, Pope Francis sent a message that is helpful to remember during the busy Christmas season:
Today, as I worry about Christmas presents to purchase and holiday parties to dress up for, I'm asking myself if I've misplaced my priorities, if I'm serving the wrong "master". While my intentions for gifting may be "good", have I given in to the lure of treating this holiday season as a commercialized endeavor?
Fortunately, I still have a good bit of Advent to enjoy before launching into Christmas. I plan to spend this weekend reestablishing and reinforcing my priorities.
and remmbering that God is my master.
I'm grateful to my friend John Clem, O.F.S. for serving LL of us in 2014 with a full year's worth of remarkable news recaps. John, I rely on you every week to bring me up to date on all that I have missed. I'm so grateful for your commitment to this project, and–as always– for this week's Sweet Tweets. See you in 2015!!
Papal Tweet: "

The Lord put it clearly: you cannot serve two masters. You have to choose between God and money." (Pope Francis Dec. 18th)

This Christmas Story by Children Will Put a Big Smile on Your Face – an Unexpected Christmas (GodVine)

ow.ly/FN7r7

Is Heaven Open to Animals? (Fr. James Martin, S.J. – America Magazine)

ow.ly/FOlah

Video: Witnesses to consecrated life (CNS)

ow.ly/FOlLR

A kneeling Santa Claus: One powerful image (OSV)

ow.ly/FP62q
Welcome to Advent – Our Lady of Guadalupe (Holy Land Franciscans) ow.ly/FP7NI
Ukrainian Greek Catholic Church faces possible ban 25 years after legalization (Vatican Radio) ow.ly/FQxHJ

Mark's Gospel and the Victory of God (Fr. Robert Barron – Word On Fire)

ow.ly/FP8dE

Year of Consecrated Life (Holy Land Franciscans)

ow.ly/FP7ng

Angels We Have Heard on High (ThePianoGuys) Christmas

#ShareTheGift

– YouTube

ow.ly/FP6Li
NEW: USCCB launches Daily Readings in Spanish Online ow.ly/FVkmc

Photos: Advent Stations at St. Dominic's in Washington DC (Dominican House of Studies)

ow.ly/FSEuV
Haitians still rebuilding five years later (CNS) ow.ly/FVmSm
Sydney archbishop: Darkness of siege cannot overcome Christ's light (CNS) ow.ly/G33kt

Pope sends Christmas greetings to prisoners (Vatican Radio)

ow.ly/FRHkP
1916 WWI Military Rosary Inspires New Combat Rosary (OnePeterFive) ow.ly/FSzT0
CNS STORY: Kerry asks Vatican for help in relocating Guantanamo detainees ow.ly/FYSZ3
HISTORY: Pope Francis credited for urging U.S., Cuba to normalize relations (CNS) ow.ly/G3DPp
Cuba, US: how the Holy See was behind the scene for 50 years :: Catholic News Agency (CNA) ow.ly/GaJ3T

Vatican probe ends with an olive branch for American nuns (John Allen – Crux)

ow.ly/FYD5A

Apostolic Visitation Final Report of Institutes of Women Religious in the United States of America (USCCB) ow.ly/FYDTN
A High Quality of Life (Fr. James Martin, SJ – America Magazine) ow.ly/FYTpx
Pope at Angelus: Jesus is our joy – celebrating Gaudete & Bambinelli

Sunday

(Vatican Radio) ow.ly/FRHCx
Bambinelli

Sunday

at the Vatican: Pope Francis blesses thousands of Baby Jesus (Rome Reports) ow.ly/FVMIJ
An early Christmas present: Pope Francis to meet man serving life sentence :: Catholic News Agency (CNA) ow.ly/G37gj
Check It Out: Franciscan Christmas Catalog by Franciscan Friars Holy Name Province ow.ly/G3rMq

Lives Lived Before Sunrise (Elizabeth Duffy – Patheos)

ow.ly/FW5k6
Global Franciscan leader reveals impropriety; order's finances at 'grave risk' | National Catholic Reporter ow.ly/GaEUY

Video: Hearing the call to vows (CNS) – Year of the Consecrated Life

ow.ly/G00yc

Paul Smith using just a typewriter creates incredible art

#motivationmondays

(Franciscan Media)

ow.ly/FVj0Z

15 Vintage Photos of Nuns Doing Normal Things (Mental Floss) ow.ly/G0a0O

Website & App: Tour the birthplace of Jesus Christ – Church of the Nativity in Bethlehem 3D (

Jerusalem.com

)

ow.ly/FVFR5
Catholic New Media Conference in Atlanta

June 7th 2015

w/ Eucharistic Congress on

June 5

& 6 (SQPN) ow.ly/G3H13

Stephen Colbert's Top 12 Catholicest Moments (Busted Halo)

ow.ly/FWkaT

Discover Sr. Cristina's New Videoclip, "Blessed Be Your Name" (Aleteia)

ow.ly/FYEFs
Ellis Paul – "Mary, Mary" Official Music Video – YouTube ow.ly/G01sZ
Satire: St. Joseph's Church Christmas Mass Spectacular |

Saturday

Night Live | NBC ow.ly/FSqC1

Happy Birthday to Pope Francis — 78 years young on December 17th

ow.ly/i/7YjdI

Tango Flashmob in St. Peter's for Pope's Birthday (Aleteia)

ow.ly/G3Ixu
Flash – Pope Francis treats homeless to new sleeping bags (France 24) ow.ly/GaV9d
Week of Prayer for Christian Unity

January 18

–

25, 2015

(Holy Land Franciscans) ow.ly/GaK16

'The Colbert Report's chaplain', James Martin, S.J., on Colbert the catechist (America Magazine)

ow.ly/G8CuU

Singing the rosary with Dominican Sisters of Ann Arbor, Michigan (CNS)

ow.ly/GaLQ6

U.S. Catholic Filipinos say pope's visit to their homeland will bring hope (CNS)

ow.ly/GaN0H

Year in Review 2014: Franciscan Monastery of the Holy Land in Washington DC

ow.ly/GaLoM

Flash – Pope Francis treats homeless to new sleeping bags (France 24)

ow.ly/GaV9d

NASA Can See Your Christmas Lights From Space | Mental Floss

ow.ly/Gbyph

Video: This is what our Friars do during the holidays in a Cincinnati Mall (Franciscan Media)

ow.ly/Gbzbk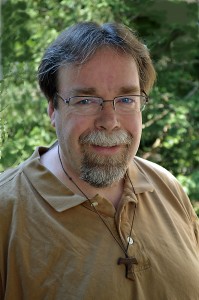 John Clem, O.F.S is the Director and Media Minister at Catholic Web Services (http://catholicws.com/). John is a professed member of the Secular Franciscan Order, and loves to share his talents in faith, technology, and journalism in service to the church. John also writes a blog entitled Call To Holiness (http://www.calltoholiness.us/). Follow John on Twitter at @Catholicwebs, on Facebook and at Google+.