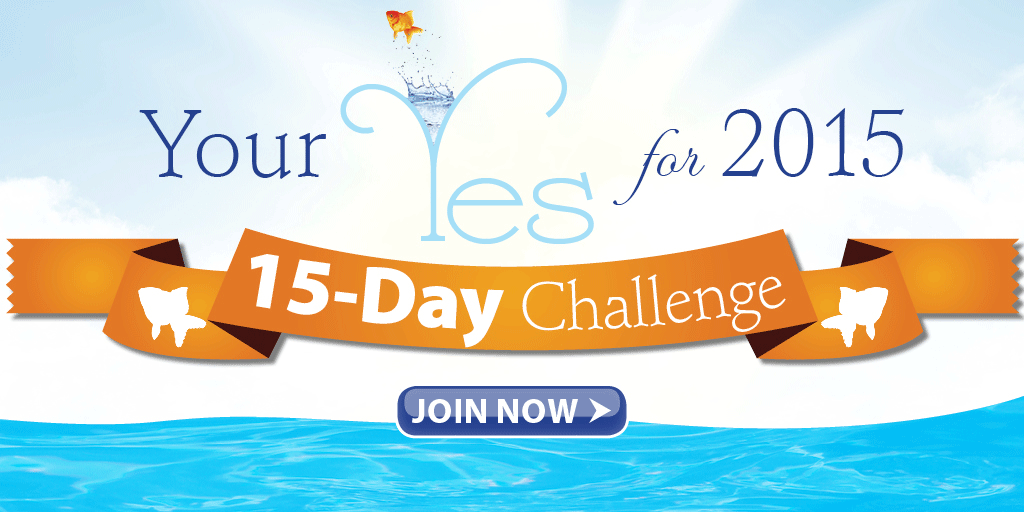 Welcome to Day 8 of our "Your Yes for 2015" Adventure. If you're joining us today for the first time, find the index of all of the days here.
Many friends have shared with me that Chapter Five of The Grace of Yes was the chapter that most spoke to them. Honestly, the work that I did on that chapter–writing about the connection between humility and forgiveness–has continued to stay with me in the months since it was written. For those of you who haven't read the book, you may not yet see that connection in your lives. I promised these daily reflections would not take on a "buy the book" mentality. But on this one day, it's hard for me not to connect my remarks to what I shared in the book. Please bear with me.
I'm still learning about the profound connection between humility and forgiveness. Both are challenges in my life. This past weekend offered me a big reminder of the intrinsic relationship between the two. I've been at a beautiful retreat the past few days and had a moment of true healing in the presence of a very holy priest that related to some excess mental baggage I've been carrying in my life. That this moment happened in the company of some spiritual giants was a true blessing. The women on the retreat with me were able to be a support and a loving, prayerful presence to me as I processed what had happened.
That emotional healing needed to happen, but my pride had kept me from seeking it. When I was finally honest enough to put away my pride and ask for help, God ventured in and did his amazing handiwork. Once again, I saw the unbreakable bond between humility and forgiveness. I'm asking myself today in retrospect how many times I will have to learn that lesson?!
Humbling Ourselves
Observe a surprising fact. God is on high. You exalt yourself and God flees from you. You humble yourself and He comes to you. St Augustine
Today, I ask you to think about any potential healing or reconciliation that needs to happen in your life and how your pride may be blocking you from finding relief and peace. Often, our own unwillingness to express our frailty perpetuates growth and giftedness that God desires for us.
He has given us the gift of free will. How will you bend your will today to let God increase in your goals and resolutions for this new year?
1 Corinthians 1:31 teaches us that sometimes it's ok to be boastful, just not about ourselves:
"Whoever boasts, should boast in the Lord."
What good work has God created in you? How can you worship him and point others to the masterpiece of his love in your life today? Try to remember next time you are tempted to pride to point those who would compliment you towards the Source and Summit of all goodness.
A Litany of Humility (source: EWTN)

O Jesus! meek and humble of heart, Hear me.
From the desire of being esteemed,
Deliver me, Jesus.
From the desire of being loved…
From the desire of being extolled …
From the desire of being honored …
From the desire of being praised …
From the desire of being preferred to others…
From the desire of being consulted …
From the desire of being approved …
From the fear of being humiliated …
From the fear of being despised…
From the fear of suffering rebukes …
From the fear of being calumniated …
From the fear of being forgotten …
From the fear of being ridiculed …
From the fear of being wronged …
From the fear of being suspected …

That others may be loved more than I,
Jesus, grant me the grace to desire it.

That others may be esteemed more than I …
That, in the opinion of the world,
others may increase and I may decrease …
That others may be chosen and I set aside …
That others may be praised and I unnoticed …
That others may be preferred to me in everything…
That others may become holier than I, provided that I may become as holy as I should…
To Ponder:
How is a "Yes to humility" part of your 2015 "Yes to God"?
Is there some relationship in your life that needs reconciliation? Why have you refused in the past to either forgive, to seek forgiveness, or to offer the entire situation up to God and find peace in and through him? What plan do you have for 2015 to find remedy and healing through the resolution of this situation?
How can you be more genuinely humble in one aspect of your life while at the same time glorifying God's work in and through you?
Let Us Pray:
Mother Mary, our mother, you taught us with your "Yes" how to be truly humble while giving all glory to God. Help us today to emulate your model. Intercede for us as we endeavor to find the humility to ask for and to offer true forgiveness in our broken relationships. We offer this day and our hearts to God, who created such much beauty within each of us. Amen.
Join us tomorrow as we continue our 15 day Yes journey.
Sign up to receive email reminders:

Your email address will not be sold or spammed