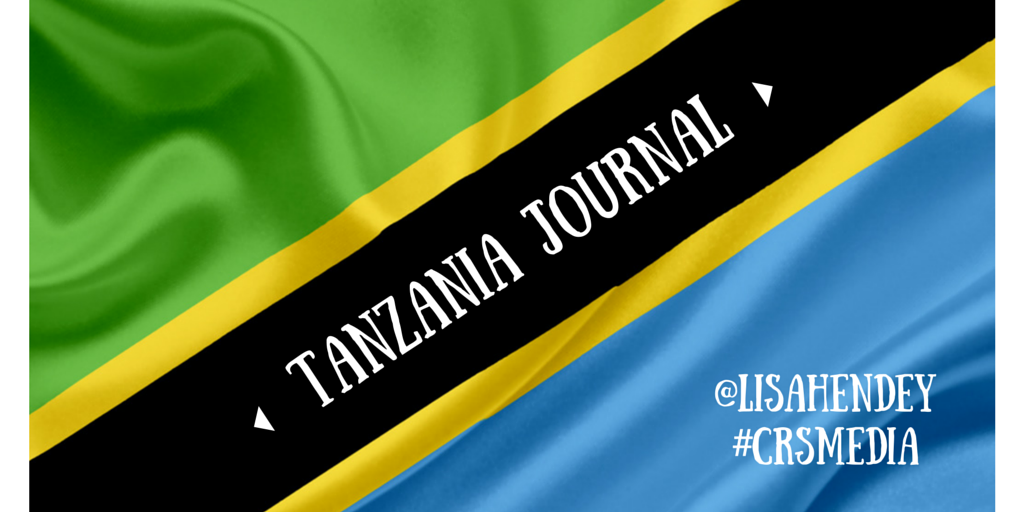 It's truly hard to say where "today" began and ended. After spending the bulk of the weekend in transit, this was our first full day in Tanzania for our #CRSMedia Catholic Relief Services Rice Bowl Mission. As a reminder, along with Tom Price and Susan Walters of CRS, my friends on this trip are Matt Swaim, Drew Mariani and Matthew Bunson.
As I type this, I am sitting in a cantina in rural Songea. If you could see our table, you'd probably join me in laughing. A bevy of journalists are sitting surrounded by Tanzanian beer, laptops, cell phones and cameras. We're very low on wifi, operating off of two cellular hotspots that aren't truly "hot". So I'm typing this while the day is fresh in my mind, but am unsure when it will be posted. In reality, I'm marveling that in this rural environment I could possibly ever connect to the Internet!
We woke up after about five hours of sleep in our beautiful hotel in Dar el Salaam, Tanzania's capital city and home to millions of people. The Slipway Hotel sits on beautiful Oyster Bay with views of the water, the Indian Ocean. After a full breakfast and some truly remarkable Tanzanian coffee, we were off to our first destination: Catholic Relief Services' offices. At the office, we met Neema, our guide for the week and Connor, CRS's country representative for a brief overview.
Before we knew it, we were back in our twin Land Rovers for a trip back to the airport. Along the way, we stopped to change currency. For the curious, one US dollar equates to 1795 Tanzanian Shillings. So I traded two fifty-dollar bills for a big load of currency that I don't yet fully understand. My brain feels too numb to do the math properly!
The drive to the airport through Dar's dense traffic took quite a while. But that was fine with me. As in Rwandan last year, I realized that people watching out my window is an absolutely fascinating way to enjoy a city. And especially here, where so many people walk the sides of roads or share rides on tuktuks, the backs of motorcyles, or in the beds of heavily loaded pickup trucks. When I'm able to upload my photos, you'll see what I mean! One fun sighting today was spotting two Daughters of Charity, dressed in the Tanzanian version of Mother Teresa's beautiful white and blue habits.
Once back at the airport, we passed through security in the regional part of the airport and boarded our small twin-prop plane to Songea. To see this green country by sky was a great joy. Once out of the city, our tiny plane gave us breathtaking views of the lush forests, river valleys, and finally the farm fields surrounding Songea. Tomorrow, we will stand in some of those fields and meet farmers who are the beneficiaries of your generosity when you support CRS and their partner Caritas.
Landing in Songea was amazing. Again, I can't wait for you to see my photos, which show how the small rural airport is truly an outpost. I didn't realize until after we'd landed that the local fire department officials were sitting in their truck to meet our landing prop plane. "Just in case…" I guess…
Two more white Land Rovers (which seems to be a primary mode of transit for us!) met us to transport us to an amazing Tanzania lunch in Songea. As we dined, a quick almost torrential downpour came and went, ending in time for us to head to our appointment at Caritas. It's easy for me to see here how the environment is so lush and beautifully green!
At the Caritas offices, we met three staff members who shared with us about the projects we will be seeing the next few days. Soya Y Pesa or "Soybeans are money" recruits, trains and equips local farmers to grow and market their crops more effectively. Today's orientation meeting will come to life tomorrow when we head out to meet the farmers and their families. Coming from such an agricultural part of California, it was very easy for me to relate to some of the lessons that CRS and Caritas teach the men, women and children they serve. I have some very impressive statistics to share when I return that point to the efficacy of these Rice Bowl-supported program initiatives.
Tonight, we are all settled in to a simple yet lovely cottage style hotel in Songea that will be our home for the next two nights. Although I seem to have at least five lizards as cottage-mates, I look forward to catching up on sleep so that I can fully engage in all tomorrow will bring. Please keep our work and travels in your prayers—what a true gift to be able to share all of this with you!!
Our Lady of the Immaculate Conception, patroness of Tanzania, pray for us!
Subscribe to my mailing list to keep in touch with my traveling and projects:

Your email address will not be sold or spammed