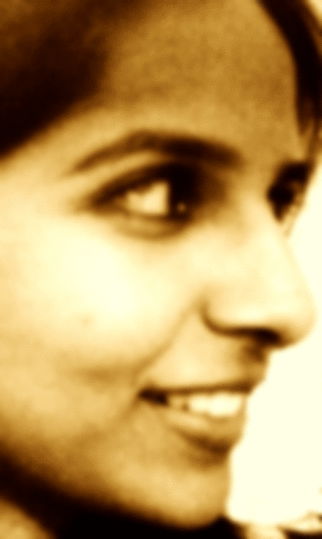 Two days had gone by since he had called. Well, two days and nine hours, to be exact. I knew it was pathetic that I was counting the number of hours that had passed since my last contact with a guy with whom I had had three phone conversations and whom I had never met and barely knew. I also knew that he wasn't going to call.
This was my latest rejection from a marriage prospect. To be honest, I had known from the beginning (and by beginning I mean last week, when I contacted him through a Muslim matrimonial website) that he was out of my league. The guy was a rocket scientist, for God's sake. Literally. He built spacecraft for a living. Plus, he was exotic. His dad was Pakistani, his mother Filipino (Filipina?). If you come from my all-Pakistani family, that's exotic.
Finally, I decided I wanted to have some control over how this 'relationship' ended.
I texted him, "So I guess you're not interested anymore." No response. And then I had a mini-conversation with myself.
Should I text him this joke that's been at the tip of my tongue the past two days? As sort of a parting shot?
No dude, how pathetic is that!
But he's the one person who is in the best position to get the joke! If I don't tell it to him, it would be such a waste. What do I have to lose?
Um, your dignity?
Meh, dignity's overrated.
So, I texted again. "It's like being rejected by both Harold and Kumar 😛 Good luck to you."
And then, I laughed. Partly at the joke, partly at myself.  No wonder he's not interested in crazy lady who talks to herself and laughs at her own jokes.
It was Ramadan. I prayed a lot that Ramadan. I prayed before every iftar for a man who would love me for who I was, and whom I would love for who he was. A man in whom I would find tranquility and comfort, and who would find the same in me. A man who was best me for, and for whom I was best.
I had recently had my heart broken by another guy. He was the marriage prospect before exotic half-Filipino guy (although, since he was Bengali,  he also seemed exotic to my family). He had talked to me on the phone for three weeks and had booked a flight within a week of our first conversation to meet me in person. He began talking about wedding plans before I had a chance to meet his family. In hindsight, that should have been my cue to run the other way, but I was intoxicated by the heady feeling that came from being desired by someone for the first time.
Long story longer, Bengali guy had decided on the eve of my visit to meet his family that he wasn't physically attracted to me enough to spend the rest of his life with me. (I had also come up with a zinger after that rejection, though too late to share it with him. "Oh, there's no physical attraction here? Well, my foot is very attracted to your ass right now." Not my best work.)
My prayers were answered before Ramadan came to an end. Every single one, and then some.
I started talking to Ali on the matrimonial site.  He was easy to talk to, extremely considerate, and shared my social, political and religious views. I could tell that when I talked, he really listened because he would remember things that even I had forgotten I told him.  He picked up on my obsession with The Big Lebowski and Andaz Apna Apna–a slapstick Bollywood comedy from the 1990s that I've seen at least 17 times–quickly enough to send me those two movies on DVD as his first present to me in advance of our first meeting.  We had endless, passionate conversations about food.  He made me happy.
A few months later, Ali and I were engaged.  Looking back, I realized that each of my previous experiences, with exotic and non-exotic guys, as painful as they were at the time, taught me to appreciate Ali.  He was more thoughtful and mature. So much more respectful and progressive than they had been.
I found the kind of love I'd longed for, and learned quite a bit along the way.
First: You can find the right person on a Muslim matrimonial website. You'll contact a hundred–possibly more–frogs before you find him or her, but it is possible.  You just have to keep an open mind. Thank God Ali did and responded to my e-mail, even though he wasn't sure what to expect from a hijabi.
Second: While you can't demand things in a prospective spouse beyond what you yourself bring to the table, and the list of non-negotiables should ideally be short, it helps to know what your non-negotiables are.  Looking back at some of the guys I considered for marriage, I shudder to think that one of them was a Republican and had some social views completely at odds with my own.  Within a couple of weeks of knowing me he also made it clear that he expected me to learn how to cook and magnanimously offered to be my "assistant chef."  I was willing to overlook these things at the time because I was afraid I would never find anyone else who liked me as much as he did.  It was only after that relationship ended that I realized I was wrong, and that I would have been unhappy down the road had I ended up with him because our fundamental values were very different.
That said, the third lesson is: No one is perfect–that includes you–and for this reason, love requires a lot of growing up.  Loving Ali is easy, but he is still his own person, with thoughts, feelings, beliefs and opinions that differ from mine.  Growing up means accepting and loving him for who he is, loving unconditionally, and not trying to change him.
Maybe someday Ali and I will be bored enough to write a cheesy testimonial for the Muslim matrimonial website where we met.  Until then, this post will have to suffice as my way of offering hope to my single Muslim sisters and brothers looking for love (inshAllah).
—
JM is an administrative judge living in the Midwest. She spent a year full of bizarre, awkward, and hilarious experiences on a Muslim matrimonial website before finding the love of her life.