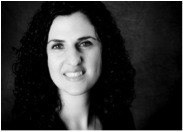 I had the moment my future husband would see me in my wedding dress all planned out. Although it wasn't necessarily a Middle Eastern tradition, he'd be waiting for me at the end of an aisle. I'd walk in with my father, and upon seeing me in all my bridal glory, he had had one of the following options: a) cry with manly restraint b) open his mouth wide with surprise before breaking into a smile of wild, uncontained joy c) step back and clutch his heart so stricken by my beauty d) some combination of the above.
When I got engaged at eighteen to the son of our closest family friends, I was disappointed to discover that my fiancé, Hadi, also had an image of the moment he'd first see me in my wedding dress and it involved no such dramatic displays of devotion. He merely wanted to be the first one to see me in my wedding dress in a private moment that only the two of us shared.
I'd never seen a bride and groom meet before their wedding in any movies or television shows. I supposed Hadi could have the kind of the reaction I desired when it was just the two of us, but then our guests wouldn't witness his outpouring of emotion. How else would anybody know that we were not getting married because of our families' friendship but because Hadi loved me more than any man, in the history of time, had ever loved another woman?
The fact that Hadi even had an opinion about the matter both surprised and bothered me. When it came to weddings, men were supposed to be conveniently indifferent, content just to get the girl. And while I faulted Hadi for not fulfilling this gender stereotype, I accused him of another―the desire to see me first was chauvinistic and controlling. It was as if I was some sort of present for his eyes only or worse an object whose unveiling he wanted to control.
We argued about the logistics of this moment until our wedding approached. When we decided to take pictures together before our ceremony, I realized my argument had become a moot point. On our wedding day, my mother helped me get ready in the staging room across from our hotel ballroom, and I quipped that she should close her eyes and try not to see me.
Later when Hadi finally joined me in the room, he smiled wide and took my hand. He said something about how happy he was that we were getting married, but my mind was elsewhere―on finally seeing the ballroom, my friends, my family. For me this wasn't a moment to savor. I was playing along, already humoring the man I would be marrying in minutes.
At the time, the disconnect between us struck me as sad and dysfunctional. I had no idea that married life would march on as a parade of moments just like this one, where Hadi and I would share the same physical space but not the same emotional space, and that this was not sad in any way just inevitable and completely natural.
Hadi and I always had been and always would be filling in the scenes of narratives set in motion long before we became a couple. For all the romantic images that had filled my head, I had grown up on marriage stories where the moral always rested in resignation. From the outset of our relationship, I was looking for signs of the things that I thought to be true, that marriage was about sacrifice, about men dictating and women bending.
It took me years to understand that my mind had penned Hadi's role in the above anecdote. I'd assigned him patriarchal motivations because I didn't know him well enough to know what he was really thinking. It would take me several more years to discern the kinds of stories Hadi's mind told about an indifferent bride who was more concerned with her wedding, her family, and her friends than the man she was marrying.
This mental gap used to strike me as inherently unfair; we are not privy to the thoughts and memories of those with whom we are most intimate. We can only guess how our lovers are recording and remembering the time they spend with us. But over time I've come to see the beauty in this space, as well. It reminds us of the mystery behind our partners' familiar faces, voices, and touches. It reminds us that just because we share our days, our tables, and our beds with our spouses, it does not mean that we share the same life.
—
Huda Al-Marashi is an Iraqi-American at work on a memoir about the impact of her dual-identity on her marriage. Excerpts from this memoir have appeared in the anthologies Love Inshallah: The Secret Love Lives of Muslim American Women, Becoming: What Makes a Woman, In Her Place,and Beyond Belief. Other works have recently appeared in The Rumpus Funny Women Column and the anthology Rust Belt Chic. Her poem, TV Terror, is part of a touring exhibit commemorating the Mutanabbi Street Bombing in Baghdad. She is the recipient of a 2012 Creative Workforce Fellowship, a program of the Community Partnership for Arts and Culture, made possible by the generous support of Cuyahoga County citizens through Cuyahoga Arts and Culture.