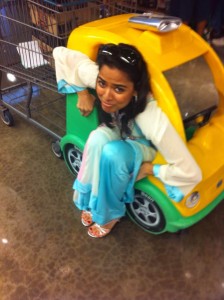 It's a rare experience in our adult lives for us to think, "Oh, I've never had this food before!" But the childhood memories I have of that novel sensation survive for good reason.
I remember the first time I tried popcorn. I didn't like it much so I fed it to the fish in the lake. I also remember the sweet, tangy sensation of my first sip of lemonade. But neither of these compares to the first time I tried the best breakfast food known to humans: Pancakes.
I know it sounds ridiculous, but I didn't have pancakes until I was four-years-old. Seriously. My family emigrated from India to the US around that time and prior to that, breakfast food had simply meant eggs with toast, cereal, or aloo puri.
Shortly after moving to the US, I spent the night with some of my older cousins who were in high school. The next morning, I found one cousin in the kitchen with the usual breakfast ingredients: milk, eggs, flour, and butter. But, she was acting strangely. She wasn't frying eggs or buttering toast. Instead, she was mixing all the ingredients together in one big bowl. I grabbed a chair and stood on it next to her, trying to figure out what kind of eggs and toast were created in a mixing bowl.
The strangeness didn't stop there. She dropped the gooey mess into a perfect circle in the middle of a hot pan. At that point I thought, I'll stick to my usual  – the sugary madness that is Coco Puffs – instead of this weird concoction.
As I climbed down from the chair, I asked her what she was making. All I caught was "cake."
CAKE?! We're having cake for breakfast? Welcome to America, Adeeba.
This was it, the defining moment in my life. I decided to move into my cousin's house.
I watched the pancake bubble atop the stove for what felt like an eternity until my cousin flipped it over. The cake didn't seem thick enough and it was cream-colored, not the color of chocolate as it should have been.
Maybe my cousin was not too good at this? I glanced at the cereal box again, figuring out what my alternatives were.
Before I could protest, my cousin put one pathetic-looking cake onto my plate, along with a bottle of what looked brown chutney. Now I was sure that she had lost her mind.
You want me to put chutney on my cake? I thought to myself. Maybe the cake was really an undercover puri. Why else would I need chutney?
I told her I would eat cereal instead, but she wouldn't take no for an answer. She poured the thin chutney all over my so-called cake and stood by me until I tried a bite. Now I was stuck. I took a deep breath and grabbed the cake like it was a puri. I took as small a nibble as possible. I was instantly transported to heaven.
I grabbed the chutney bottle and drizzled more of the sugary goodness onto my cake. I munched it like a puri due to my lack of coordination with a fork at the age of four. The only thing that made this experience better was, of course, a second cake after I eviscerated the first.
As I grew up, I started to make my own "cakes" and have finally mastered the recipe. I've upgraded from the "chutney" (aka maple syrup) to adding fruit or white chocolate chips to the mix.
But no matter the composition, I'm still a four-year-old at heart, savoring every bite!
My Good Old Fashioned Pancake Recipe
1 1/2 cups all-purpose flour
3 1/2 tsp baking powder
1 tsp salt
1 tbsp white sugar
1 1/4 cup of milk
1 egg
3 tbsp butter, melted
1. In a large bowl, sift together the flour, baking powder, salt and sugar. Make a well in the center and pour in the milk, egg and melted butter; mix until smooth.
2. Heat a griddle or frying pan over medium high heat and lightly oil. Pour or scoop the batter onto the griddle, using approximately 1/4 cup for each pancake. Brown on both sides and serve hot.
—
Adeeba Isbister is a Texas native who enjoys everything from Tex-Mex, fried everything, and the rodeo. She recently moved to Southeast Asia and spends most of her time drinking coffee to enable her Netflix addiction. She loves to travel and is always up for new adventures. Nothing has beat her shark diving expedition in South Africa, but she's always looking to find something new to experience!