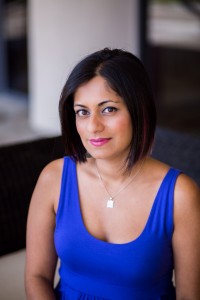 It was a rainy and cold night in Los Angeles. The rarity of the rain added a sheen of intrigue as I drove up the 101 freeway through downtown. I glanced at the overpasses above, nearing the place where I'd been told the signs would be. Sure enough, there they were – jankier than I expected, but still expressing their intended hatred. In black pixelated letters one sign said No, and the other featured the image of a crescent and moon.
I took the next exit. After circling around for a few minutes, I finally found the exact overpass on Alameda St., between the city jail and Union Station. I rolled by, slowly. The signs were four laminated, letter-sized pieces of paper forming a larger rectangle. From the grommets at the corners of each sheet, plastic zip ties kept the signs fastened to the chain link fence.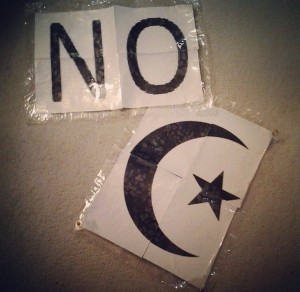 I texted my friend Akhila to bring scissors, and told her I'd meet her a few blocks away. As I waited in the car, watching the rain dripping down the windshield, I ruminated on what I had just seen. There were three things that really bothered me.
First, that though it was clearly printed off the computer, the hater had gone to the trouble of laminating the posters so that, even in this pouring rain, the signs were still legible. Who laminates hateful messages? Is this a service that Kinkos provides?
The second was how for alleged street art, it lacked any creativity or artfulness. As a fan of street art, I was offended by how un-artful these were.
Lastly, no effort had gone into crafting the message. The posters could easily be construed as a hate crime against the stars and moon. Or maybe, the universe.
My plan was simple. As Akhila was driving slowly by the signs, I would jump out of the passenger seat, cut the zipties, and jump back in the car with signs in hand. I threw on a hooded jacket so I wouldn't get soaked. It was Akhila who had initially seen the signs on her drive earlier in the day and had posted about it to our activist community listserv.
"I'm so glad you came," I said as I got into her car. "I didn't want to do this alone, especially at night. Feels so unsafe."
"Of course I was going to come! Even though I'm a new mom, I made time for this – we have to," she responded. "And what's there to feel unsafe about?"
"What if the people that put up the signs start chasing us down?"
"I'm pretty sure they are not watching their laminated signs. And with me in driver seat, I'll make sure to keep the engine running for a quick getaway. Plus, it's raining."
We pulled up to the red curb and I jumped out, scissors in hand, looking over my shoulder. I sliced through the wet plastic quickly, careful not to cut the paper. I grabbed the signs and threw them in the backseat. We U-turned the car and took down the signs on the other side of street. All the signs but one.
I left one of the star and crescent signs up on the overpass. Without the "No" in front of it, it felt empowering – like we had flipped the script on the hate using the tools that were at hand. Without the "no" in front of, the sign was a glorious affirmation to the universe.
It also was a signal to the perpetrator that this was no random act of graffiti removal. This was calculated.
And those other signs? I was going to keep them, and use them to make some real street art.
++++
"So, did you feel any of this?" my friend Ruman asked me later that night. "When I ripped them down, as I was walking away, I thought—damn, did I just infringe on free speech?"
Just three weeks before, he had taken down two sets of the same posters in exactly the same spot as he was biking by.
"No…" I responded. "I felt like – is the person who put this up going to chase us down and try to hurt us? Are the cops going to come and try to hurt us? But for the side of the street where we just took down the one No sign, I felt vindicated. We took a negative message and flipped it. I also felt like – WTF, why is it so pixelated? Step up the quality of the so-called street art."
"I laughed too because mine were printed on the backs of fliers from the public library," Ruman responded. "I had the same thought about the pixels! I ride by there regularly. Tell me if you see it again and I'll grab them. No need for you to risk it. Also, I grabbed my signs from the recycling bin, so let's save these up for that art project."
Now that's what I call community.
+++
I found myself hugging the knot in my throat that was silencing my voice. It was the feeling of holding back irrational tears, of a heart mixed up in practicality. I was feeling "emotional" but what those emotions were, I couldn't exactly pinpoint. In a glass case on the wall behind me was a collection of art from my "Made in Bangladesh" series, pieces that I had created in honor of the women garment workers in Bangladesh.
I was sitting in a gallery surrounded by stunning art by some of my favorite culture-shifting Desi radicals for the Rebel Legacy: Activist Art From South Asian California show. On display was art with themes from the Ghadar Party to Ferguson, and from queerness to feminism. At this moment, the artists were gathered next to me on a panel for the closing of the show.
We had just been asked by an audience member to talk about what our parents thought of our art and our lives. I've been on enough panels to know that the How do your parents feel about your art/activism/writing/life is a predictable and inevitable question, especially as a Brown person. It is our culture to be overly concerned with parents' perception, no matter what the medium. It feels as if no matter how old we get, we will be always judged by how our parents judge us. But it's too simplistic to encapsulate Desi angst with such a distilled question.
I listened as Nisha Sembi talked about how tired she was of answering this question. She pointed out her supportive mother in the audience. She said it wasn't that her mother wasn't supportive of her art, but that her mother just wanted her to be "okay." That she would be able to survive, and take care of herself. Isn't that what all parents want?
Different people on the panel answered, similarly. But I chose to keep silent.
I started painting prolifically only after Mom died, after all. How was I to know what she would think if she saw my art? She never had the chance.
If I had to place labels, I am a political organizer first, a writer/poet second and a painter third. As a deliberate activist-artist, I play in the fluidity and intersections between all three. Feelings are my guiding force. When I get emotional, I write. I turn experiences into narratives, pull analysis from experiences. But when I get so overwhelmed and voices are lost to me, I paint and create. That's why I started painting after Mom died. The words got stuck in my throat and all I could do was express with the colors at hand. Collage with her leftovers. Remember through canvass the colors of Maghrib and memories and Mom.
Talking about art, and feelings and politics. It was all so personal, so visceral. Art is love and politics is personal. How could one not feel emotions at these intersections?
+++
"I got you a present," I told my dad, throwing a bag next to him.
It had been a year since Mom had died. My sisters and I were concerned with how to keep him occupied. We encouraged him to take his bike out more and bought him Sudoku books. We didn't really know him anymore – and hadn't for a really long time. After Mom died, it was like we all had to re-learn who we were to each other, what we meant to one another.
He pulled out a sketchpad and a paint set from the bag. He looked at them skeptically.
"I remember how when I was little, you used to draw all the time," I persisted. "Remember how you used to paint bright green leaves, nokahs floating on rivers and kajoled eyes of dancers?"
He looked reminiscent, like he too was remembering who he once was, someone who used to draw, an artist. He seemed surprised that I had remembered that far back.
"I've been painting and the sisters have been drawing. Maybe you can paint too. But you don't have to…"
"Yeah. That's a good idea. I was seeing your paintings and was thinking how I could too. I have all this time now. I will. Thank you."
Like any Dad Project, he jumped in full force – just not in the way I had thought he would. At the time, he was really into watching the television show Shark Tank and, inspired by the show, he kept coming up with new money-making inventions. He approached making art with the same aplomb – he researched what paintings were being sold for the most money and started recreating them. His idea was to sell these re-creations and make lots of money. I informed him that that was probably illegal, but he scoffed at me.
But, hey, at least he was making art again.
Three years later, we have a stack of his re-created art sitting in a corner of our garage.
+++
What is political art, when you are an immigrant? Mom may not have painted when I was little, but I have fond memories of picking out envelopes of patterns and fabric at the local fabric store. Mom sewed dresses; her sewing machine was one of her fondest possessions. She taught me to cross-stitch when I was seven, and from an early age, I learned how to weave color in and out of fabric crosshatches. We have a large cross-stitched peacock waiting to be framed. She spent three years stitching it.
Every year, she'd knit Dad sweater vests for his birthday that he'd then wear to work. When we finally got a yard, the earth became her canvas and flowers her palette. She planted haphazardly, mixing the cosmos and jasmine and roses and irises with the homeland squashes and shaag that reminded her of her motherland.
It was all political art; life is the medium. The immigrant dance of survival has so much political artistry.
+++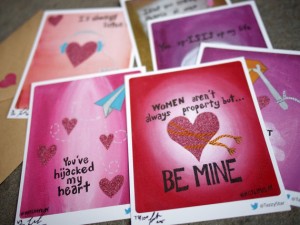 Last month, I was invited to share my annual disruptive art project – #MuslimVDay Cards – in an online space on Muslims and love. They were going to use the images of the cards in their promotion but, a few weeks into planning they had chosen to use images that were not from the current year's set of cards.
When I inquired, they said, "…the reason we posted the other design is because we prefer to keep this non-political. Are there any apolitical ones?"
I was so offended. The whole point of the cards was to make a political statement. How can I have apolitical cards in art that was created for political purposes? And how can a conversation in this day and age about Muslims and love be sterilized of politics? It's about as political as it gets.To try to find love in America as Muslimahs is probably one of the most political acts that can exist, given the constraints placed by islamophobia on one side, and the restrictions placed by the dogmatic Muslim community on the other.
The simple fact that the event creators used my Burka Built for Two image but perceived it as "apolitical" when that was created as a queer-positive card, but were scared of using the Hijacking Hearts image because it was "too political" reflects just that. Art is relative and interpretive by the people observing the art. And the politics associated are relative too – what's political for one person, isn't necessarily political for another.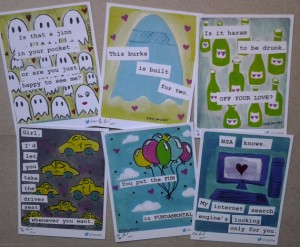 In hindsight, I realized that the whole situation was particularly triggering for me because of all the aunties who throughout the years have told me that the reason I wasn't able to get married was because I was "too political." That I needed to be more apolitical in order to be attractive enough for a man.
But that's not the kind of man I'd want to spend my life with, anyway.
Whether painting colors, or taking down islamophobic signs, or knitting homemade sweaters – as immigrants, Muslims, women or people of color – we are all navigating the artistry of dancing on hyphenated identities. This life takes a certain element of art. It is political. It is alive. It is grief. It is love. It is artistic and it is artistry.
This is how we survive.
—
Read more columns by Taz, here.
Tanzila "Taz" Ahmed is an activist, storyteller, and politico based in Los Angeles currently working as the Voter Engagement Manager at Asian Americans Advancing Justice – Los Angeles. She was a long-time writer for Sepia Mutiny, and was published in the anthology Love, Inshallah: The Secret Love Lives of American Muslim Women and both zines from Totally Radical Muslims. Her personal projects include the #GoodMuslimBadMuslim podcast, curating images for Mutinous Mind State and writing about Desi music at Mishthi Music where she co-produced Beats for Bangladesh: A Benefit Album in Solidarity with the Garment Workers of Rana Plaza. Taz also organizes with Bay Area Solidarity Summer and South Asians for Justice – Los Angeles. You can find her rant at @tazzystar.