There has been a new development in the events we've been following all week. If you don't have the background, reading my piece on the WORLD Magazine article, my piece on Farris's recent white paper, and my piece on Swanson's radio broadcast will bring you up to speed. The gist is that WORLD Magazine published an article covering abuse and neglect in the Christian homeschooling world, Michael Farris published a white paper condemning "patriarchal" homeschool leaders and abuse and neglect, and Kevin Swanson aired an incredibly insensitive radio broadcast in which he took on WORLD Magazine and argued that educational neglect isn't a thing because it isn't in the Bible.
What's the new development? It's this:

Michael Farris's Home School Legal Defense Association (HSLDA) has withdrawn their participation in this winter's Gen2 Leadership Conference. Perhaps you are wondering why. HSLDA has not yet explained why, but it's not hard to surmise.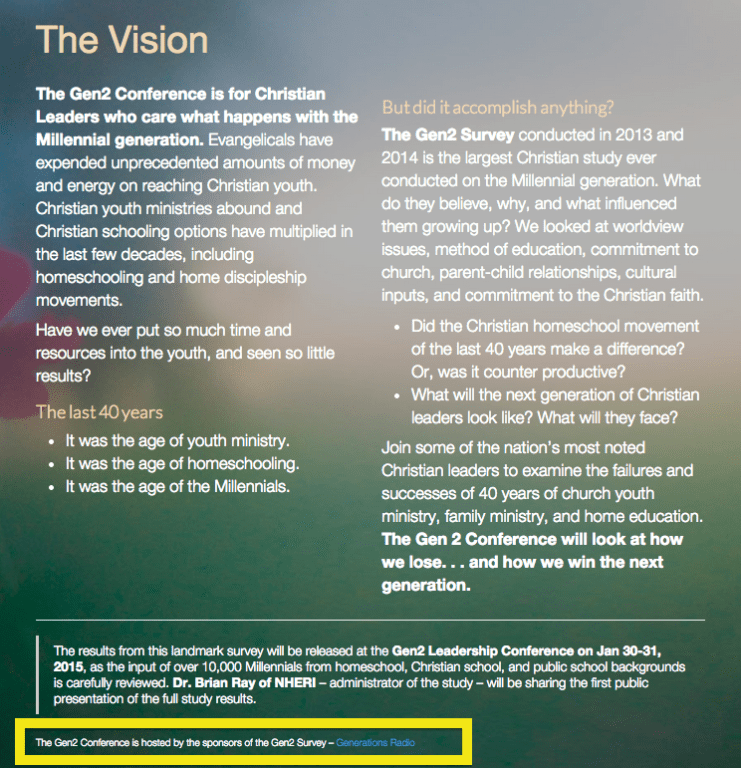 Do you see what's in that yellow box? The Gen2 Leadership Conference is being hosted by Generations Radio. You know, Kevin Swanson's radio ministry. The one he recently used to mock educationally neglected homeschoolers. The one where he denied that educational neglect was a thing, because it wasn't in the Bible. The one where he said abuse is only verified if it has two to three witnesses. That radio ministry.
Swanson attacked WORLD Magazine in his broadcast, but not HSLDA. In fact, Swanson, praised HSLDA. And yet, HSLDA is publicly distancing itself from him. It appears that Swanson's abuse denialism and willingness to laugh at homeschool educational neglect made him too much of a liability. HSLDA didn't distance itself from Doug Phillips or Bill Gothard until each was engulfed in a sex abuse scandal. This is, to my knowledge, the first time either Michael Farris or HSLDA have distanced themselves from a Christian homeschool leader or organization in this way.
When I addressed Farris's white paper, I laid out my concerns—and I still have many of those concerns. But one of my concerns was this:
Farris has yet to speak out against a single leader who is not already engulfed in scandal, in spite of the fact that there are numerous other powerful figures who hold the same dangerous ideas and run in the same circles. In fact, both Farris and HSLDA continue to associate publicly with many of these individuals. Farris's unwillingness to call out anyone who is not already down speaks of cowardice and of putting his own interests over principle.
One of those links goes to the Gen2 Leadership Conference. In withdrawing, Farris and HSLDA have actually taken a step toward addressing my concern. Five years ago, in 2009, HSLDA participated in a Men's Leadership Conference that featured both Kevin Swanson and Doug Phillips. There was no attempt on their part to distance themselves from these elements. But now, at long last, we see an actual step.
I still have plenty of concerns, believe me. But I'll also be the first to admit that this is something different. This is something new. Of course, what needs to happen now is for HSDLA to come out and explain why they are withdrawing from the conference. If they don't do that, this step won't mean anything.
At the very least, Kevin Swanson is facing some consequences he didn't expect.
While we're on the topic of developments I haven't handled here on the blog, Beall Phillips' response to Farris's white paper is worth noting (and actually highlights many of the things I said in my own response):