A regular stream of books crosses my desk every month, all with letters glowing with praise for the author and his/her work and requesting a review. I wish I could give all of them the time that they deserved, just as I would like  other authors and reviewers to give my books the time they deserve. But real life happens, and I usually don't have the luxury of hours to pour over the books and then write detailed reviews (much as I'd like to!). However, I still want to give them recognition. So, I've devised what I call Book Basket, which is a digest of sorts that I run every so often to highlight the worthy works that have come my way.
Today's Book Basket includes three books worth noting. Below is a brief description of each. Click on the title to purchase your copy.
Loved as I Am: An Invitation to Conversion, Healing, and Freedom through Jesus by Miriam James Heidland, S.O.L.T.
Here's the summary from the back cover: When Sr. Miriam James Heidland's life as a successful college athlete proved unfulfilling, she went searching for something deeper and ended up falling in love with Jesus. In Loved as I Am, Heidland shares her struggles – learning she was adopted, battling alcoholism, and healing from the childhood sexual abuse – as signs of hope that anyone who desires to know Christ can find him and be loved intimately by him in return.
Each of the books 9 chapters tackles one arduous aspect of conversion and healing, and ends with a prayer and questions for deeper reflection. The author's style is unassuming, and she opens her heart to readers by sharing her personal experience on her own road to conversion. She also relies on Scripture and the teachings of the Church as guides.
From Chapter 3: Come and Find Me – "No matter what has happened in our lives, God stays with us to see us through. There is always hope. He is the Father who never gives up on us and who always sees us as we truly are. He is the Son who loves us so much that he gave his life for us. He is the Holy Spirit who breathes life into us and brings us back from the dead. God is fooled by our masks or our attempts to deter him. He seeks communion with us and he seeks to restore us to relationship with himself, ourselves, and others. He longs to touch what is disordered within us so we can live with joy in his love. You and I don't need to live in fear because God goes before us, and he is the Father who never leaves or forsakes us (see Dt 31:6) let him find you and delight in you."
(Ave Maria Press, 2014 $12.95)
The Thrill of the Chaste: Finding Fulfillment While Keeping Your Clothers On by Dawn Eden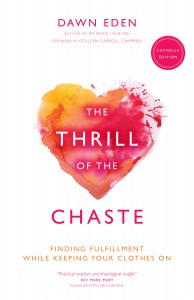 Summary from the back cover: In an extremely revised Catholic addition of her best selling work, The Thrill of the Chaste, internationally known speaker, blogger, and journalist Dawn Eaton invites readers into a Catholic understanding of chastity and its spiritual benefits. She shares how her Catholic faith, the lives and intercession of the saints, and the healing power of the sacraments have led her to find her true identity in Christ. Eden also offers spiritual and practical advice for both men and women seeking to live chastely in a world that glorifies sex.
In 20 right-to-the-point yet entertaining chapters, the author delves into chastity in a way that is both unique and solid. Eden is frank about her "spiritual journey to Rome" which began in 2005 while she was on the editorial staff of the New York Daily News.
From Chapter 10: Tender Mercies: Reconnecting With Your Vulnerability – "It can be hard to allow the light of Christ to dispel our shadows, partly because we're comfortable the way we are – maybe not happy but comfortable. More than that, we may not trust that Jesus could enlighten our darkness if we asked him, and the thought of his disappointing us deters us from taking the chance. But I know that when I choose to cling to my shadows, I am effectively acting on the assumption that God has the power to change some areas of my life but not others."
(Ave Maria Press, 2015, $15.95 224pp.)
The Power of Daily Mass: How Frequent Participation in the Eucharist Can Transform Your Life by Bert Ghezzi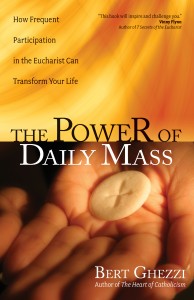 From the back cover: Receiving the Body and Blood of Christ in the Eucharist is the center of Bert Ghezzi's life, and this daily practice calls him to witness the Real Presence of Christ to others in his work and relationships. Through his own experience attending daily Mass, quotations from the saints, and testimony from fellow daily Mass attendees, Ghezzi shows how the Mass – the greatest of all devotions – offers courage and hope to face everyday challenges, direction and encouragement through the Scriptures, an opportunity to intercede for family and friends, and time to talk to and grow in love for the Lord.
I've personally known Bert Ghezzi for many years and can describe him with one word: genuine. I consider that an extremely high complement! There are many great writers, there are many prolific writers, and there are many wise writers, but a genuine writer comprises all of those qualities into one.
In nine engaging chapters, Ghezzi goes deeply into the nuts and bolts of daily Mass and describes its benefits in clear, inviting terms. Each chapter ends with questions for comprehension and discussion which lead the reader in a deeper love for the Mass.
From Chapter 4: Taking the Word to Heart – "Daily Mass offers the big advantage of immersing us in Scripture. During the Liturgy of the Word, the first part of the Mass, we hear the proclamation of two readings and respond to the first with verses from a Psalm. The first reading normally comes from the old testament, occasionally from the New Testament, and the second from one of the Gospels. Some Protestants, whose years are attuned to the Bible, have even observed that the entire text of the Mass – prayers, songs, readings, responses, the offertory, and Eucharistic celebration – draws heavily on Scripture. So much for the false notion that Catholics are not biblical!"
(Ave Maria Press, 2014, $14.95, 128pp)