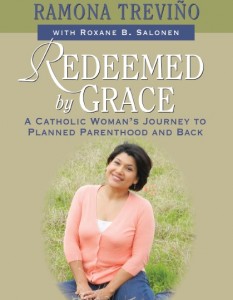 Truly compelling stories don't come across my desk very often, so it gives me great joy to share about it when one does, Redeemed by Grace: A Catholic Woman's Journey to Planned Parenthood and Back (Ignatius Press,, March 2015) by author Roxane Salonen is one of them. I'm grateful that Roxane was able to take time out of her busy schedule to grant me a Q&A interview.
Here's what we talked about:
Q: Every book has an interesting back story. No doubt Redeemed by Grace does, too. Briefly, what's the back story? Can you tell us what that "aha" moment was like when you realized God was calling you to write this book?
A: I had met Abby Johnson about a year before I was approached by Lauren Muzyka, who was working for 40 Days for Life as campaign strategist at the time, and Ramona, who was searching for a writer for her story. Reading Abby's book, "Unplanned," and hearing from her personally, and praying with her at our state's only abortuary here in North Dakota, really opened my eyes to the workers in the abortion industry, and how they are in need of our prayers and love, too. I'd also heard about Ramona's clinic closing when it happened, so her name was familiar to me, and I was intrigued by her story. She didn't work for a facility that did abortions, and yet something had woken her up to the deeper layers of this issue, even while in a non-abortion facility. What was that all about? I was curious, and when I was tapped to possibly help write this story, I felt my heart leap. It was as if the Lord had been preparing me for this project long before I knew of it. So even though I was at a busy time in my life, too, I was very willing and eager to help tell Ramona's story, and I became determined to reorder my life to help be a pencil in God's hands.
Q:. In your opinion, why is Ramona's story so compelling?
A: I was amazed — and still am — how complete Ramona's conversion was. Oh, it didn't happen overnight. It took place over many months of her feeling a growing unease about her employer and what they really stand for. But once the scales began falling away from her eyes, her "yes" to God was very sure. Ramona has such a pure heart, such a deep faith. She has suffered and walked in darkness. She has felt, like some, hopeless. Ramona now lives life as a woman who has been given a second chance at life, and you can tell. She lives by the motto, "Jesus I trust in you," and I have become a more faithful person from walking with Ramona these past couple years. She has much to share. This book covers some of the layers. There is more to tell, and little by little, through her speaking, she will do so, for the glory of God.
Q: What was the most difficult thing about writing this book?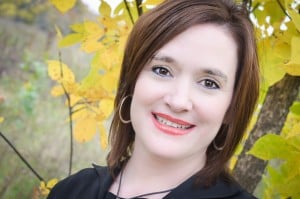 A: I think wondering whether we had captured everything we could, for the purpose of this book at this time, what God wanted us to share, was always a goal and wonder. This was a very collaborative project, with much back and forth and new discoveries along the way. As Ramona shared her story with me chapter by chapter, I received insights, and I would share these with her, and as a result, she would go even deeper into the implications. I think that because of this exchange, more depth was brought to her own story. But you always wonder, is it enough? Did we go far enough? Will people get what we wanted to convey by telling the story in this particular way? So far, we have been pleased and delighted by the responses – the varied illuminations that have come from readers even beyond what we had tried to relay, so it seems that it truly is God's story, as Ramona has repeated many times from the beginning. It's her story told by her, relayed with my help, but ultimately it's God's, for His people.
Q: How has writing this book affected your own spiritual journey?
A: Ramona and I have had what I think is a pretty unique experience in that what began as a business collaboration turned into a true and beautiful, life-giving friendship. It really seems that God brought us together, not just for the purposes of writing this story but to help encourage each other, lift one another up, and to help lead one another through this journey. It's very reciprocal, although it's made us wish we lived closer at times. Texas and North Dakota, while in the same time zone, have too many miles in between them. But we work within those bounds the best we can, and, I speak for myself here, I feel grateful every day that God has initiated this collaboration, and that we said yes, so others can in turn say yes, too. It's beautiful the way God uses us when we open ourselves to His will. And everyone can do that. It's a reminder to us to keep doing that, each day, and encourage others to as well.
Q: What are you hoping readers will take away from your book?
A: I will speak for Ramona here because she has said this many times. Though this book is perceived as a pro-life book — and it definitely is that — beyond that Ramona felt very clearly that God was calling her to not just write a story for the pro-life cause but a story that would help bring His children back to the Church. And so that is what we hope will happen; that those whose souls have been deadened, or not as awake as they could be — like both Ramona and I at different points in our lives — that they will feel a tug to do more for Christ, and become more alive in Him once again. To surrender all for Him. To allow His Divine Mercy to wash over their souls and take possession of their lives. We want them to know God loves them and there is always hope.
To order your copy of Redeemed by Grace, click here.