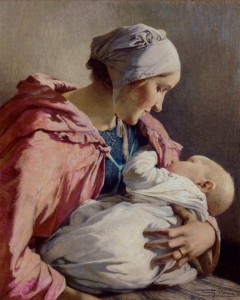 In his continuing catechesis on family, Pope Francis spoke earlier today about the lack of appreciation for mothers.
"For all our symbolic glorification of mothers, their important contribution to the life of society, their daily sacrifices and their aspirations are not always properly appreciated. Mothers are an antidote to the spread of a certain self-centerdness, a decline in openness, generosity and concern for others," he said during his General Audience in St. Peter's Square.
He explained that motherhood is more than childbearing – it requires sacrifice and commitment. He used Archbishop Oscar Romero's reference to the "martyrdom of mothers" to highlight the way mothers give of themselves for their families.
What the Holy Father is referring to is known in Catholic tradition as "white martyrdom," which is a dying to self born of love and sacrifice.
Two excellent examples of this are St. Therese Lisieux and St. Gianna Beretta Molla. St. Therese gave her life to make God loved, and offered her suffering for priests and missionaries. St. Gianna was diagnosed with an ovarian cyst while pregnant, and refused abortion against the advice of her physician. The child was born and lived, but St. Gianna died two weeks after childbirth.
Both of these saints – one a spiritual mother, and one a physical mother – literally gave their lives for their children. But, there are mothers (and fathers, too) who sacrifice their lives for their families without a specific life offering. Instead, they spend their entire lives quietly working, loving, tending, mending, listening, comforting, advising, and praying year after year after year until they pass away peacefully in old age. These, I think, are the kinds of mothers Pope Francis mentioned in his General Audience.
I wholeheartedly agree! I know so many mothers like this, and am striving (although I'm not always successful) to be that kind of mother myself.
But, what about those moms who don't seem to fit this description? What about the moms who mess up, who just never seem to get that "mom thing" down, or those who are abusive?
Time and again I've been approached after a speaking engagement by someone who grew up with one of those kinds of mothers. They are broken, wounded, and looking for answers. The Church tells us again and again to honor our fathers and mothers, and it speaks with flourish about the beauty and fruitfulness of the vocation of motherhood. It tells us how to be good, holy mothers, but it doesn't always clearly tell us what to do when ours hasn't been.
Because I'm asked it so often, I've petitioned priests and mom gurus for advice and spent hours in prayer asking our Lord and his Blessed Mother for the right words to say to these folks.
Basically, this is what I've come up with. I don't believe that any mother – no matter how inadequate – actually wants to be that way. Not in her heart of hearts, at least. Moms who are like that are products of their own upbringing and can't give what they themselves haven't been given. Granted, they can attain the qualities of holy motherhood through prayer, God's grace, and mentoring. However, they have to be shown that there is another way, and often they haven't been.
I wonder if these kinds of moms don't live their own form of white martyrdom. Do they compare themselves with other mothers who seem to have it all together? Are they frightened at their own incapacity? Do they sense that they are falling short and suffer with that? Perhaps they are constantly tormented by their own dark shadows of the past.
This helps me to be a lot more compassionate when I encounter stories about moms who have made serious mistakes or been abusive in raising their children. I try not to condemn, but rather to pray for them in sincerity, asking our Lady to step in, take over, and mentor these women herself. She will, if only someone would ask.
Pope Francis is right. We absolutely must appreciate the daily sacrifices and aspirations of all mothers – even the ones who struggle.