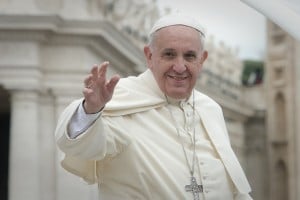 Pope Francis is causing scandal again. Or not. You decide.
On Friday, July 3, the Holy Father met with 30,000 members of the Renewal in the Spirit Movement in St. Peter's Square as part of the kickoff for the 38th National Convocation of the Renewal in the Spirit. The convocation's theme is, "Ways of Unity and of Peace: Voices of Prayer for the Martyrs of Today and for a Spiritual Ecumenism."
During his address to the movement members, Pope Francis referred to the suffering of those who shed their blood for Christ, pointing out that, although they may not be Catholic, they are our brothers and sisters because they died for Christ.
"A few months ago, 23 Egyptian Copts who were beheaded on the shores of Libya. In that moment, they said the name of Jesus. 'Oh, but they are not Catholic!' But they are Christians! They are brothers! They are our martyrs! This is the ecumenism of blood!" he said.
With further emphasis, he said:
"And 50 years ago Blessed Paul VI, at the canonization of the young martyrs of Uganda, made reference to this: that for the same reason, their Anglican catechist companions also shed their blood. They were Christians, they were martyrs. Forgive me, do not be scandalized, but they are our martyrs because they gave their lives for Christ! And this is the ecumenism of blood!"
If I'd read the Pope's words earlier in my life, I likely would have been scandalized, not out of animosity, but rather out of naivete.
There's a grave misconception that Catholics believe that they are the only ones who are "right" and that anyone who's not Catholic goes to hell. Some Catholics have believed that in the past, and some still do believe it.
What the Church actually believes is that the Catholic Church has the "fullness of Truth." All other Christian faiths have some of the Truth to various degrees, and we must recognize that.
Each particular Church, united within itself and in the communion of the one, holy catholic and apostolic Church, is sent forth in the name of Christ and in the power of the Spirit to bring the Gospel of the Kingdom to more and more people, offering to them this communion with God. In accepting it, these persons also enter into communion with all those who have already received it and are constituted with them in an authentic family of God. – Pontifical Council for Promoting Christian Unity, Directory for the Application of Principles and Norms on Ecumenism, 13
My life experiences of getting to know Christians of other denominations has helped me to better understand what is meant by ecumenism.
It really came to life for me on my recent trip to Jordan as part of the Jordan Tourism Board Religious Journalist/Blogger Tour 2015. We were indeed an ecumenical group – all Christian, but not all Catholic – and I loved it. It gave me the chance to see Christ through their eyes, learn about their faiths, and share what we had in common.
I was quite surprised – we had an awful lot in common!
I also had the chance to see the refugee camps with the rows upon rows of simple shelters built for the refugees by the Jordanian government and to meet with a few of them being treated at the Italian Hospital in Amman.
When you look these refugees in the face, it's impossible not to feel connected to them, based on our common belief in Jesus Christ.
After all that, I understand completely Pope Francis is getting at when he calls us to an ecumenism of blood. They died for the same Lord that I love, with all my heart, mind, and soul (at least to the best of my ability in my human frailty). They are the martyrs of all of us, and they matter to us, no matter what Christian faith we follow.
Ecumenism of blood is the perfect term, and I'm meditating a lot on that as our country celebrates its Independence Day. I am, for the most part, free to practice my own faith in my own home and church – at least for the time being.
The Christian martyrs were not.
I can only hope that I could be as courageous as they if I'm ever asked to undergo the same suffering.
Image: Aleteia.org, Flickr.com, CC