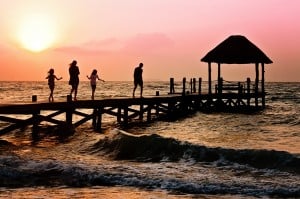 It's the beginning of July and become more and more apparent that we aren't going to be able to squeeze in a vacation this year.
Usually, we head up to Northern Wisconsin and rent a cabin on a lake for a week. But this year, neither time (only a handful of vacation days from my husband's new employer) nor funds will permit that. We've got to come up with something else to break away and relax.
We're going to vacation at home.
We've done this a few times in the past. Either it was a too-tight budget (deja vu), a sick child, newborn baby, or some other event that sucked up our vacation time and resources.
At first the kids balked. Okay, we all balked, but that's because we had our heads wrapped around the vacation myth: You can only have fun if you spend lots of money and extended time away from home. Once we let go of the myth, we realized that vacationing at home can be an adventure.
All it takes is a little ingenuity.
When the kids were little, we'd block off our "vacation" days by nixing all appointments and outside obligations, turning the phone ringer off, shutting down computers, leaving the TV off (unless we were watching a family movie when there was bad weather).
We'd let the kids sleep in sleeping bags on the living room floor or in tents in the backyard. We'd keep an easy-going schedule and follow our own inclinations, eat all our favorite foods and grill just about every night.
Often, we'd do day trips to interesting places and attractions. You'd be surprised what fascinating (and inexpensive!) places you can find within a hundred or so miles from your own home!
It was fun. Plus, we were spending time together, away from the hassles of everyday life even though we were hanging out around home.
The kids are older now, and only one still lives at home. But, we'll do some day trips, grill-outs, and movie nights that the moved-out kids can join in if they want to. We'll probably find a lake and take off fishing for a day or two. Or more, if we feel like it. Who knows? Who cares?
The important thing is that we'll block off time to get our heads, if not our bodies, away from the grind.
I know folks who can spend big bucks to go far away, and because they can't let go of the day-to-day obligations and pressures, they don't wind down. In the end, it doesn't seem like they've vacationed at all.
What a shame.
For those of you who, like us, won't be able to finagle an "away" vacation this year, I'd like to encourage you to try an at-home vacation. For that, and for any vacation, for that matter, here's all you really need:
A positive attitude
Imagination
Flexibility
If you've got those three things, you've got a "real" vacation, because vacation isn't a place; it's a state of mind.
Image: Pixabay, CC