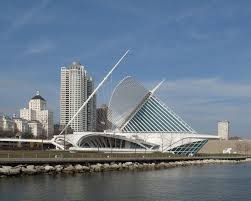 This week, the Milwaukee Art Museum announced that it has acquired and will display a portrait of Pope Emeritus Benedict XVI made from 17,000 condoms.
Starting this fall, the museum will place the portrait, titled, "Eggs Benedict" and fashioned by Shorewood, WI artist Nikki Johnson, in its permanent collection galleries.
The name alone is offensive, much less the work itself. It makes a mockery of the beauty, sacredness, and vitality of women's fertility.
The work was purchased for the museum at a $25,000 price tag by philanthropist and gay rights advocate Joseph Pabst. Pabst is the great-great-grandson of Frederick Pabst, founder of Pabst Brewing Company.
According to an article that appeared in this morning's Milwaukee Journal Sentinel, Johnson's purpose in fashioning the portrait was to spark a conversation and not to deride a religious figure.
Really?
In that case, Ms. Johnson could have chosen any number of other subjects in order to advance her cause. Instead, she chose a figure that she knows is honored by faithful Catholics worldwide.
Milwaukee Archbishop Jerome Listecki said it perfectly in his weekly message to the Archdiocese:
Would the art museum accept works that depicted various political leaders of our state in cow dung (a significant animal for Wisconsin)?  Would they accept art – pick your favorite religious or historical figures – featuring them in various pornographic poses (which has happened in some international publications)?  What about art featuring national or international popular social reconstructionists in a manner that would depict the opposite of what they represented, such as Gandhi sporting an uzi, Lincoln in Klu Klux Klan garb or Hitler with a yarmulke reading the Torah, all in the name of art and beauty? Whose art and whose beauty? I would offer that even if the art museum considered accepting any of the above examples, there would be an extensive public discussion that would take place before any decision would be made.
Pabst stated that he bought the painting because "it has work to do." The portrait's "work" is to attack the faith tradition of the Catholic Church.
This would never be tolerated if the portrait featured an important figure from any other faith tradition.
The museum has expressed their regret that Ms. Johnson's portrait has elicited such enmity and has acknowledged that it has already received about 200 complaints, the dropped membership of a number of patrons, the resignation of two docents, and the permanent cessation of support from at least one donor. 
The portrait of Pope Emeritus Benedict XVI is not art and not a conversation starter – at least not in the sense of a conversation that is charitable and productive.
It's antagonism, pure and simple.
I've ended my support of the Milwaukee Art Museum. I live near to it, and have visited it often over the past decades. It used to be one of my favorite attractions, and I could easily spend hours there.
Not any longer.
Image: Wikimedia.org