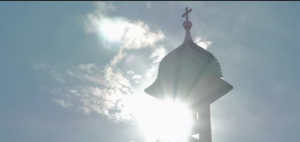 Seems like everywhere you turn, somebody's got a cause they want you to support. Every once in a while, you come across one that you absolutely can't turn down.
What this group of young professionals in Austin is doing is one of them.
Rather than tell you about it myself, I decided to invite them to guest-post on Catholic to the Core so you can hear about this awesome project directly from its originators.
Enjoy!
_____________________________________
I'm Katie Martin and I'm excited to tell you about a brand new initiative to bring the Catholic faith alive through film!
The initiative is a new, high-quality, Catholic film called Seed of a New World, and I recently had the chance to interview the film's directors, Alex Quintana and Mark Leatherman.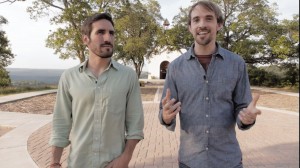 This upbeat, engaging film is translated into five languages and shows what it means to live out the Catholic faith all around the world. The story line follows 6 individuals as they travel to Vallendar, Germany and then to Rome, Italy in October 2014, for the 100th Jubilee of the Apostolic Movement of Schoenstatt, a Christ-centered yet Marian lay ecclesial movement founded in Schoenstatt, Germany by Fr. Joseph Kentenich on October 18, 1914.
Schoenstatt has impacted hearts worldwide by drawing them closer to Christ and his Mother. It's Schoenstatt potential for impact that urged Alex and Mark to take on the Seed of a New World venture.
Here's what Alex and Mark had to say:
KM: Can you tell me a bit about yourselves?
Alex: I studied Mechanical Engineering at the University of Texas – Austin and have lived here since. Now I work in the film industry as a camera operator. I've worked on films, TV shows, and documentaries. I come from Cuban parents who came to the U.S. when they were young and I was born in Alaska.We moved around growing up: California, Louisiana, and then settled in Houston Texas.
Mark: I've lived in Austin for almost 10 years off and on. I got into filmmaking through Alex, with who I've been friends since college. Our buddy, Sean Schiavolin, also has played a major role in introducing us to film. WE know Sear through the Schoenstatt Movement – he's a director and makes awesome Catholic films. Both Alex and I come from engineering backgrounds—I'm finishing my degree in Electrical Engineering at UT. My real passion is finding ways to transmit our faith and the reality of the spiritual life in a way that is meaningful, approachable, and beautiful.
KM: Tell me about Seed of a New World. 
Alex: It's about what it means to live out the Catholic faith in a deep and heroic way.  Following 6 individuals from all over the world, it tells the story of faith as they experience the 100th anniversary celebrations of the Schoenstatt Movement in October 2014.  The movement held an international event to which people traveled from all over the world in order to participate in 4 days of Masses, devotions, and festivities. About 12,000 people showed up on the actual anniversary day. And then we, as a Schoenstatt group, had an audience in Rome with Pope Francis where we presented questions to him about family life, what his message to the youth would be and where he sees things going in the future of the Schoenstatt Movement. I was there filming for 10 days capturing the joys, the emotions, the events, and also getting interviews of the 6 characters as they experienced it all.
KM: How did you come up with the idea for the film?