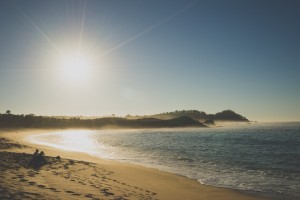 Everyone wants to be happy, and that's understandable. Everything about our culture tells us that we not only should be, but that we have a right to happiness. From advertisements that tout the ability of a product or service to make us happy, to movies and television shows, and even books and motivational speakers, we're told daily that can and must be happy. Even the Declaration of Independence tells us that we have the "inalienable right" to "life, liberty, and the pursuit of happiness."
I beg to differ.
I do not believe that we're entitled to happiness, but I do believe that we are entitled to joyfulness.
The reason for this is that joy and happiness are two very different things. I often delve into this concept during speaking engagements and every time, I see their eyes light up when they grasp the notion that joy and happiness are different.
Happiness is contentment with what we have or what we're doing. It's fleeting, short-lived, and superficial. Happiness is a response to stimuli – it moves from the outside, in.
For example, remember Charlie Brown's dog, Snoopy? Snoopy is "happy" when Charlie Brown brings him his food bowl. He does his "happy dance" whenever something happens that pleases him.
That's happiness.
Joy, on the other hand, is contentment in the promise of a greater good, and the greatest good we will every have is Eternity. Joy is long-lived and deeply rooted. It's a response to the Holy Spirit's dwelling in the soul and moves from the inside, out.
Joy is what carried us through the tough times and is the delight in being a part of, and in carrying out God's Divine Will. During the tough times – from the smallest inconveniences like locking your keys in the car to the huge hardships we face like having a loved one in hospice – we might not be happy, but we certainly can be joyful.
How can we be joyful, even when it seems that our world is falling apart?
Our baptism and life in Christ guarantees it. When we were baptized, we were anointed, given the "garment of immortality," and became a priestly, royal child of God. From that moment, the Father has had us in his hands and he will never let go.
St. Gregory of Nazianzus explains it so beautifully:
Baptism is God's most beautiful and magnificent gift. . . .We call it gift, grace, anointing, enlightenment, garment of immortality, bath of rebirth, seal, and most precious gift. It is called gift because it is conferred on those who bring nothing of their own; grace since it is given even to the guilty; Baptism because sin is buried in the water; anointing for it is priestly and royal as are those who are anointed; enlightenment because it radiates light; clothing since it veils our shame; bath because it washes; and seal as it is our guard and the sign of God's Lordship. St. Gregory Of Nazianzus, Oratio 40,3-4:PG 36,361C
We are sealed in Christ, and therefore, we might be unhappy at times, but we still can be ever-joyful.
Pope Francis wrote about this in Evangelii Gaudium.
There are Christians whose lives seem like Lent without Easter. I realize of course that joy is not expressed the same way at all times in life, especially at moments of great difficulty. Joy adapts and changes, but it always endures, even as a flicker of light born of our personal certainty that, when everything is said and done, we are infinitely loved. I understand the grief of people who have to endure great suffering, yet slowly but surely we all have to let the joy of faith slowly revive as a quiet yet firm trust, even amid the greatest distress: "My soul is bereft of peace; I have forgotten what happiness is… But this I call to mind, and therefore I have hope: the steadfast love of the Lord never ceases, his mercies never come to an end; they are new every morning. Great is your faithfulness… It is good that one should wait quietly for the salvation of the Lord" (Lam 3:17, 21-23, 26) (EG, 6)
Jesus told us that suffering is inevitable in this life, and so we should not expect to escape it. He told his disciples, "I have told you this so that you might have peace in me. In the world you will have trouble, but take courage, I have conquered the world." (Jn 16:33) Some Bible translations use the word, "tribulation" instead of "trouble."
That's why I think this notion of entitlement to happiness is a faulty one. Happiness is a bonus when we can experience it. But we can't always expect it, nor do we have a right to it.
But we do have a right to joy, and we should strive to live that joy in all things.
Image: Joseph Barrientos, Unsplash