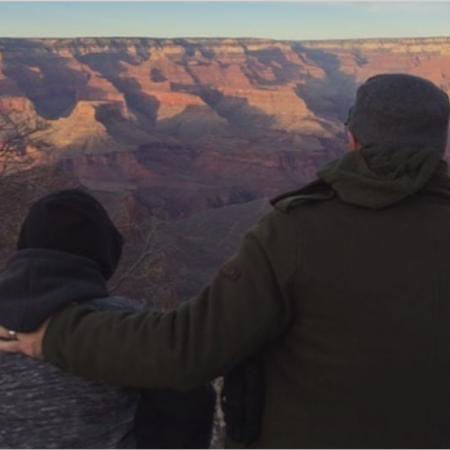 Let's be honest, kids are a blessing and a burden, often wonderful and sometimes awful, and they do not come with a set of directions. If you are a parent (or grandparent, or caregiver), in a moment of frustration or futility you have likely asked yourself in some form or fashion, "What is the point of parenting?" or "How do I know if I'm doing a good or bad job with this child?" If only there was a bullseye for us to focus in on, then we could start to aim all of our parenting toward a point.
With five children (four teenagers) of our own, we've asked this questions ourselves and found an answer that we are excited to share with you. It's the one thing that changes everything. The point of parenting, is for you to love God with all your heart, soul, mind, and strength and help your kids do the same.
There is an account about Jesus in Mark 12:28-31 that says, "And one of the scribes came up and heard them disputing with one another, and seeing that he answered them well, asked him, "Which commandment is the most important of all?" Jesus answered, "The most important is, 'Hear, O Israel: The Lord our God, the Lord is one. And you shall love the Lord your God with all your heart and with all your soul and with all your mind and with all your strength.' The second is this: 'You shall love your neighbor as yourself.' There is no other commandment greater than these."
Parenting a whole child
When asked what the Tweet of the Old Testament was, Jesus said to love God with all our heart, soul, mind, and strength, and help our neighbor do the same. Therefore, the point of parenting is to raise kids in the love of God since they are our closest "neighbor". In this blog series, we will get into the practical ways of growing in the point of parenting. Here are the big ideas we will be studying in this blog series.
• Love – God loves the parent and child, and God helps the parent and child love God and each other. This is the entire point of parenting – love.
• Heart – How to have the right heart as a parent and get to your child's heart right, so that they live from a pure heart.
• Soul – How to have a deep relationship with God as your Father from which you train your child to tend to their own soul, so they can spiritually mature.
• Mind – How to keep your mind sharp as a parent, and how to educate your child, so that they are mentally wise.
• Strength – How to guard the physical well being of your child with everything from a safe environment to a good diet, so that they are physically strong.
Living in God's love
Jesus Christ is the most important person who has ever lived. More songs have been sung to Him and books written about Him than anyone who has ever lived in the history of the world. In fact, our calendar is divided around His life into B.C. (before Christ) and A.D. (Anno Domini meaning "the year of our Lord), including our major holidays of His Christmas birthday party, and Easter resurrection celebration.
Furthermore, the Bible is the most important book that has ever been written. It is the bestselling book in all of human history, translated into more languages than any other book, and has shaped much of human history.
So, when the most important person in the history of the world tells us the most important message of history's most important book, His words are most important.
What matters most to Jesus
Jesus does exactly this in Mark 12:29-30 saying, "The most important is, 'Hear, O Israel: The Lord our God, the Lord is one. And you shall love the Lord your God…'"
Jesus tells us three things. First, we need to know who God is. Second, we need to know that God loves us. Third, we need to know that God's love for us is a gift to both be enjoyed and shared with others.
First, when Jesus tells us that God is "one" He quotes from the ancient book of Deuteronomy 6:4. This was a section of the Bible that God's people would have memorized, and spoken each day as a prayerful reminder of who God is. The word for "one" God is a curious one, it often means multiple who are so unified that they are one. This same word is used in Genesis 2:24 as God's intention for married couples beginning with Adam and Eve to be "one," even though they are two. In this, we see what the Bible calls the Trinity. The Trinity is the Christian teaching from the Bible that there is "one" God who is Father, Son, and Holy Spirit.
Because the three persons of the Trinity are one, the Bible can say in 1 John 4:8, "…God is love." God is not lonely. Throughout all eternity the Father, Son, and Spirit live in loving relationship. They communicate with one another, care for one another, and continue with one another. In some regards, the One God is kind of like a loving family, which may explain why the language of "Father" and "Son" is used to explain their loving relationship.
Second, not only is God loving, but God loves you! Apart from your performance, God loves you and accepts you as you are. God loves you so much that through His Son Jesus Christ, He gladly forgives all of your past, is there for hope help and healing in your present, and will walk with you hand-in-hand like a loving parent for the rest of your life and into eternity. God's love is mind bending, heart changing, and destiny altering. God loves you! God cannot love you any more! God will not love you any less!
Third, God and God's love for you is both a gift for you to enjoy and a gift for you to share with others, starting with your own family. This is exactly what Jesus is saying, and his best friend John (nicknamed "the one Jesus loved") echoes in 1 John 4:11, "Beloved, if God so loved us, we also ought to love one another."
I (Mark) can still remember as a young child, all the wonderful memories I had with my Grandpa George. He passed away when I was 10 and I have missed him ever since. I knew that my grandpa loved me. He was kind to me, generous with me, spent time with me, and made memories with me. One of my favorite memories as a child was when the ice cream truck would come through his neighborhood with the music playing. I would run out to stop the ice cream truck and get a treat. The other kids from the neighborhood would also run out to get their ice cream. My grandpa would hand me the money to buy my ice cream, and hand me extra money to buy ice cream for all the other kids. I had the double joy of experiencing the love of my grandpa, and sharing that loving generosity with others. What Jesus is saying, is that God, and His love, are like that.
This blog series is based upon a five-part sermon series called Parenting on Point that you can listen to for free at markdriscoll.org