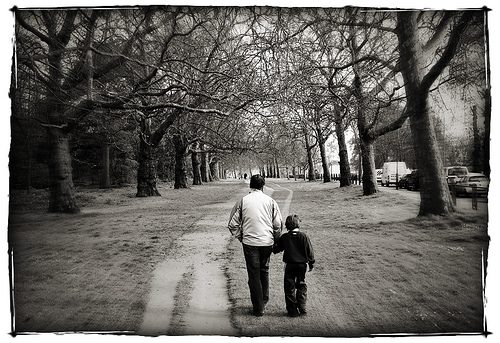 This is part 2 in a series on praying for our work.  In this post we consider the question "why prayer for our work, works."
In my last post, I shared 2 big ideas:
Jesus' model prayer, often called the Lord's prayer, provides a framework on which to build prayers that will transform our experience of work.
The first word Jesus instructs his followers to pray is the word "our," which takes prayer from a "me" to a "we" activity. The more we can find groups with whom to share our work-life prayer journey, the more efficacy we'll have in our prayers.
Today we see that the second word in the model gives us a clue at why prayer works at all. The word is "Father."
"Father" | A Radical Departure From Ancient Praying
While there were references to God being a caring father in the Old Testament, by the time of Jesus, God was not referred to as such. A zealous concern for respect had turned God into a cold and distant Lord. To call God "Father" was considered scandalous by the most religious.
Jesus is introducing a new era of intimacy where the praying man or woman can claim intimate connection with the God of the universe.  He teaches them to do so by using the word "Father." Today, most popular notions of God swing to the opposite extreme and we imagine God as a benevolent, grandfatherly type, who never gets angry. Which is why we move on to a second factor of significance in the term "Father."
"Father" | A Word that Never Let's us Forget Where We Come From
In Prayer: Experiencing Awe and Intimacy With God, Tim Keller relates Martin Luther's thought that the word Father prevents us from plunging in with requests, instead it leads us to "first recollect our situation and our standing in Christ before we proceed to prayer." (Keller, Page 110) "Father" was such a major shift to intimacy in praying. The word assumed some great reversal in one's spiritual journey, some pivot in one's relationship with God.
Jesus' reveals the nature of God's fatherhood in the famous story of the Father with Two Sons in Luke 15. It challenges 3 popular views:
Contrary to God the Father as a pushover, the Father sends the rebel son away and confronts the judgmental self-righteousness of the older son.
Contrary to God the Father as cold and harsh, the Father welcomes the humbled rebel son back and begs the accusatory older brother to forgive.
Contrary to the notion that sin is passé and not a real problem, Jesus portrays the Father as the one who bears the very real cost of the guilt of both of his sons.
When we live in the teaching of Jesus, "Father" places us as either forgiven rebellious younger sons or forgiven self-righteous older sons (or both). We are his children despite ourselves, and live lives incumbent upon his mercy.
"Father" | The Key To Confidence in Our Praying
So do not worry, saying, 'What shall we eat?' or 'What shall we drink?' or 'What shall we wear?' For the pagans run after all these things, and your heavenly Father knows that you need them. But seek first his kingdom and his righteousness, and all these things will be given to you as well. (Matthew 6:31-33)
The instruction to address God as "Father" can bring real confidence to our workplace praying.
As a Father, God is intimately available to us.
As the one who paid the price to make us his children, he is deeply invested in us.
As our Father, he promises to perfectly care for us. Surely this promise extends to our workplace.
I'm sure many of us head off to work on Monday feeling utterly alone. Spouses, friends, colleagues, may not understand complexities of the issues and challenges we face. But as our Father, God promises to be there, to be tenderly disposed to us, and to be willing to act on our behalf. "Father" means we can be confident that our prayers for our work will work.
How About You?
Does knowing God as Father increase your confidence in praying through the daily ups and downs of your work?
______
Dad and Son by Ryan Qiu, on Flickr: http://farm4.static.flickr.com/3597/3439170305_df8d616333.jpg