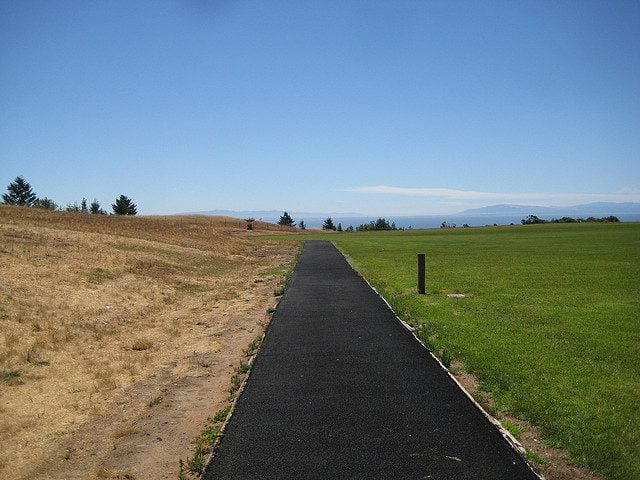 Sometimes the best strategy for dealing with a miserable job is the exit.   In processing job-related frustration, we strive to steer clear of two opposite pitfalls. On the one hand, we leave to early, putting all the blame on "the job," missing the lessons we are meant to learn by weathering the storm. This has been the thrust of the prior posts in this series:
The Vocational Pancake: a secret to escaping the miserable job
         "Why is my job miserable?" A Theology of Frustration At Work
What is the ticket to your best next? How to survive a miserable job.
The Question We Don't Want To Ask: Survival Strategies for a Miserable Job
Survival Strategies for a Miserable Job: Thanksgiving Leftovers
An equivalent and opposite danger is staying in a miserable job too long.   Faith (confidence that God will guide us and provide for us), humility (recognition we're not in control and constantly need to learn), and courage (sticking with the right course in the face of fear and absence of immediate rewards) are just as essential for a job search as they are to a choice to stay and reengineer a miserable job. In this post we consider three essential to leaving well: timing, departure process, and the choice of a better next.
Timing 
There are four triggers for leaving your current job, any one of them is enough to head for the exit. Two or more mean definitely time to go.
Lines are crossed: Over the top ethical or legal abuses. Executive Coach Bobb Biehl suggests that the single most significant choice we make is the people with whom we work. They shape us for better or ill. Our reputation is linked to theirs. So sticking around with those who cross ethical or legal lines is unwise. Sometimes "run away" is the best advice.
Hitting the brick wall: You've tried to reform the culture around you and the process is going nowhere. In other words over the course of months and years you've tried everything you can to make the workplace better, but you're not getting traction.
Stuck: Other signs point to the conclusion that this is a dead end job: see this post on Business Insider for 7 signs: http://www.businessinsider.com/7-signs-youre-working-a-dead-end-job-2015-12
Better is real: You possess reality-based intel that there are better firms or roles in the job-market and they are a good fit for your gifts, temperament, and experience.
How do you leave well?
Every work role is temporary, some just last longer than others.   Every day of a job well done is part of a strategy to leave well. The big idea: create your own transition plan for leaving your miserable job. A helpful plan includes the following elements:
An absolute commitment to not trash your boss or the colleagues that made your job miserable. Whether it's in job interviews or with other associates only share the positives and let the gossip go. We each look for employees and colleagues we can trust. How you speak of former workplace connections shows how you will act in the future.
Finish everything and finish it well: Nothing is worse than being left with unfinished and/or undocumented projects. Make it turn key for the people that come behind you. They will praise you. Imagine crossing the finish in line at a spring not a walk.
Share personal appreciations and say personal goodbyes. Make goodbye as directly personal as possible: "Bob, this is it, time for me to say goodbye. I want you to know I will really miss the way you _________________." (The more specific the better!)
You know it is time to leave and you have a personal transition plan, now just one more critical question to answer as you leave you miserable job.
How do you make sure the grass really is greener?
There is no perfect job, there is no permanent job. But there are good jobs and there are terrible jobs. 3 categories are helpful to ponder as you consider a potential, grass is greener, job; the role, the culture, the details.
The Role: Is this role a good fit? If you've done some work through your job transition, you'll have a clear sense of the ways you can make your best contribution.   Some coaching on this score before you leave, would be a sound investment if you're not sure.
The Culture: Organizational culture is how a company or department lives together as it gets things done. Is it autocratic or flat, personal or transactional, bureaucratic or relational, crisis oriented or planful, etc.   The best way to get at an organizational culture is to utilize informational interviews among people who work there. Ask for a story that illustrates how they get things done. Ask this question: what kind of people do well here?
The Details: These include compensation, travel schedule, reporting relationships, and documentation requirements. While these types of topics should be left for the end of a recruiting conversation, they are still critical for a sustainable engagement that you can feel good about.
Winter is coming
In the Biblical Book of Proverbs, the writer counsels us to consider the Ant. It has no one telling it what to do, but works hard in summer so it has food in winter (Proverbs 6:6-8).   Most of us will face a job transition winter, a time when due to a miserable job, a poor fitting job, or the loss of a job, we are forced to search for something new. The lesson of the Ant is be ready. At some point God will have something new for you to do, it will be time to leave the miserable job.
How About You?
How ready are you to leave your miserable job and do that leaving well?
_______
Picture: by Kevin Wong, https://www.flickr.com/photos/-marlith-/2634898429, license https://creativecommons.org/licenses/by/2.0/legalcode