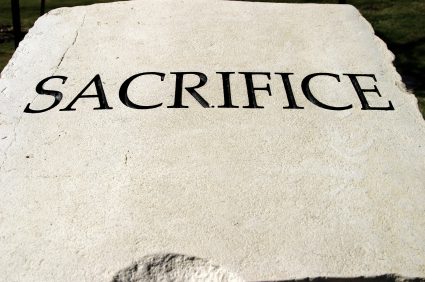 Question: Who makes greater sacrifices for their calling—those in full-time "ministry work" (pastors & missionary types) or those who are led to work in the "secular" marketplace?
Facing the tension in this question is a key to bridging the vocational divide at the relational and institutional level.
Note: The vocational divide is the gap individuals live between their faith and work. It is a personal experience reinforced by systemic and institutional realities. Three broad areas of attention are required to form a bridge across the divide: thought, rhythms, and institutions. Thought shifts include: the need for faith, the recognition of Jesus expertise, and seeing church as kind of locker-room . In my last post, I discussed the critical need to address the rhythmically challenged nature of our lives.  In this post, I share a conversation I used to have with my dad about work and sacrifice.
Dad and I, fighting for the hardest job.
"You have a hard job, I don't envy you."   These are words that both my dad and my wife's parents have shared with me. In my dad's case, it was a repeated refrain. What was my job? I was a pastor.   I served the same church in that capacity for 20 years.   The implication was that his job was easier. But was that really the case?
My dad started his career in 1966 with a freshly minted PhD in material science from Lehigh University. His job involved two elements: 1) create new types of steel to meet the application requirements of customers and 2) problem solve why a specific sample (or installed) piece of steel failed.  He worked at the same lab and the same company for 40 years. Was his job easy? When it came to the science of steel, perhaps—he was an expert and loved the hands-on side of his job, but there were challenges.
Technical: Solving technical issues was always easier when the company was staffed up and had budget for the best equipment. Resources for equipment and staff shrunk over his 40-year career.
Political: Sometimes he'd be looking at problems that could cost the company money, this brought subtle pressure to skim over corporate culpability.
Relational: Dad worked with people, the #1 source of difficulty in ANY job. With the steel industry shrinking from increased automation and international competition, tensions were inflamed. He was not in management and had to adapt to the requirements of a boss and to sharing personnel as matrix organizations took hold.
Financial: The specialty steel company dad worked for traded hands 3 times, it started as Lukens Steel, and ended as a division of ArcelorMittal, the largest steel company in the world. This changing of ownership drastically reduced his hard earned pension and retirement options.
My father's career, though relatively satisfying was fraught with difficulty.  Yet he seemed to think that my job as a pastor was more difficult. This perspective exposes one of the systemic changes that is required to bridge the vocational divide. It's time to end competing narratives of sacrifice.
Ending the Narrative Competition: We share similar stories, different scenery.  
Do pastors and missionaries make sacrifices to pursue there God given calling? Do they willingly embrace a career that includes a lot of difficulty? Absolutely. Whether it's the loneliness that comes from leading others spiritually, the lack of cultural respect for full-time ministry workers, or the hit to life-time earning potential (and the adjustments in lifestyle), Pastors make sacrifices. But they aren't the only ones.
People in other jobs and careers make sacrifices for work as well. It may be family time. It may be security. It may be long hours away from family. It may be assuming great financial risk for oneself and for 100's of employees. It may be putting your ladder up a company tree only to find that after years of faithful service the tree is dead: you're not needed and your retirement will not be what you expected.   Everyone makes sacrifices to pursue their calling.
Who Goes First.
Over the last 13  years (11 of which I was a full-time pastor), the biggest single ah-ha that has dawned on me as I've concentrated on the world of work is this:  its hard!  People tell pastors their work is hard.  I call on my fellow pastors and nonprofit ministry colleagues to pay attention and acknowledge that the work of our friends, family and colleagues in other fields is hard too.   A little empathy will help bridge the divide between our worlds!
Faith and Work Resources: I keep a current and curated list of great resources related to the faith and work conversation follow this link: Resources on Faith and Work  
About the Author:  Dr. Chip Roper writes Marketplace Faith from New York City, where he is the director of Marketplace Engagement at the New York City Leadership Center. You can learn more about him here. Chip is available for speaking, consulting, and coaching engagements. Inquire via email: croper@nycleadership.com.
Stay in touch! Like The Marketplace Initiative on Facebook:
Pic: http://www.earlytorise.com/wp-content/uploads/2013/03/iStock_000007663332XSmall.jpg